The rapid infusion of technology across sectors has brought to life a new paradigm that we know as the edge. Growing at a rapid pace, the edge is fueled by advances in high-performance connectivity, and low-powered compute. IT leaders are increasingly seeing its potential to drive business value.
Already a majority of businesses have their one foot in the edge without realizing it. Inside factories, AI computer vision apps are being used to identify risks and improve safety in industrial environments. Retail warehouses are tracking inventory, doing defect control, and managing production flows using automation.
But as the ecosystem is expanding, the edge infrastructure is buckling under the weight, and organizations are scrambling to keep up with the demands.
We met with Julian Chesterfield, founder and CTO of Sunlight – a UK-based company whose mission it is to help enterprises realize their edge objectives – to dive deeper into this. Sunlight has a simple, but pivotal motto – to make edge simple.
"Our focus is on the edge and all of the technology acquisition and automation that we're seeing in that space," says Mr. Chesterfield.
A Shared Predicament
The retail industry is one of the biggest user of smart applications at the edge. With stores trying to extend the convenience and speed of online shopping to the in-store shoppers, there has been a massive adoption of applications like mobile POS, smart signage, traffic analysis, smart mirrors and inventory management, at the edge locations lately.
But a slew of challenges pushes the merits of these technologies out of reach for companies. Cost is a growing concern among mid-size and smaller organizations trying to tap into edge applications. The edge infrastructure sprawl has quickly skyrocketed costs, leaving fewer companies with easy access to technological firepower that is a must to leverage the edge. Limited physical space is an added constraint to that.
The proliferation of devices at the edge has brought ashore tidal waves of data that has rendered cloud computing unrealistically costly and somewhat impractical.
"The costs of transmitting data still massively outweigh the cost of putting compute infrastructure into a location where you can actually process and work on data," noted Mr. Chesterfield.
Pushing all the data to a central processing system in the cloud has a gnarly cost. Processing data locally is a much more practical alternative to avoid additional latency.
But building a compute infrastructure and compute capabilities on-site is another worry. It is exponentially expensive, requiring complex computing to be done in store with little to no IT skills at hand.
New Rule for a New Paradigm
"A lot of challenges around consolidation that we saw in datacenters originally are now seen at the edge," comments Mr. Chesterfield. "The challenge we're seeing is very similar to the original motivation that we saw for cloud adoption twenty years ago – this move towards consolidating applications but being able to do that very efficiently," he added.
Industries are shifting away from investing in single-purpose systems that can efficiently do just one thing, and having to roll out infrastructure and solutions to manage things in parallel, to having a general-purpose compute framework where disparate applications and solutions can deploy in parallel, he says.
"The economics of cloud always functioned on the fact that you could overcommit resources because the majority of instances actually run. While you might think they consume a lot of resources, the reality is that they don't and the same is absolutely true with legacy applications at the edge."
Within an infrastructure where edge applications can be run and managed granularly and easily like in the cloud, operators can take a seemingly bloated application that is actually sitting idle, and run it parallel to other applications for increased efficiency.
Being able to do this on a large scale is what drives adoption of edge technologies, he opines.
Making Edge Simple and Seamless
Sunlight is a light-weight, purpose-built, hyperconverged infrastructure platform that allows centralized remote management of applications across thousands of edge locations. Built for companies with edge locations in scattered addresses, it helps manage and centralize IT functions without compromising the ability to run applications at the edge.
"We're the only platform that is really a purpose-built, hyperconverged edge stack," he says.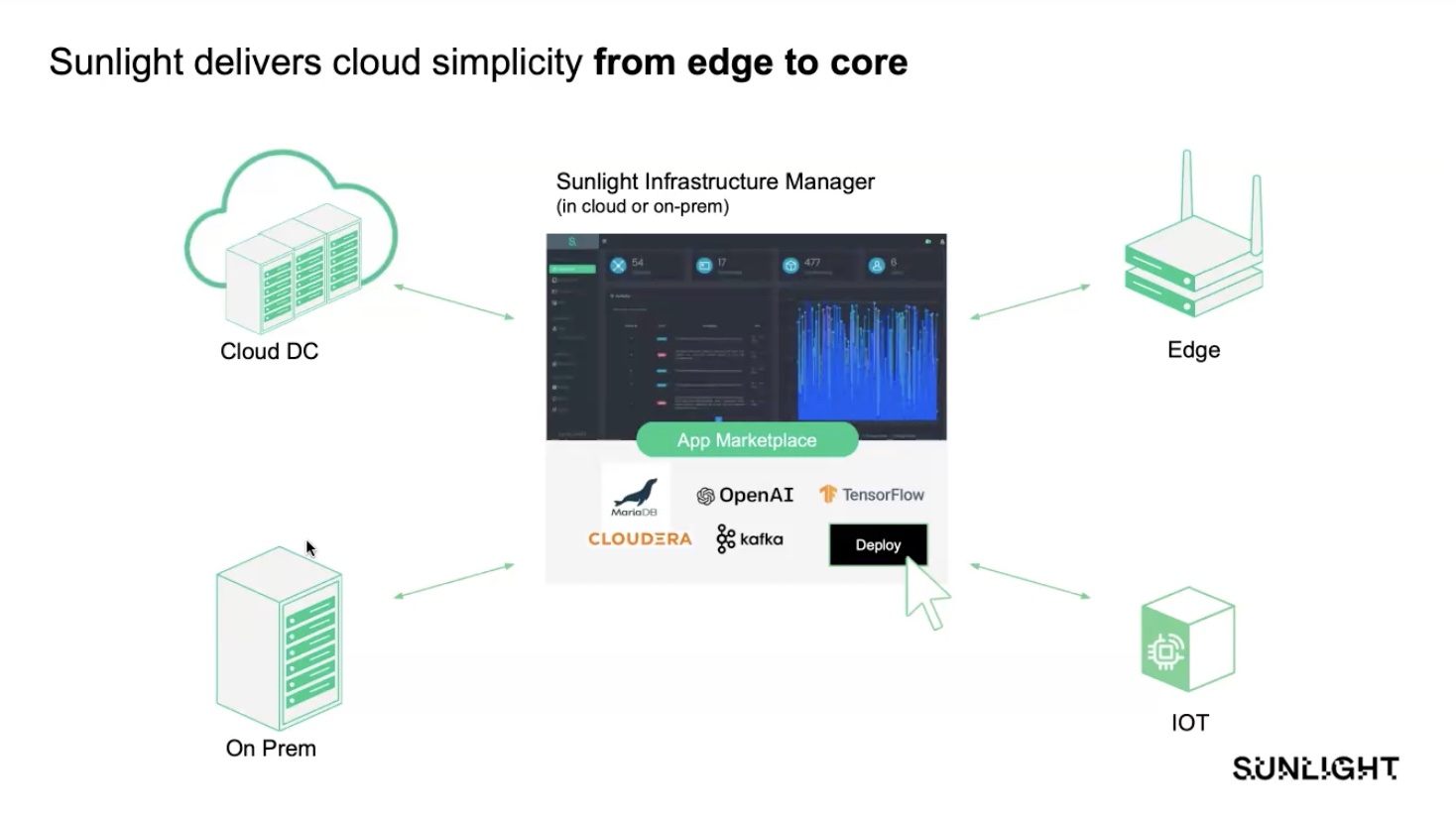 Sunlight is different from a lot of the hyperconverged technologies that have evolved out of core datacenter – Nutanix and VMware for example – that are designed to run in large-scale datacenter environments.
Contrary to those, Sunlight is engineered to run in constrained, mobile device type environments. "We can scale up into the datacenter, but our focus is very much on managing and supporting delivery of applications and services onto what we call as edge-appropriate infrastructure and doing that at scale."
Sunlight is a type 1 hypervisor, meaning it behaves like a thin OS, and supports a plethora of edge applications from the legacy and modern camps. Think robotics, digital twin, predictive maintenance as well as enterprise resource planning and supply chain planning applications.
Being ultra-light, it consumes zero CPU resources. "A hypervisor node for us consumes on the order of a couple of 100 MB of memory in order to execute," informs Mr. Chesterfield.
Designed to deliver edge-as-a-service, Sunlight has a quite simple consumption model. Nodes can be ordered preconfigured and preinstalled from preferred vendors on Sunlight's list of partners. Devices are shipped directly to the edge locations, no matter where in the world they are. Simply plugging them into the network connects the devices to the customer's Sunlight dashboard. As soon as the apps are pushed down, users can start managing the environment.
"In many cases, they can come shipped with 5G and LTE connectivity on box. So they can literally just power on and start to work in those edge environments," says Mr. Chesterfield.
The central component of Sunlight is an infrastructure manager called NexCenter. It is a centralized dashboard that runs on public cloud and on-prem. Users can perform a number of functions like managing secure connectivity to edge sites and scaling across sites, from it.
At the briefing, Mr. Chesterfield highlighted the Sunlight marketplace or app library. Based around Ansible, it allows dragging and dropping automation playbooks into the graphic interface of the dashboard.
"You can control deployment of any application and service to any of these connected edge sites that are managed via that dashboard," he says.
Centralized and granular management of edge applications across locations unlocks huge cost benefits. By consolidating disparate edge infrastructures into a single layer that is available everywhere cuts down TCO, putting an end to the worrying trend of skyrocketing costs.
Sunlight claims to cut down deployment time for edge systems by 70% by reducing support burden with a standardized procedure across locations. With automatic deployment and update of new applications, innovation and time to market is set on a fast track.
In Conclusion
The quest for value creation has made edge the launchpad of new innovations. Enterprises spending millions on edge solutions is going to bear fruit when applications can be deployed and managed in a way that generates value for businesses. Sunlight enables easy consumption of edge applications, turning each edge site into a highly available individual stacks similar to cloud in efficiency and management. A central dashboard consolidates the disparate environments across thousands of sites into a single layer that oversees the availability, security and deployment.
For a free demo, head over to Sunlight's website. For more stories like this one, keep reading here at Gestaltit.com.