Gartner defines multi-cloud as "the deliberate use of cloud services from multiple cloud providers for the same general class of IT solutions or workloads". But in practice, multi-cloud is more complicated than that. Imagine using a multi-cloud strategy for all your data. You portion out volumes of data to various public clouds to avail the best-of-breed service. This would solve a lot of the data inflation problem that we are grappling with, but not without presenting its own exclusive set of challenges.
Recently, Gestalt IT had the opportunity of having a briefing from Faction, Inc. We met with Matthew Wallace, CTO at Faction to talk about the problems faced by enterprises in multi-cloud, and how Faction seeks to solve them.
The Less-Than-Elegant Realities of Multi-Cloud
Enterprises sitting on a glut of data sees multi-cloud as the way to make it work. One can argue that scattering data and applications across cloud platforms has many merits, not the least of which are freedom from notorious vendor lock-ins and access to best-in-class services, but there're bigger problems tied to it that need to be dealt with too.
One of chief ones that Wallace drew attention to was data gravity. Data gravity is a problem that challenges the idée fixe that multi-cloud is the easy answer to data proliferation in enterprises.
The literal meaning of the phrase "data gravity" goes something like this – bigger bodies of data exert a pull toward smaller applications and datasets much like gravity. Because of this, the smaller bodies end up closer to the large volumes of data. This gravity is often likened to the force that keeps planetary bodies of smaller mass orbiting around those of bigger masses.
In a network, this may seem like a good thing because the closer the apps are to data, the lower the latency. But as these smaller datasets grow in size, processing them becomes precarious.
Aside from data gravity, woes of data migration and compliance headaches in multi-cloud are equally debilitating to business outcomes. But there is another thing that is causing big worries for enterprises going multi-cloud. Industry-wide, CIOs have vented their discomfort and frustration over growing cloud costs engendered by data gravity. Enterprises are starting to recognize that stitching together applications or pouring out data into multiple cloud comes as at steep cost. The ensuing rise in storage needs is ratcheting up their cloud bills.
Uncoupling Multi-Cloud from Its Headaches
"Multicloud is not multiple clouds," pointed out Wallace. There is a clear distinction between the two and that makes all the difference. Where using multiple clouds involves making multiple copies of the same data to keep it accessible via all clouds in question, multi-cloud involves using only a single copy of the data across cloud platforms, no duplicates, no migration.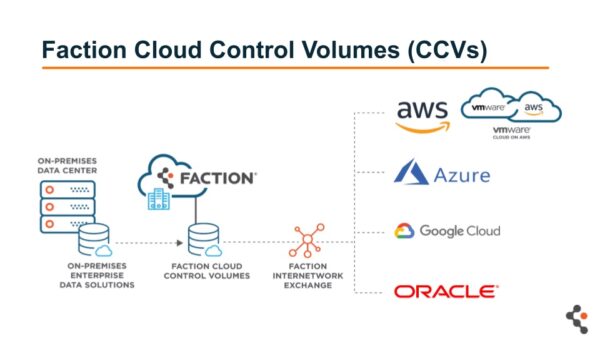 Faction believes that going multi-cloud need not be fraught with these many challenges. Faction Cloud Control Volumes offers a way around them. It's a cloud-adjacent storage platform that stores data centrally so that enterprises can extract value out of their data in an affordable and intelligent manner.
"Our method is to present the same copy of data from the same back-end storage systems into all the clouds at the same time, over the network. The focus we have is to make that network fabric super high-speed and low latency to make it feel like it's in every cloud natively," informed Wallace.
Faction Cloud Control Volumes
Cloud Control Volumes is set up on a high- performing proprietary network called Faction Internetwork eXchange or FIX via which it connects to public clouds like AWS, Azure and Oracle Cloud.
CCV offers users the ability to pick a cloud from get go via the Faction Portal. They can choose the required throughput, attach it to the chosen cloud service, and get started. Administrators can flexibly share bandwidth between providers, and add and delete connections as required. "You can reallocate, and you don't even have to know ahead of time," said Wallace.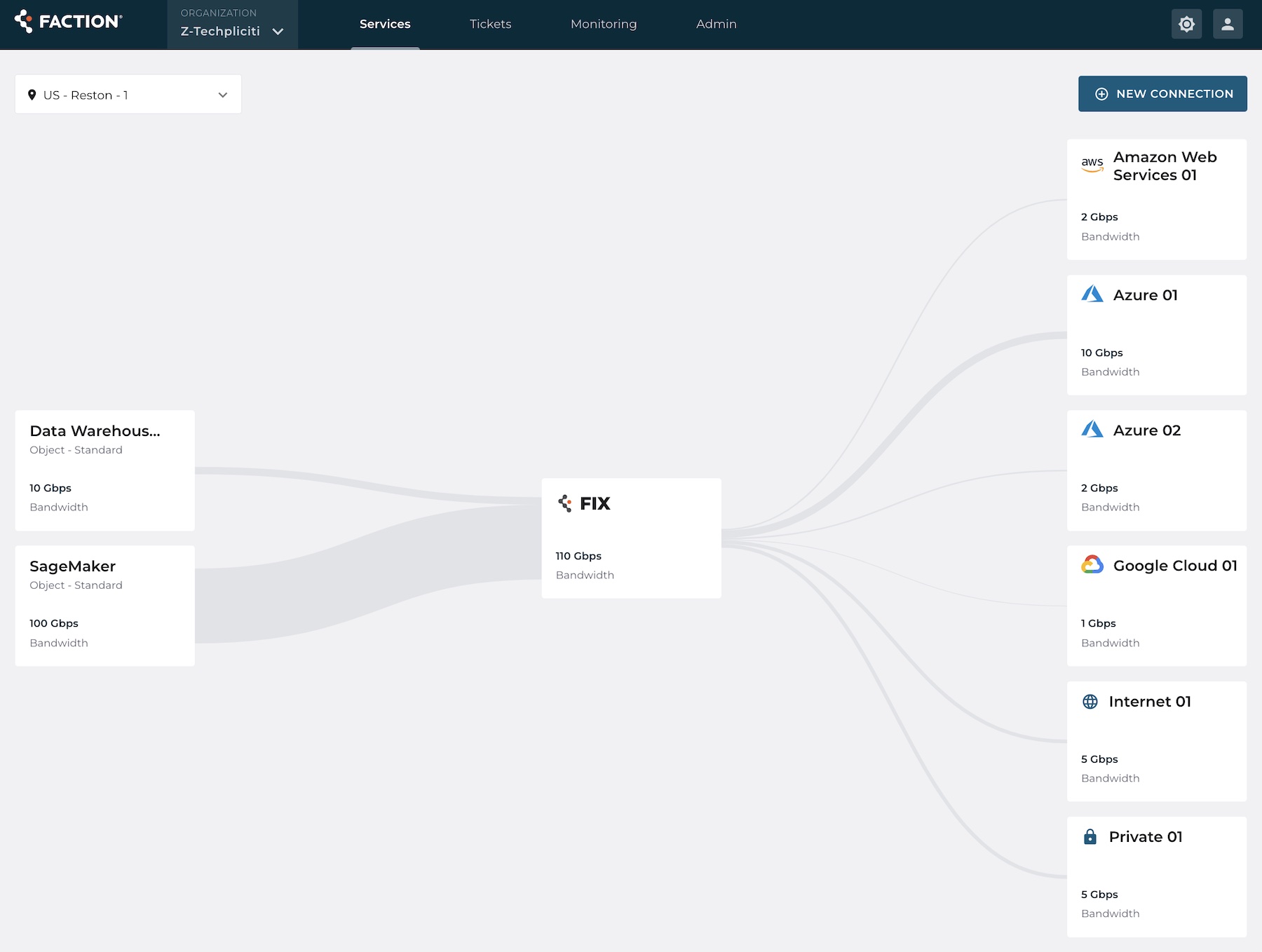 There's no limit to the number of Virtual Private Clouds you can share that bandwidth across. While hyperscalers limit sharing bandwidth to only a handful of VPCs, Faction's network architecture allows for a lot more flexibility in terms of scalability and sharing.
"We're actually abstracting the clouds away," Wallace pointed out. "But what if you want to use the unique things across every cloud?" This especially makes sense for data-intensive workloads in genomics and AI to "steal intelligence from that PaaS layer to actually use what's unique across each cloud."
Faction eliminates the inescapable complexity in multi-cloud while preserving the unique strengths of each provider. By reducing the number of copies of data down to one and centralizing it to be accessible via a high-throughput connectivity, it removes all silos and puts everything together on a single plane.
With Faction, you don't need to pay egress fees when moving data out from one provider to the next. But that is not the only way it saves organizations money. When working with multiple cloud providers, users have the choice to spin up capacity in the platform that offers the best economics without the hassles of data migration.
There is also a second piece that CCV addresses. "Our product automatically takes care of data gravity, connectivity, synchronization and egress charges," Wallace said. "But we're also seeing a lot of growing use cases that're sharing or collaborating across enterprises. A lot of these enterprises are multi-cloud either by choice or by circumstance. For them, being able to have teams share data across clouds becomes a challenge."
Faction has a data-first approach with which it delivers multi-cloud capabilities on an unified plane. Faction creates a single centralized copy of data that sitting in its native storage can be accessed any time, via any cloud. This setup, devoid of any data siloes, makes it easy for any number of teams to collaborate.
There are three performance tiers of storage to choose from – Ultra High, General Purpose and Archive which are designed to ensure that performance is finely matched to the requirements of the workloads, and users have tight control over the cost.
Faction has a REST API that all portal functions run through. It automates network provisioning making it possible for organizations to seamlessly switch between providers. Other functions include network monitoring and ticket access.
In Conclusion
There are two sets of use cases that Faction's Cloud Control Volumes best serves – one that requires lots of data sharing across cloud for data-intensive applications like ML, Financial Analytics, Life Sciences and Genomics and such, and the other that is looking to unlock breakthrough economics in multi-cloud. For both, it brings the best of public cloud. By preserving the specialties of every cloud in question, and rendering them on a common abstraction plane that levels the differences, it enables easy tracking and controlling of data from a single plane. The high bandwidth, low latency infrastructure that it operates on makes sure that application performance never suffers.
To learn more about Cloud Control Volumes, head over to Faction's website. For more interesting stories like this, keep reading here at Gestaltit.com.