Enterprises across industries are ramping up their hybrid cloud adoption to leverage a more agile and robust infrastructure for their workloads. This trend indicates that it's now more critical than ever to get a handle on the complexity sprawl in the hybrid multi-cloud environments. NetApp is one of the prime names that are heavily invested in making hybrid multi-cloud operationally simplistic and cost optimized.
At the recent Cloud Field Day Exclusive event with NetApp – Take Charge of your Multicloud Environment with NetApp – NetApp gave a presentation where they demoed the NetApp Cloud File Services. Taking turns, the team explained how with the Cloud Volumes platform, NetApp takes the crippling complexity out of the day-to-day operations in the cloud and makes them more much streamlined and simplistic with automation.
Enterprises Struggle to Keep up with Infrastructural Complexity in Hybrid Multi-Cloud Environments
Moving to cloud, companies have a few set expectations, the firsts of which are scalability, performance and flexibility. But what companies seem to want more and most is simplicity – simplicity of operations which is still a tall ask in spite of all the technological advancements in IT.
Expanding complexities is a very big hurdle in the multi-cloud migration which costs companies in more ways than one. Complexity demands hiring more expertise. If poorly handled, it can take a heavy toll on visibility, maximizing risks of outage, security breach, but most importantly cost overruns. How that ends is companies end up having decreased business agility which sets them behind on their business goals.
NetApp Steering Multi-Cloud Away from Complexity
As a company that is heavily invested in the hybrid multi-cloud space for years, NetApp collaborates with a body of industry analysts with whom it watches the trends and customers' needs closely as they emerge and evolve.
NetApp's Sr Director of Product Marketing, Chuck Foley says, "What's become really loud and clear from the analysts that we're working for is that we've kind of moved from a public cloud and private cloud distinctive." He continues, "The world is moving to a multi-cloud scenario and they're looking for a single way to interface with that."
Because of that transition, workloads are now more distributed than ever with workflows in several different cloud environments. He pointed out, "To some customers it means workloads by cloud where it makes sense."
NetApp is keying on the ask of customers to be able to better leverage a multitude of infrastructures, simplistically. "As a result of that we're investing in expanding our ability to have a common technology base everywhere" and delivering a unified access to all services.
At the crossroads of a flourishing need for engineers to understand the infrastructure better and the availability slack of knowledge workers for that purpose, NetApp employs AI/ML and automation to kill both birds with one stone.
NetApp Cloud File Services
The presentation at the Take Charge of your Multicloud Environment with NetApp event was delivered by Chuck Foley who prepared the ground with the context of hybrid multi-cloud. He discussed the problems that NetApp observes with enterprises in their hybrid multi-cloud journey and gave an introduction of the constituent solutions in the NetApp Cloud File Services. He was joined by his colleagues, Solutions Architects, Greg Marino and Vishnu Cheruvally who made things visual with a demo.
The NetApp Cloud File Services is a hybrid multi-cloud data services solution that performs the day-to-day infrastructure works like provisioning volumes, setting protection levels and backup and compliance on its own so that the engineering teams do not have to spend precious work hours on deciphering the system.
Built on ONTAP, which is NetApp's flagship data management software, the platform runs on-premises as well as in multi-cloud and also a service. With ONTAP at its foundation, Cloud Volumes offers all of the file data management capabilities, data protection and resiliency signature to ONTAP to all different environments.
The Cloud Volumes data management layer is rich with advanced data services that bring to enterprises the ability to deploy and manage NetApp storage automatically in any cloud of their choosing. Cloud Volumes ONTAP spans all the three major cloud providers, namely, GCP, AWS and Azure.
NetApp Cloud Backup, a SaaS delivered service provides data protection and allows backing up data directly from an ONTAP system whether it's on premises or in the public cloud to a secondary object store using block-level incremental forever backup. Cloud Backup can perform this action without a backup software. A NetApp native service, it is fully managed by NetApp.
Additionally, NetApp's Cloud File Services helps with infrastructure cost optimization in the cloud with intelligent cloud tiering that enables smart data placement and improved storage efficiency. By setting polices, data can be strategically tiered off to different storage tiers and just as easily retrieved and used when required. Cloud Sync enables seamless movement of workloads between disparate storage systems with simple drag-and-drop actions.
With Cloud Data Sense, discovery, mapping and categorization of data is automated in heterogenous stores and made sure that compliance is fully met. The platform also improves data governance by enabling users to granularly control access and permissions.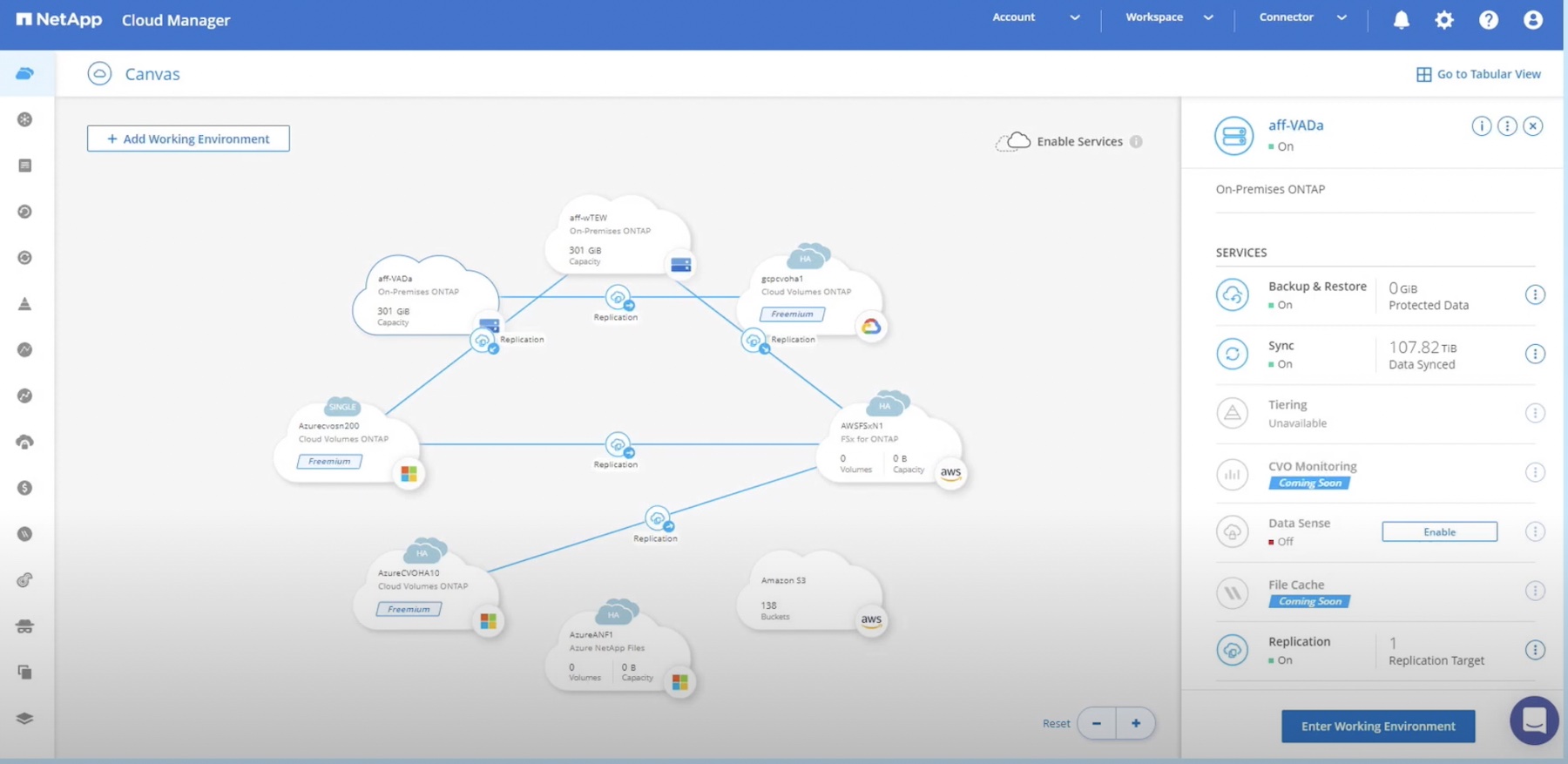 Cloud Manager is the control center of the platform that allows users to manage the entire infrastructure through a single web-based interface. Its capabilities allow users to deploy and manage data and data services across cloud environments. Working together with the Cloud Manager is Cloud Insights that is an infrastructure layer offering system-level visibility into metrics like health, performance, availability, utilization.
Last but not the least, NetApp also covers application development with Astra and Astra Trident that enable simplified storage, protection and movement of K8s workloads.
NetApp is currently working on expanding its integration to have an open interface that works with the technology portfolios of its partners.
Wrapping Up
A unified data services solution like NetApp Cloud File Services makes consumption of hybrid multi-cloud infrastructures infinitely easier and ultimate cost-friendly for enterprises. With Cloud File Services, NetApp has pieced together a Swiss Army knife of a technology that cuts through the notorious multi-cloud complexity and gives the engineering teams a hands-off experience that is so rare in the complex world of hybrid multi-cloud. Performing a myriad of day-to-day functions flawlessly and automatically, it has brought down the painstaking and elaborate process of hybrid multi-cloud management down to a point-and-click function.
If you are interested in the NetApp Cloud File Services or the individual solutions discussed above, be sure to check out the demonstrations in the presentation from the recent Take Charge of your Multicloud Environment with NetApp event.