In a fast-evolving business landscape, enterprises need their IT infrastructures to be resilient and high-performing, so that they can adapt swiftly to the constant changes, all the while keeping things secure and cost-effective. But on the contrary, modern-day IT is gripped with complexities that are not only obstructing businesses in meeting their goals, but really crippling them from the inside with sky-high CapEx and OpEx. We recently had the opportunity of meeting with Yan Ness, CEO and Chris Lehman, SVP of Sales from Verge.io to talk in depth about these challenges and how the Verge-OS is a simple and powerful solution to the complexity sprawl.
A Problem of Too Many
One of the biggest challenges affecting enterprises is cloud complexity arising from integration of too many technologies. The bigger the stack, the more complex the infrastructure and the more expertise it requires to operate. Staffing is expensive, and so is hardware, maintenance, orchestration, security, compliance and so on. In a blink the cost escalates to unprecedented numbers.
But it does not stop there. Each component accumulates technical debt over time which amasses more interest if unpaid. So, companies double down and buy more technologies adding to the existing list of vendors, software and active maintenance contracts. Instead of containing the complexity, it makes matter worse and puts them in what is called a negative feedback loop.
And all this while, the edge is exploding with data and its share of complexities. Traditionally, the datacenter stacks are split into siloes of network, compute and storage which in and of itself is a pain to manage – as it spawns more time-consuming tasks.
Reducing Diversity with Verge.io
It is obvious from the above situation that IT is in dire need of simplification and cost-cutting. One software covering all the siloes of the datacenter – that is nimble, secure and above all offers a wholistic single pane of glass view of everything would be ideal. Such a solution would make processing, storing and migrating large volumes of data across infrastructures easy, and thus make infrastructures optimally resilient and deliver IT economically.
What Verge.io seeks to do is on-point to this proposed solution. Verge.io is in the game of simplification. Seen as the "Easy button for private cloud", Verge.io attacks the complexity and cost problems of IT with a super-simple, thin, 300,000 lines code of a software that simplifies software defined datacenter for good. The Verge-OS abstracts compute, network and storage from underlying hardware, creating resource pools that can be managed and distributed granularly and flexibly. "We're a simplification play. The software we have really, completely changes the game of delivering IT", says Ness.
Back in the HCI days, Verge.io was known as Yottabyte. Since 2018, they renamed as Verge.io. While Yottabyte solved bigger problems like erasure coded storage and management UI, today, Verge.io seeks to solve the smaller and more stubborn ones in the datacenter.
Earlier this week, Verge.io launched new features for the Verge-OS software. The latest version of the OS, v4.10 virtualizes GPU performance making them available to users as shared resources. In a highly virtualized environment, it's a lot easier to procure out or employ resources to the applications that need them most. This adds more agility to the Verge-OS virtual datacenter and prepares the ground for GPU-based machine learning thus bringing more computer-intensive and HPC workloads within the reach of organizations.
Verge-OS – One Light-Weight Software that Dissolves Datacenter Siloes into Resource Pools
Verge-OS is a single license software suite for private cloud management that runs on commodity hardware. Secured with two-factor authentication, the Verge.io dashboard offers full transparency with a single pane of glass view of the entire datacenter, cluster, stack and storage. Boasting of a simplistic architecture, it has only one rest API that can call all functions and processes within the OS.
Ness explains, "We abstracted the entire datacenter into one single piece of software. Everything from failover, DNS, encryption, is pieced together in this single operating system. All you need to do is boot it up on a server off a USB stick or remotely, fill out a few networking pieces of details and how you want to use the underlying storage, which takes no more than 15 minutes – and grab the mouse and start spinning up virtual datacenters."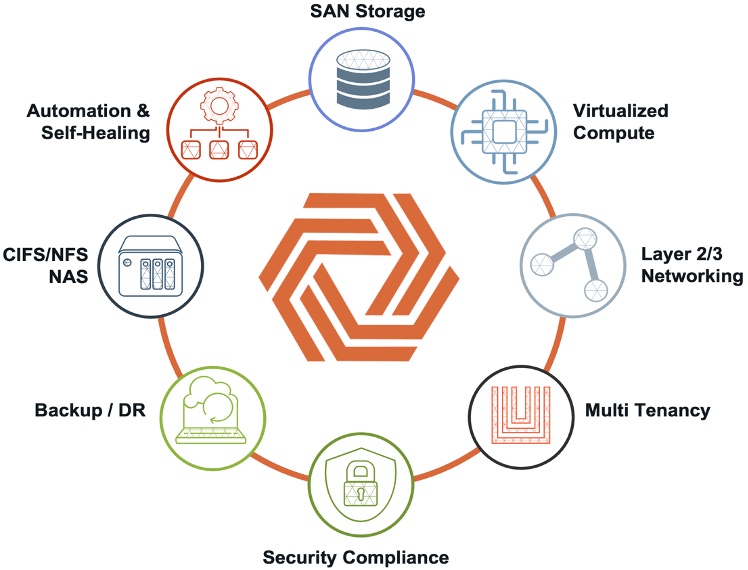 Like nodes which are physical servers combine to form clusters. On Verge.io, different storage and compute clusters from multiple vendors can be fully integrated and viewed as a hyper-converged environment. Verge.io pulls together and presents all of the resources in the clusters in a unified view.
Inside the dashboard, administrators can separately view the cores, RAM and storage in the resource pools, and reallocate resources flexibly based on these requirements of the applications, thanks to cluster multi-tenancy. Integrated with the Verge.io platform is their storage system which recognizes 5 tiers of storage. Out of the box, it offers backup and disaster recovery with built-in global deduplication, snapshotting and data recovery.
The latest version of the Verge-OS makes GPU deployment cheap and simple. By virtualizing GPU performance, it enables administrators and applications with access to the virtual environment to manage, run and share the resources inside the GPUs in a server and reallocate vGPUs as required. GPU Passthrough allows users to create a VM and gain access to GPUs and their resources. Verge.io also manages GPU virtualization and resource allocation thus allowing users to control all vGPUs from a single dashboard.
"Verge-OS completely changes the cost structure and the staffing model required to deliver public clouds and allows you to move public clouds out at the edge in a closet somewhere where you don't have anybody," said Ness.
Verge.io also has a super simple pricing structure which beats the complexity of SKUs. The subscription model requires users to either pay upfront for a physical environment or as per consumption.
In Conclusion
From what we learned at the briefing, it's clear that simplifying IT is high up on the agenda of Verge.io. This in and of itself is remarkable as reducing complexity alone can open up new ways to better manage the virtual datacenter. With its single pane of glass view, the Verge-OS eliminates a lot of the complexity and introduces transparency in the infrastructure. This stamps out unnecessary, time-consuming tasks and unlocks free time for administrators. The ease of resource relocation is another great addition that would help make sure that all applications have the resources that they need at a given time and that performance is not wasted or underutilized. Finally, the simplistic cost policy will help reduce capital costs and deliver IT economically.
To learn more about Verge.io, check out their website. For more exclusives like this one, keep reading here at gestaltit.com.