If the word ransomware doesn't send chills up your spine just upon reading it, then the effects of a successful ransomware attack most definitely will. Once in your infrastructure, ransomware holds your data hostage, preventing you from accessing it until you've paid the associated ransom, often hefty amounts of Bitcoin or other untraceable cryptos.
Instead of constantly worrying about ransomware and self-managing backups to prevent it, IT organizations can leverage solutions like Retrospect 18, the newest iteration of their backup and recovery solution, to keep their data secure regardless of where it's accessed or stored.
Keeping Ransomware Out of Your Environment
Ransomware is one of the largest security threats facing today's IT organizations. In fact, there are even vendors out there selling ransomware "as-a-Service," mass-producing viruses that attack an organization's data that anyone can pay to use. Amidst the looming threat of ransomware, how can organizations keep their data safe?
Backups and recovery (B&R) are a tried and true method for preventing the effects of ransomware, at least, when properly implemented. Many experts from around the industry recommend the 3-2-1 rule, which is making three copies of data, storing them across two different forms of media, and keeping one copy off-site at all times. Since many organizations have shifted to fully cloud storage models, however, it can be difficult to properly achieve the 3-2-1 rule.
Cloud-Native B&R
Instead of handling the hassle of backing up and restoring files and objects themselves, IT practitioners can rely on tools like the newest version of Retrospect, Retrospect 18, to take care of their B&R processes for them. From under the StorCentric (once Drobo) umbrella, Retrospect is committed to providing a simple, safe, and secure backup method — entirely through the cloud over port 497.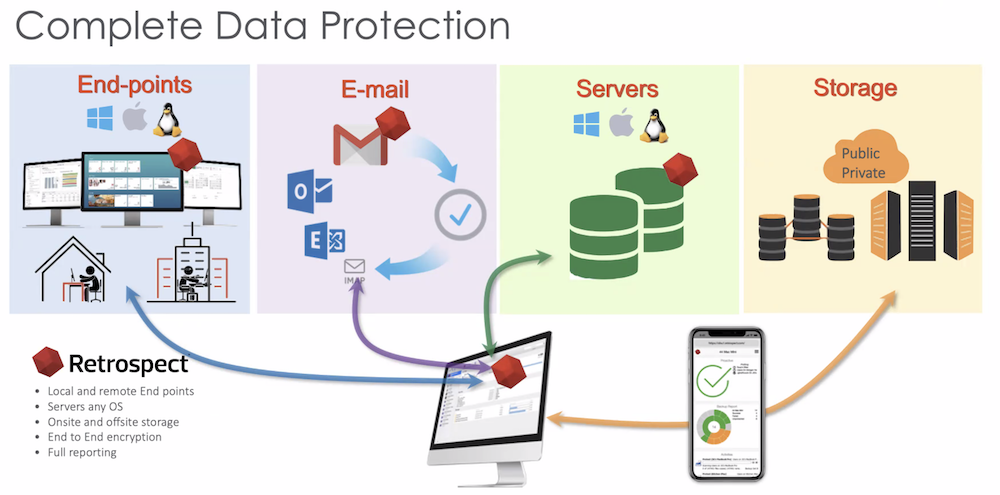 The newest version Retrospect 18, announced May 25th, provides comprehensive endpoint protection across servers, desktops, laptops, and cloud-based resources through backup and recovery efforts. That includes Mac, Windows, and Linux endpoints, as well as objects and bucket support in AWS, Azure, and GCP.
Using Retrospect 18 for Anti-Ransomware Purposes
We had the opportunity to sit with Retrospect GM, JG Heithcock, to talk more about their new release and what it means for organizations who want to prevent ransomware in their environment. According to Heithcock, Retrospect 18 delivers three core improvements to the platform: full cloud nativity, a new cloud-based management console and workflow, and finally, anti-ransomware protection capabilities.
Honing specifically on the anti-ransomware protection, Heithcock described that Retrospect 18 now provides object locking, making files and objects immutable with a click. Combined with their "data grooming" rotation schemes, Retrospect handles the 3-2-1 rule by integrating with cloud and on-premises storage options, using the grooming feature to constantly rotate backups and remove older ones to make way for new ones.
Through this, Retrospect 18 can also recognize when a file structure has been changed, flagging it as a potential ransomware event. Then, IT staff can go in and examine the flag, either approving it as an authorized change or denying it, removing that snapshot and restoring it with a safe one from before the attack. However, Retrospect stores none of your data on their own servers; everything is stored on your preferred storage option, meaning your data is entirely in your control while still backed by the peace of mind of Retrospect B&R.
With both a la carte monthly subscriptions and perpetual licenses, Retrospect customers can choose how many endpoints and servers they need to protect, making it a cost-effective option for enterprises and individual consumers alike. And, since it's entirely cloud-native, Retrospect can be used worldwide to backup and restore data anywhere, anytime.
Zach's Reaction
In a day and age plagued by ransomware attacks, it's reassuring to know that there are options out there like Retrospect 18 that provide simple, safe, and secure backup and recovery to ensure that data is protected from attacks. What's more, I love that Retrospect's platform is specifically architected to give you complete autonomy over your data while still keeping it protected from ransomware.
To learn more about Retrospect 18 and its anti-ransomware capabilities, be sure to visit their website. For more exclusive release coverage of companies like Retrospect, read more here at GestaltIT.com.