It seems like in the emerging market for composable infrastructure, PCIe is the emerging connection standard. While Infiniband-based architectures were the first to market, the versatility and ubiquity of PCIe have allowed Liqid to emerge with a novel infrastructure using a PCIe switch to provide for some truly scalable HPC-capable performance.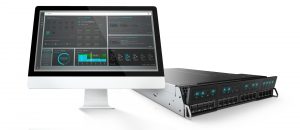 Given that PCIe 4.0 is becoming available, it's not too surprising to see Liqid moving quickly to adopt the standard. They've worked with Broadcom to create a PCIe 4.0 reference design kit, which will hopefully speed deployment with potential clients. This kit includes an impressive 24-Port PCIe 4.0 fabric switch, additional expansion chassis, and the node management and orchestration software that's powered Liqid's CI solutions for a while.
Composable infrastructure can probably use all the bandwidth that even PCIe 4.0 can provide, so the sooner that customers can test writing software against their APIs and see how they can integrate their hardware, the better. It'll be interesting to see if PCIe 4.0 becomes the standard that pushes CI into the mainstream.
Read more at Blocks and Files Liqid and Broadcom deliver PCIe 4.0 CI developer kit