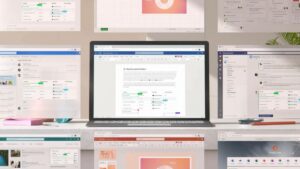 At Microsoft Build 2020, Microsoft detailed a new type of Office doc called Fluid, which provides a Lego block like framework of resources that can be edited in real time by anyone in the app. The idea is you could put these Fluid pieces in emails, chats or other apps, and they would update along with the source.
Microsoft will also open source the Fluid Framework to foster its adoption in other apps. The company plans to roll this out slowly to Office.com and Outlook on the web in the next few months, Microsoft Teams by the end of the year, and desktop apps next year. The idea is to create "atomic units of productivity" that can be tied to wherever they're needed, rather than locking them into a specific file format and finding ways to share that.
While Microsoft in some ways is still playing catch up to the ease of collaborating on something like a Google Doc or Sheet, their approach to Fluid seems to ask if collaborative Office Docs should actually be the goal for anyone? After all, a Word Doc is just a digital representation of using a typewriter. Sure there's lots of tools built in, but at the end of the day, the experience still tries to emulate that in a lot of ways. Why torture that already tenuous link by extending it into a collaborative space?
Instead, to borrow Tom Hollingsworth's observation on a recent Gestalt IT Rundown episode, Microsoft has found a way to containerize the core function they want to provide to users, collaboration and sharing, rather than trying to extend what they already provide. Lots of companies have tried to innovate with productivity collaboration (Hi Google Wave!), but when Microsoft weights in on a productivity solution, they have a track record that makes people take notice. And considering that it will be bundled into Office 365, Microsoft Teams, and probably supported by third-parties, the ecosystem is there for people to use Fluid.
Read More: Microsoft's New Fluid Office Document Is Google Docs on Steroids