VMware made so many announcements at VMworld US 2019 that one critical one might have been overlooked: Project Pacific is a new version of vSphere that includes complete native Kubernetes integration. This has massive potential to bring a new era of application classification and cloud-like application management to the datacenter.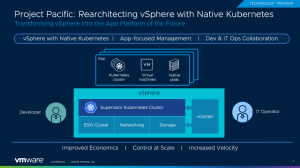 Gina Rosenthal comments:
What excites me most about this is that now the private cloud can be real, IT can provide a cloud operating model to their developers. This means developers can take advantage of Kubernetes while taking advantage of on-premises benefits such as low latency and the ability to adhere to compliance or security rules.
Read more at 24x7ITConnection: VMworld 2019 Announcements: Project Pacific