Site surveys are a critical part of wireless installations. There are a number of predictive tools out there that can help you figure out where the most effective locations to place your access points might be. However, even the best predictive tool can't account for things like unknown wall compositions, random interference sources, and even bad building design. How can you ensure that your best guess is the best plan?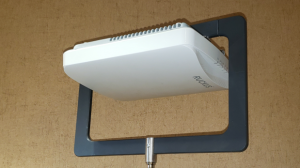 In a physical on-site survey you need to see what the actual access point performance looks like. That means deploying a device in the area where your predictive survey said to do it. Since you don't want to mount the AP to the wall or ceiling just yet and you need to be able to move it, you can just put it on the end of a stick! And so the AP-on-a-Stick Survey has been a staple of professional engineers for years.
How can you configure modern access points to work without a controller? Can you ensure they get enough power to work at the proper performance level? And are there any special configuration issues you need to deal with? The breadth of access points out there make it difficult to have a single way to do it across the board. Thankfully, people like Jim Palmer can help you out. He has a great post about configure Ruckus APs to be used as survey tools. Here's an excerpt from his guide:
If you want to convert from Unleashed to Standalone then go to the support site, download the Solo Access Point code for your AP, and then power up and factory reset the AP using the reset button on the AP. When it's ready for configuration, there is an upgrade feature near the bottom on the first page and just load the Solo AP (Standalone) code to the AP and let it reset. After that, here are the steps to configure an AP to be used for an APoS survey.
Make sure you check out the whole post for all his steps and tips here: Ruckus AP-on-a-Stick Configuration