Even if technology evolves at an incredible pace, some IT activities remain the same. Just like twenty years ago, IT Operations teams run the show behind the scenes, doing their very best to keep the lights green. IT Ops is no longer about merely managing on-premises infrastructure with the fast-paced transformation happening in the IT industry.
Administrators now need to manage hybrid environments, keeping an eye on private clouds and different public clouds. To make it even more complicated, the rise of cloud-native applications brings its own unique set of challenges to be addressed.
Several tools exist to monitor and automate IT operations, but either there is no overlap in functions, or the tools are too complex to adequately implement and operate. This leads to increased tools used, fragmented metrics/event visibility, and decreased operational readiness.
A Brief Recap on Cisco Intersight
Intersight aims to address those challenges. The on-premises version of Cisco Intersight was introduced in 2017 and is used by thousands of customers to simplify the lifecycle management of their infrastructure. Intersight has evolved and in 2020, the Intersight Cloud Operations platform was introduced and delivered as a cloud-based service. Intersight does not bear the burden of older infrastructure management tools.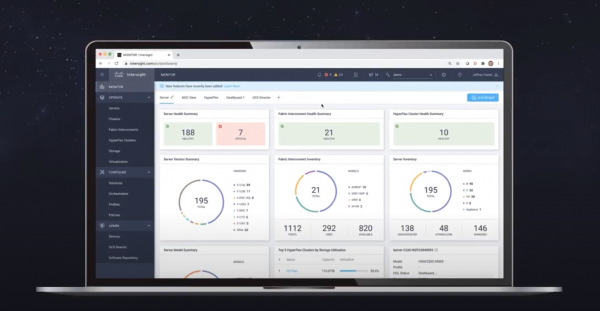 Cisco designed Intersight as a modular SaaS platform, with the intent to continuously extend its capabilities and feature set through the use of CI/CD development.
Besides monitoring and reporting capabilities (and a flawless, beautiful user interface), the unique value of Intersight comes from Cisco Intersight Services. These three modular SaaS offerings will be explored in this blog post.
Intersight Workload Optimizer
Intersight Workload Optimizer, also referred to as "IWO", is a hybrid cloud optimization service whose primary value is to simplify operations and reduce costs.
IWO has full-stack visibility into applications and infrastructure. It analyzes interdependencies between applications and infrastructure to determine how these relations impact workload performance.
Furthermore, IWO uses AI to analyze data and telemetry in the environment to propose resource recommendations based on quantifiable facts. Those recommendations can also be automated to simplify infrastructure management activities. Finally, IWO also includes scenario modeling and capacity planning features.
By adopting IWO, organizations can optimize their hybrid IT environments, cut costs and get more out of their infrastructure investments, and quickly assess future growth to better plan and reduce risk.
Intersight Kubernetes Service
IKS or Intersight Kubernetes Service is a fully curated container management platform from Cisco. It can be deployed either on top of VMware ESXi, Cisco HXAP, or on bare metal servers.
Intersight works with major public cloud managed k8s (Kubernetes) offerings such as AWS EKS (Elastic Kubernetes Service), Microsoft AKS (Azure Kubernetes Service), and Google GKE (Google Cloud Kubernetes Engine).
Beyond supporting general purpose containers, IKS is ideal for AI/ML development thanks to its support of GPU-enabled clusters and Kubeflow.
The outcome is that organizations can quickly get started with cloud-native development and manage their k8s environment directly from Intersight without painful manual setup and management hurdles.
Intersight Infrastructure Service
And last but not least, is the Intersight Infrastructure Service (IIS). IIS enables intelligent lifecycle management, deployment, and troubleshooting for Cisco data center products such as Cisco UCS, Cisco HyperFlex, Cisco converged infrastructure solutions, and third-party endpoints. It automates server, fabric, and storage provisioning as well as device discovery, inventory, configuration, diagnostics, monitoring, fault detection, auditing, and statistics collection.
IIS analyzes the environment and reports for any issues found; it can determine whether a customer configuration is set up according to best practices and can also raise a TAC case with Cisco support if necessary.
Intersight currently supports VMware vCenter, Pure Storage FlashArray, and Hitachi Virtual Storage Platform in terms of external support and integrations. Integration with ServiceNow is also possible.
Conclusion
Cisco Intersight is at the heart of IT Operations. It empowers infrastructure teams with the tools to deliver more value to organizations faster and without the burden of managing yet another set of infrastructure tools.
Operations are simplified: visibility extends across private and public clouds, workloads are continuously monitored and analyzed to identify optimization opportunities, keeping costs in control.
Cloud-native initiatives are strengthened:
Complex setup/maintenance activities are eliminated.
Public cloud compatibility ensures workload portability.
Developers are given a broad variety of options to focus on high-value development activities.
With Intersight, Cisco delivers tremendous value to existing Cisco UCS and HyperFlex customers as well as any customer that wants to optimize and simplify application resource management regardless of what platforms they are running, making Cisco a premier vendor of choice for efficient hybrid cloud operations.