In 2020, the sudden burden of a global pandemic hit organizations. Many had to massively scale their operations to sustain their business, following an unprecedented pressure on their applications and infrastructure.
Public cloud has played a vital role in lifting some of the pressure. Still, for a variety of reasons, organizations want to maintain control over their infrastructure, cloud spend, and data, particularly when legal / compliance requirements come into play.
Thanks to their lean and straightforward deployment capabilities, hyperconverged infrastructure (HCI) platforms have been at the forefront of what we can now truly call digital transformation.
HyperFlex Becomes Platform Agnostic
With HyperFlex, Cisco is not an outsider to the HCI. Each HyperFlex release has brought its fair share of innovations. Cisco's dedication has dramatically shifted HyperFlex from a challenger's position into that of a mature enterprise-grade HCI solution.
One of the prominent criticisms made of HyperFlex was that HXDP (HyperFlex Data Platform) was tightly bound to Cisco's hardware. While that played well for Cisco-oriented customers, this cast a shadow for customers interested in HyperFlex's unique differentiators but attached to different hardware vendors.
Cisco is announcing a software-only version of HyperFlex, which will run on third-party and white box servers. This includes ruggedized form factors, enabling organizations to run HyperFlex in demanding environments at the edge of their infrastructure. Ultimately, HyperFlex may also make it to the public cloud to deliver an even smoother hybrid cloud experience.
Embracing a Cloud-Native Future
Not all organizations have yet fully embraced the shift to cloud-native applications. Manually managing cloud-native infrastructure can be a daunting task, which is a reason for the success of various "Kubernetes as a Service" platforms.
Cisco's HXAP (HyperFlex Application Platform) had enabled customers to deploy vanilla Kubernetes services on their private cloud since 2020. With HyperFlex 4.5, Cisco is also announcing their own Kubernetes service, Intersight Kubernetes Service.
This is a big deal for Cisco HyperFlex customers because Intersight will provide a lot of automation into managing the Kubernetes environment.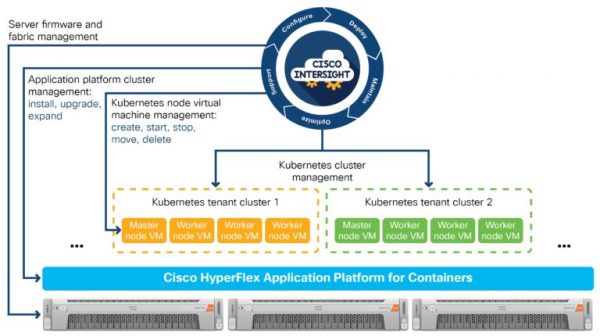 Intersight automates routine tasks, Cisco curates open-source tools and provides full-stack lifecycle management. Intersight was one of the great discoveries of Cisco Live 2020, and we will be covering this incredibly useful platform in a separate blog post.
The next big thing with containers is the support of the Kubernetes Container Storage Interface (CSI). CSI provides a much deeper integration between the Kubernetes orchestration environment and the underlying storage platform. This, in turn, allows HyperFlex storage capabilities to be exposed to containers and used by them.
New Capabilities
In our view, the most significant capability in HyperFlex 4.5 is the addition of a new, built-in native replication capability. Multiple source clusters can use a single destination cluster to store replication copies.
Security was also boosted with a new secure boot feature and secure shell. While this might not be in the spotlight, Cisco managed to address what remains the Achilles heel of competing HCI offerings.
iSCSI support was introduced, allowing other applications to take advantage of HyperFlex Data Platform storage features. This means virtual machines and bare-metal servers or containerized applications can now benefit from iSCSI, simplifying IT operations.
New Edge Servers
Cisco now provides specific edge computing solutions within the HX portfolio with two new Edge systems, the HyperFlex Edge 240 and 240 SD. Those systems support more storage capacity as well as GPUs. The 240 SD was mainly developed to deploy in space-constrained environments.
Conclusion
There is no doubt that in 2021, organizations will continue to operate their IT infrastructure under a hybrid model. This model is now expanding in two directions: towards the edge and cloud-native application delivery.
Cisco embraces those new directions by adding capabilities to HyperFlex, strengthening its enterprise-grade feature set, supporting cloud-native workloads out of the box, and offering customers new options about where to run HyperFlex.
Combined with Intersight, Cisco has managed to make HyperFlex one of the most interesting HCI offerings currently available on the market.
Major analyst outlets also confirm this in their latest reports, such as the GigaOm Radar for HCI in SME and Edge (by our industry friend Enrico Signoretti) and the 2020 Forrester Wave for Hyperconverged Infrastructure.
You can learn more about Cisco HyperFlex at http://www.cisco.com/go/hyperflex.