In my last post, I talked about what SASE is and why it is so important, given the state of our world today, thanks to the COVID pandemic. In this post, I want to point out how Cisco delivers big time with its SASE solution, Cisco SD-WAN, and Cisco Umbrella. Cisco isn't just a networking company any longer. It has gone way beyond simply networking. Cisco's SASE offering is among the best SASE solutions on the market and is sure to pique your interest. Here are some highlights of how Cisco has blended SD-WAN and security into a seamless SASE offering. 
SASE Delivered Your Way
As an organization, you can build your own SASE suite of tools, which would include SD-WAN, Zero Trust Network Access (ZTNA), Cloud Access Security Broker (CASB), Firewall-as-a-Service (FWaaS), and a Secure Web Gateway (SWG). However, why would you choose to manage multiple vendors when you can get the complete suite of tools from Cisco's SD-WAN? By integrating all the tools within one vendor's offering, you can simplify the process of adopting SASE altogether.
The Convergence of Two Incredible Solutions
With Cisco's SASE offering, you get more bang for your buck than you might find elsewhere. Cisco already has the number one SD-WAN solution on the market, with more than 30,000+ customers having deployed it. Add to the party Cisco's Umbrella, its cloud security offering, which is the number one in cybersecurity market share, boasting 100% coverage of Fortune 100 companies.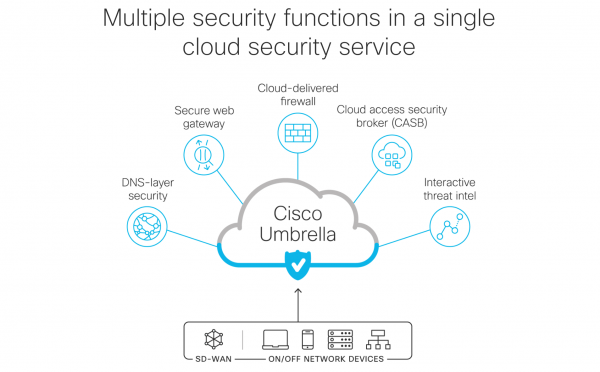 Cisco SD-WAN provides the following benefits:
A cloud on-ramp for IaaS, SaaS, and colocation
Support for evolving business application strategy
SASE and Integrated full edge security stack from branch to cloud and colocations
Secure segmentation across the entire network stack
Single dashboard for configuration and automated management of WAN, cloud, and security
Multi-cloud – connect to any cloud, securely
As for Umbrella, here are the benefits to deploying Cisco Umbrella, the multi-function SASE security solution:
DNS-layer security
Secure web gateway
Firewall-as-a-Service
Cloud access security broker
Interactive threat intelligence
Advantage Cisco!
Cisco SD-WAN + Umbrella customers gain many advantages over the competition and in-house a la carte SASE solutions. Some of the benefits you gain when you adopt Cisco's SASE solution are ease of consumption, uncompromised user experience, quick deployment, and simple management. There are only three licensing tiers for Cisco's SASE offering, Essentials, Advantage, and Premier.
The three-tier model of licensing simplifies your decision making with clear cut options and features at every level. Provisioning is a snap with zero-touch provisioning and templates for branch automation. When it comes to optimization, SD-WAN has you covered as well. With QoS traffic shaping, SaaS acceleration, SD-WAN optimizes cost and latency.
Decide for Yourself
What Cisco's SASE solution offers customers are flexibility and choice. Cisco SD-WAN + Umbrella lets the customer deploy and manage SASE their way, not allowing the vendor to drive your decisions and define your journey to SASE.
Cisco has created a SASE approach that lets you get on board quickly and then scale as you want and when you want/need to. This is only one source of information on Cisco's offering. When searching for a solution, you should do your research and decide for yourself.
Cisco has a great recorded webinar called SASE for Dummies that breaks down SASE and how it works. It spotlights Cisco's SD-WAN and Umbrella offerings that combine to create a reliable SASE solution that you can trust to deliver end-user performance while maintaining the highest levels of security.