Commvault is fully on-board the ransomware protection bandwagon and has plenty of options for those ready to change the way they protect their data.
Data protection was traditionally designed around only needing to restore data infrequently and usually not very much. Most restores were for a few files after someone accidentally broke something in the past couple of days, but you never knew what might be needed. Backups were, mostly, insurance: expensive and invisible but needed "just in case".
That all changed with ransomware.
Ransomware changed data protection from being a "just be careful not to fall into a pit" kind of threat to "I am being actively hunted by an unseen, highly motivated foe" kind of threat.
This is a profound change, and it has caught many companies by surprise. They are now scrambling to change the way they do things. The entire character of the situation is different, and this, more than any technical reason, is what has captured the imagination of boards and executives.
The focus has shifted from backups or even restores and to protection. Data needs to be protected from active threats, as well as passive ones. Restores need to be fast, and they need to restore a lot of data when (not if) we get hit. But more than this we also need to respond quickly, to know that a restore is needed and to start the process immediately, sure in the knowledge that it will work. That means knowing something has gone wrong with our data protection system quickly, so that we can fix it before we're attacked.
Data protection is no longer passive, it is active.
All Data, Everywhere
Meanwhile, our data is scattered across more locations and systems than before. It lives on-site, it lives at the edge, and it lives in the cloud, both in traditional infrastructure and inside software-as-a-service systems that are impenetrable to our more traditional backup tools. Our data is everywhere, and we need to protect it all.
That has led Commvault to add data protection capabilities for customers using cloud, adding integrations to Microsoft 365, Salesforce, and Kubernetes to its Metallic product line and tight partnerships with cloud providers like AWS and Azure. Yet customers still have plenty of data on-site and out at the edge as well. The data protection must go to where the data is, because moving data around is hard.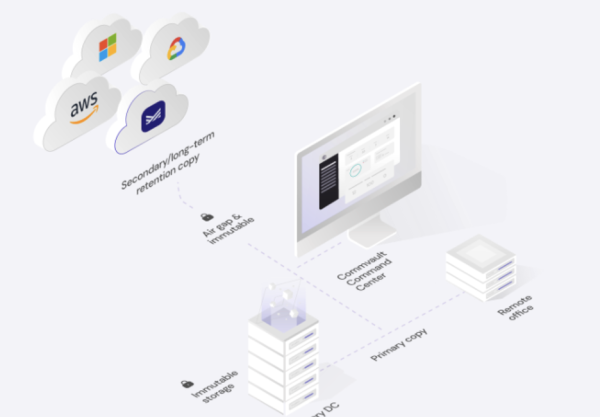 This is why Commvault has its "high-performance edge" HyperScaleX option to provide rapid restore locally where network bandwidth can be constrained, but also provides traditional on-site options. Organizations don't want their choice of cloud or edge dictated by their data protection vendor. They want a vendor that supports them in serving their customers, whether that means having data centrally, or distributed, or in any combination.
The challenge is how to do that in a way that works.
An Option for Everything
Commvault is keen for customers to view its portfolio of Intelligent Data Services as the one, unified solution for all their needs. It's aimed at customers with diverse needs; customers who use on-site, cloud, edge, you name it. They have data everywhere because of the nature of their business and expecting them to go all-in on a single way of doing things is unrealistic. They need someone to help them, and Commvault wants to be that someone.
This is different to the usual "we'll be all things to all people" approach from naive marketers who can't focus. This seems to be a more considered approach to provide options, but in a compatible, integrated way.
We see this with Commvault's built in approach to ransomware protection and recovery. For example, Metallic has introduced Security IQ, a built-in feature that scans the environment for suboptimal settings, strange behaviour and other weirdness so it can guide busy operations staff to both prevention and cure. These same controls are also available across the entire Commvault portfolio. Incorporating these capabilities directly into their solutions demonstrates Commvault's commitment to building security into its products, not charging huge amounts for bolt-on security options (cough Microsoft 365 E5 cough) that should be baked in from the beginning.
Commvault is providing new options to suit the new, more active data protection expectations of organizations facing the threat of ransomware. It's a trend I hope to see a lot more of from every vendor in the space.
For more information about Commvault and their lineup of ransomware and data protection solutions, make sure to check out their website at https://www.commvault.com/ransomware