In the networked world of today, we are all consumers of some network service, and as customers, we love to be served, and most of all, heard by our providers. But seldom do we think about our service providers, which begs the questions: who serves the servers? Or which service do they consume?
Particularly in networking, especially after the paradigm shift the pandemic started, service providers work around the clock to meet the growing expectations of their customers on the services they offer.
The Paragon Automation Suite
It has been amazing that the Tech Field Day folks are focusing on the service provider space, to talk about the challenges they have and how, many companies are serving the servers!
Some time ago, at a session with the Tech Field Day, Juniper Networks showcased their service provider focused automation offering— the Paragon Automation Suite. Though working for a service provider is definitely not a walk in the park, their offering is quite powerful, and can get even better.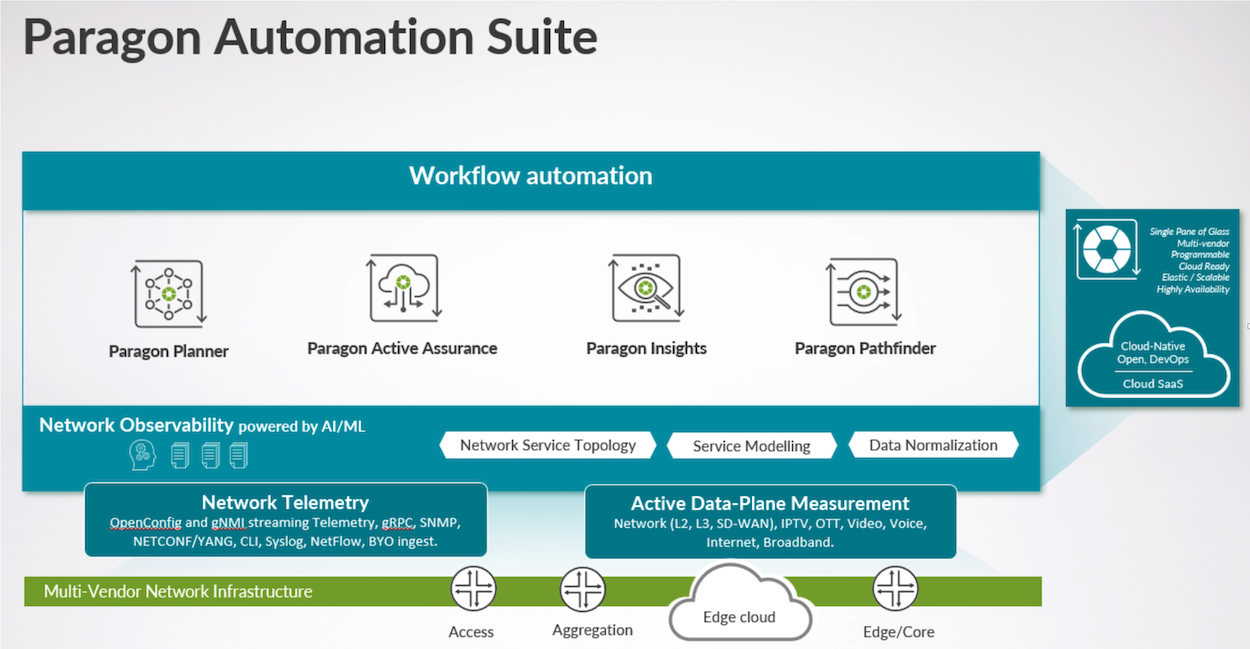 Each one of the components in the Paragon Automation Suite delivers a particularly vital service that can be used by the other elements in the suite. In other words, each one of the elements uses data as the language of love within the suite, and generates an output that the other elements can ingest to deliver a service. It's a marvelous ecosystem made of an army of foot soldiers working (and sometimes fixing/breaking) inside the computer tower case.
A convenient summary can be found in the image below: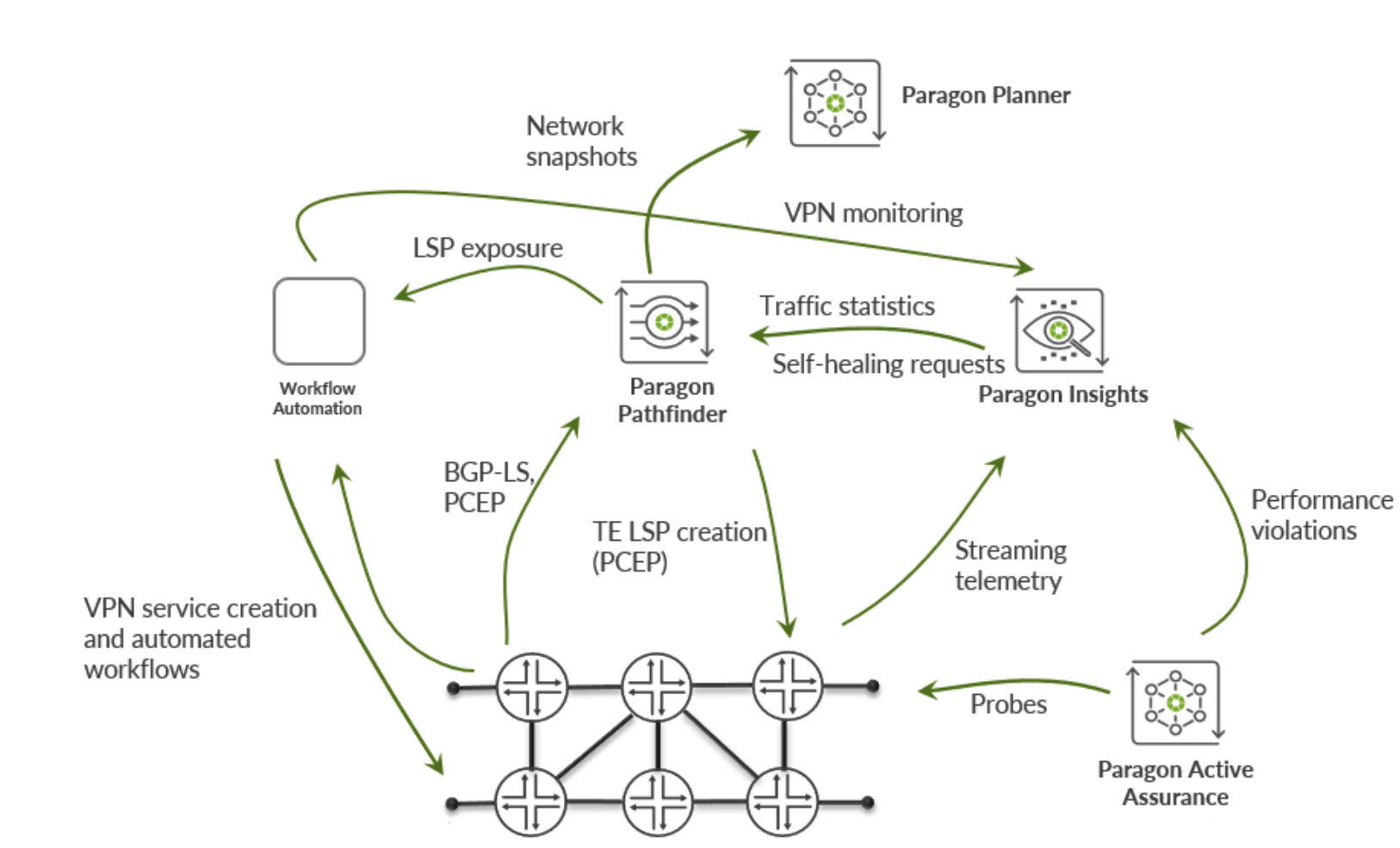 Here are the functions that the Paragon Suite can automate:
Monitor the network
Create and deploy services
Modify existing infrastructure
Log everything
Save network snapshots
Ingest and process network data
Graph services and infrastructure
Study trends
Everything focuses on the network information. For service providers whose revenue is related to availability, satisfied customers, services, reputation and flexibility, it is a marvelous resource.
The Problems
Managing a service provider grade network is a sizable amount of work that involves lots of technology, shrouded in the complexity that typically entails the delivery of a myriad of services to a plethora of customers.
Service providers run in similar ways as huge corporations. They have siloed teams and disjointed departments, doing more with less, performing a series of manual tasks, moving slowly, prioritizing stability and availability over anything else, and very often, preferring better the devil you know than the devil you don't.
Rarely if ever, greenfield or single-vendor, and in many cases, definitely not state-of-the-art and novelty.
In other words:
Inherently complex
Siloed
Manual
Massive
Risk-averse
Conservative
Non-standard
How do you manage, operate and improve a network infrastructure of such scale and complexity? You need capable and abundant engineering resources, patience, and clever solutions. And that's where Paragon Automation comes in!
The Proposal
In a novel package, the Paragon Automation Suite offers a series of features to address some of the biggest pain points service providers are looking to solve.
Service Modeling and Deployment
The network can be mapped and provisioned through several methods and protocols like OpenConfig and gNMI streaming telemetry, gRPC, SNMP, NETCONF/YANG, CLI, Syslog, NetFlow, and any other data sources, under the Bring Your Own (BYO) banner.
Being able to handle the word-soup of protocols above means the network devices and services from the past or the present can be added, mapped, deployed, graphed, and monitored.
Having a standardized set of models through the network allows providers to have a service-centric visibility. Knowing which services cross which devices, for how long, the sources and destinations, by abstracting the network complexity under them is helpful to say the least.
Active Measurement
Once the service has been deployed, it is important to measure, monitor, and evaluate the trends over time. Everybody loves bars and colors drawn and to tell a story in unison, and the way to do that is through measurement.
However, without correct measuring points and mechanisms, an accurate picture cannot be drawn. If the intention is to measure what the service looks like, it is ideal to send probes from a data plane perspective. This can be done with synthetic information generated by agents in the devices and sent through the network, mimicking user traffic all the way up from Layer1 to Layer7, and looking at the services through their own eyes.
Network Observability
By combining the service-centric view, topology information, network telemetry and active data plane measurements, you can get comprehensive and detailed observability throughout the stack.
Is the link congested? Do we need to move LSPs away from that device? Will it congest others if we do?
Answers to question like these can be found based on telemetry and active assurance.
SDN Solution with Multivendor Support
By showcasing path computing capabilities, LSPs can be created, altered, rerouted, and with them, services altogether. Taking into consideration factors like shared link risk groups, affinity/coloring, priority, LSP symmetry, ERO, SLAs and path diversity, among others, services can be monitored as part of the assurance, analyzed, and their paths computed, and optimized.
That's the entire lifecycle for the services through deployment, monitoring, and reprovisioning, if needed – all through closed loop automation, and setting the foundation for a more intelligent and self-driving network.
And the best part is, the protocols are standardized and devices can come from any vendor regardless of their already provisioned services and technologies.
Closing thoughts
The Paragon Automation Suite offers plenty of benefits and features that could help service providers to provision, monitor, manage and optimize services. It addresses several of the common pain points providers suffer nowadays such as, manual tasks, service deployment, monitoring, activation, testing and optimization, network observability, trend analysis and multi-vendor real estate.
Paragon Automation is a rather original combination of functions and features that allows not only to supervise, but also actively influence and optimize the network on a vendor-neutral basis.
Additional links for further information:
There's a wealth of information available if you want more details. You can find everything from short explainer videos, to use case demo recordings, thought leadership webinars with executives from BT and Verizon, case study videos from Orange Poland and GARR, product datasheets, complementary analyst reports, interoperability test reports and more. Just click on the links below to get started: