Juniper recently presented a Showcase session that talked about and demonstrated two of the Paragon Automation Suite's tools. It was quite impressive! This blog covers some highlights from the Showcase, and provides some additional coverage of one aspect of the demonstration.
But before diving into the technical side of things, let's talk about the overall setting around Paragon Automation.
Background
Paragon Automation is Juniper Networks' suite of tools for automation and management of WAN transport networks (L2 and L3 EVPN, E-Line, E-LAN, and IETF models). Think MPLS and segment routing and RSVP-TE.
Paragon Automation is multi-vendor based on standards and interoperability testing. It has four main components in total that cover end to end transport network management from planning to deployment, assurance and control.
Paragon Planner
Paragon Pathfinder
Paragon Insights
Paragon Active Assurance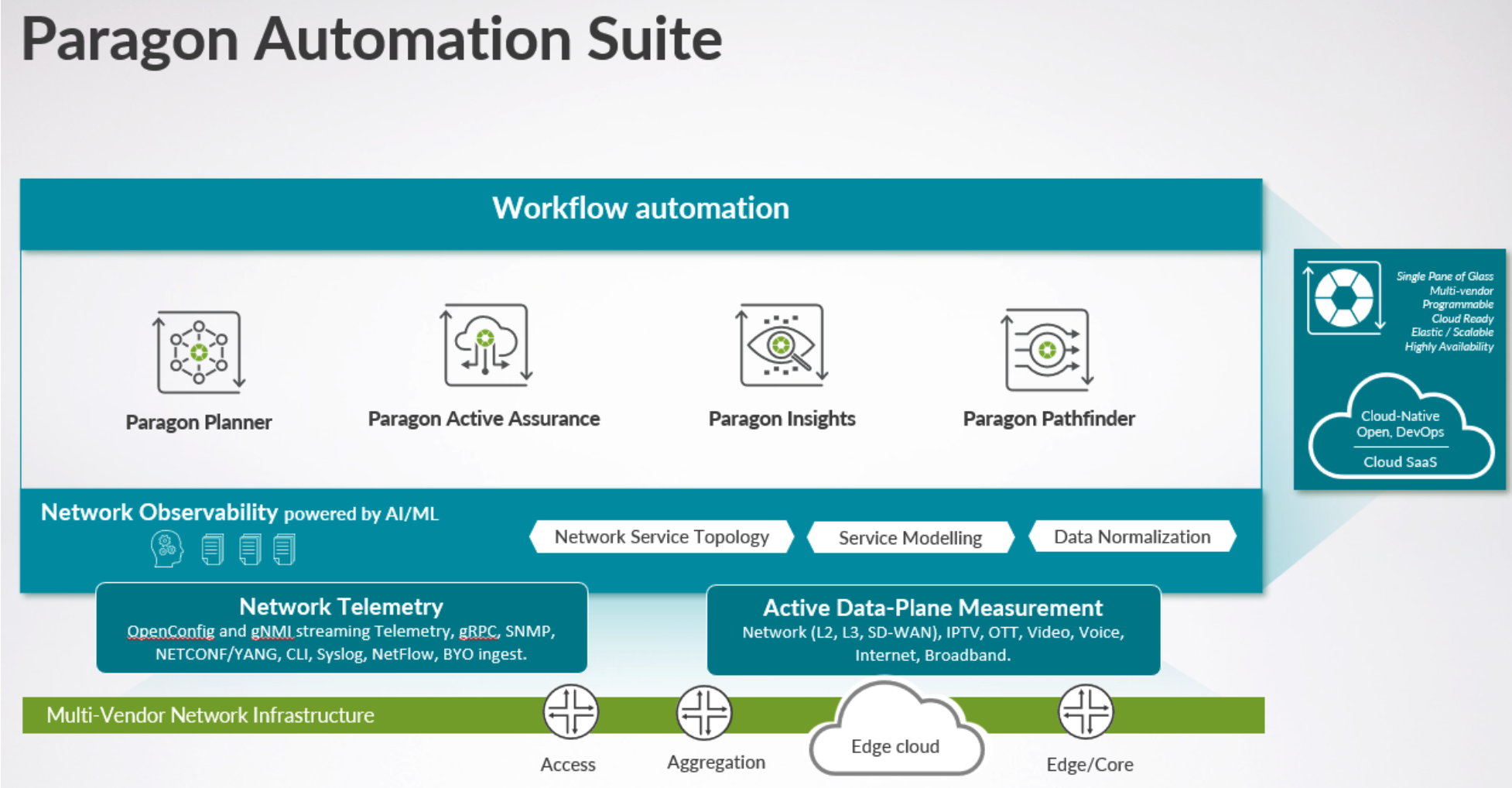 Showcasing The Power
Paragon Pathfinder and Paragon Active Assurance were the focus of the Showcase. The presentation explained the features and capabilities, and included some nice demos.
Juniper Networks refers to the market for Paragon as the "autonomous transport network", i.e. MPLS/SR, WAN providers, etc. In this session, Juniper emphasized on the automation and remediation capabilities of the suite in particular.
A key aspect of Paragon Automation is full observability: not only telemetry but the ability to use automated active data-plane synthetic test traffic to measure WAN network performance and SLA compliance.
Juniper has added some AI, making Paragon an automated control and remediation tool. It can automate latency-based routing, autonomous capacity optimization/congestion avoidance (re-routing traffic offloaded links while maintaining latency and other SLAs), and provide closed loop remediation (re-routing traffic away from a node or link that is unhealthy) while maintaining path diversity.
About the Demos
The demos consisted of introducing a test fault, and observing Paragon re-route the traffic to resolve the problem.
As a teaser, here's a brief description of what you'll see – network topology with links and stats, in the first demo case, and the latency on each segment. After a fault was introduced, the presenter showed how the path in question was re-routed by the software to avoid the problem. The discovery of nodes, links, and paths is all automated.
Here's what the demo network diagram looked like.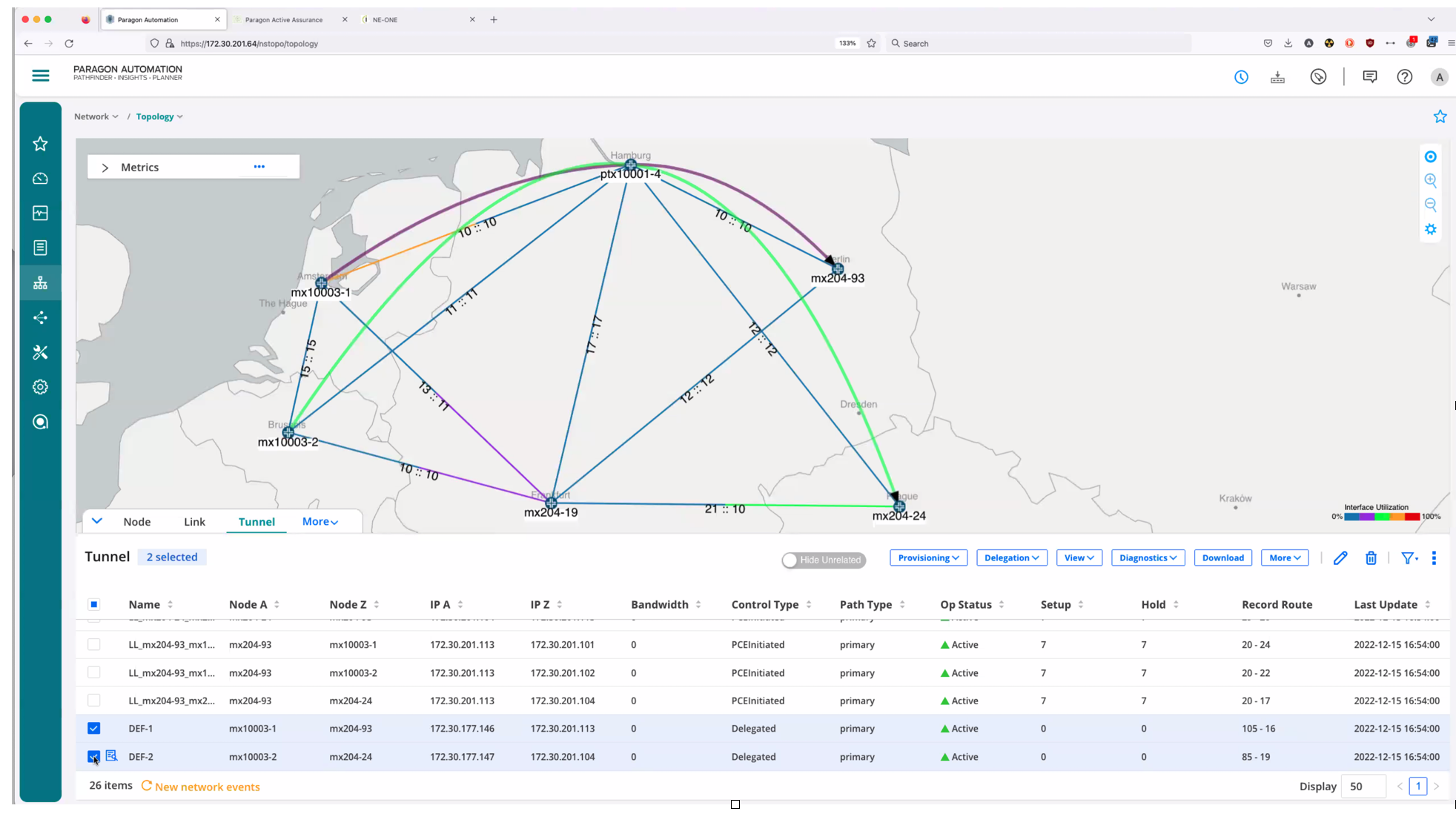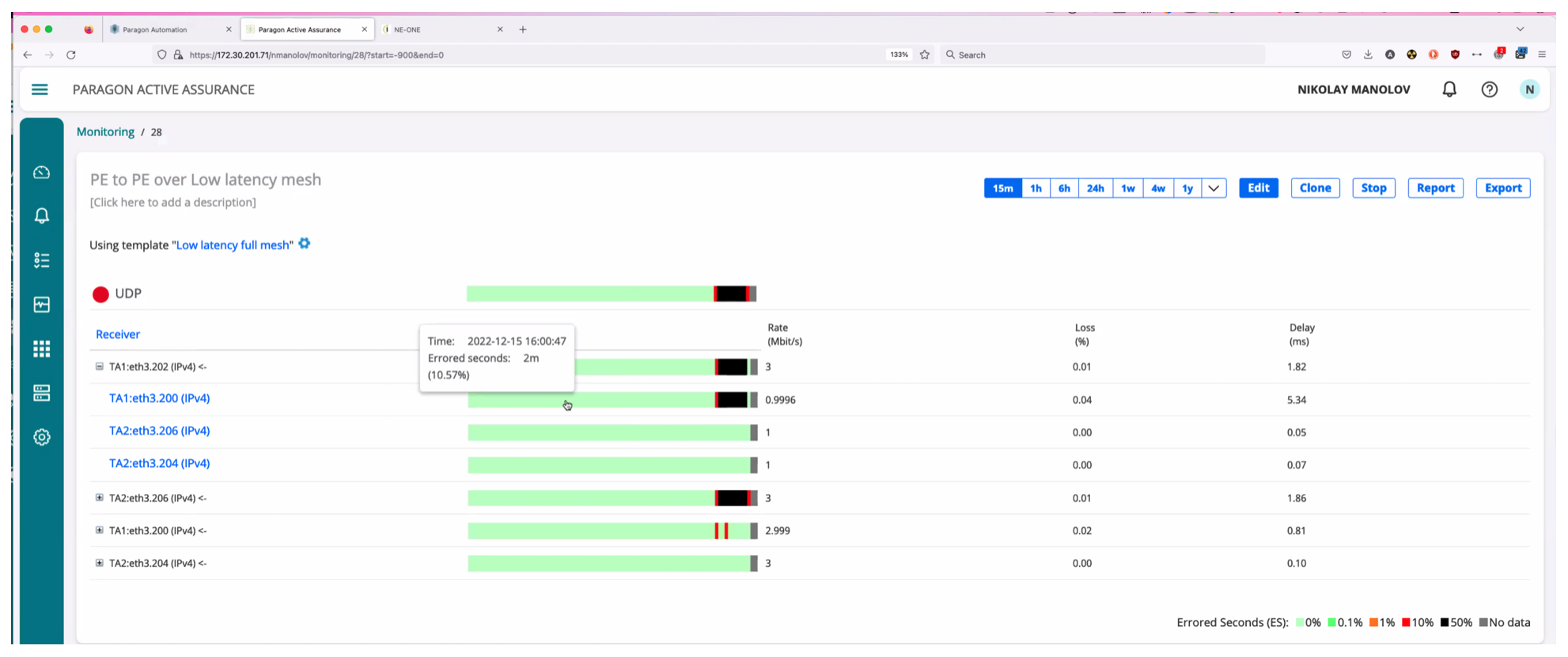 In the scenario we looked at here, Paragon Pathfinder created a maintenance event on the link in question, re-routing all traffic away from said link when the fault happened while maintaining the SLA integrity of running services (in this case supported by LSPs). A prioritized approach is automated as far as selecting the first paths to re-route.
Key: Synthetic Testing!
Synthetic UX (user experience) testing has been a hot topic lately, and one of the tech areas I'm keeping a close eye on.
Some aspects of Paragon's testing capabilities are highlighted below.
For any UX testing, the key elements are the agents and tests that are available with Paragon Active Assurance. As a quick overview and reference, the following supplements what was discussed in the Showcase.
Test Agents
The Paragon Active Assurance test agent is now natively present in Juniper ACX series routers.
The agents are also available in software-only and cloud-ready forms: VM on hypervisor, container application, software on x86 hardware, network device, on standard PC, or booted from a USB, also as securely hosted SaaS in AWS.
Test agents automatically discover and register with the control center, and appear in an inventory after being launched or connected to the network.
There is a REST API and YANG model for external control and monitoring of Paragon traffic-generating test agents.
Generally, users would deploy a mesh of test agents and tests to monitor the links and end to end services. Agents and tests might subsequently be added to add data where temporarily needed.
Control
Paragon Active Assurance is operated from a cloud-ready multi-tenant Control Center with web GUI.
Types of Tests Available
"Test Agent capabilities include service activation (Y.1564, MEF 48), network performance (UDP, TCP, Y.1731, TWAMP, path trace), Internet performance (HTTP, DNS), rich media (IPTV,OTT video, Netflix, VoIP telephony, and SIP), as well as support for controlling Wi-Fi interfaces, and performing remote packet inspection." JUNIPER PARAGON ACTIVE ASSURANCE DATASHEET
The following graphic explains:

See the datasheet for much greater detail on the tests available. (Link below.)
There is also a GUI for building test sequences and specifying SLA compliance thresholds. These can be templates with parameters filled in at runtime.
What's missing in the above list is RUM-tool like capabilities, for measuring components of an app or web page. But that makes perfect sense as it's not something a WAN provider is likely to be doing.
Conclusion
The demos showed how easily various operational tasks might be accomplished using Pathfinder, while hinting at the automatic response the system could provide to various error conditions. They also gave a good sampling of the breadth of potential automated responses that could be enabled via the Active Assurance passive and active testing of links, paths.
That being said, looking at a couple of the demo screens and the documentation, there's some complexity present, but it's commensurate with the deep capabilities of the tools. At a glance, the user interface appeared to provide efficient access to those deeper capabilities.
If you're in the WAN/MPLS/Segment Routing Transport business, make sure to check out the Showcase video, and look more deeply into the Paragon Automation Suite.
Additional links for further information
A useful repository of resources including a short explainer video, product datasheets, a complementary Appledore vendor profile and the latest EANTC interoperability test report can be found on the Juniper website. It's a great way to learn more about how Juniper designed its Paragon Automation suite and its vendor-agnostic controller support.
You can also find the full recordings of the Showcase sessions, along with relevant case studies of Orange Poland and GARR, and summary-level demo videos, by clicking below:
To learn more about the topic of autonomous transport networking, any why it's fast becoming a key differentiator by enabling superior customer experience, you'll find free analyst reports from ACG Research and STL Partners, a CxO webinar with thought leaders from BT, Verizon and Juniper, and blog posts from Juniper executives: The benefits of end to end network automation