Introduction
Like it or not, the era of multi-cloud is here. Organizations small and large will have to contend with running in a hybrid scenario at minimum, and increasingly in a multi-cloud environment, including both public cloud providers and private cloud running in on-premises datacenters. In fact, the Flexera State of the Cloud Report for 2022 shows that 89% of respondents are pursuing a multi-cloud strategy, which tells me that the other 11% are running multi-cloud or just don't know it.
What enables a multi-cloud strategy to be successful? Certainly there are several factors, however we don't have to guess. The State of Multi-cloud report published by HashiCorp in 2022 helpfully tells us that the top factors impacting multi-cloud success are operational in nature.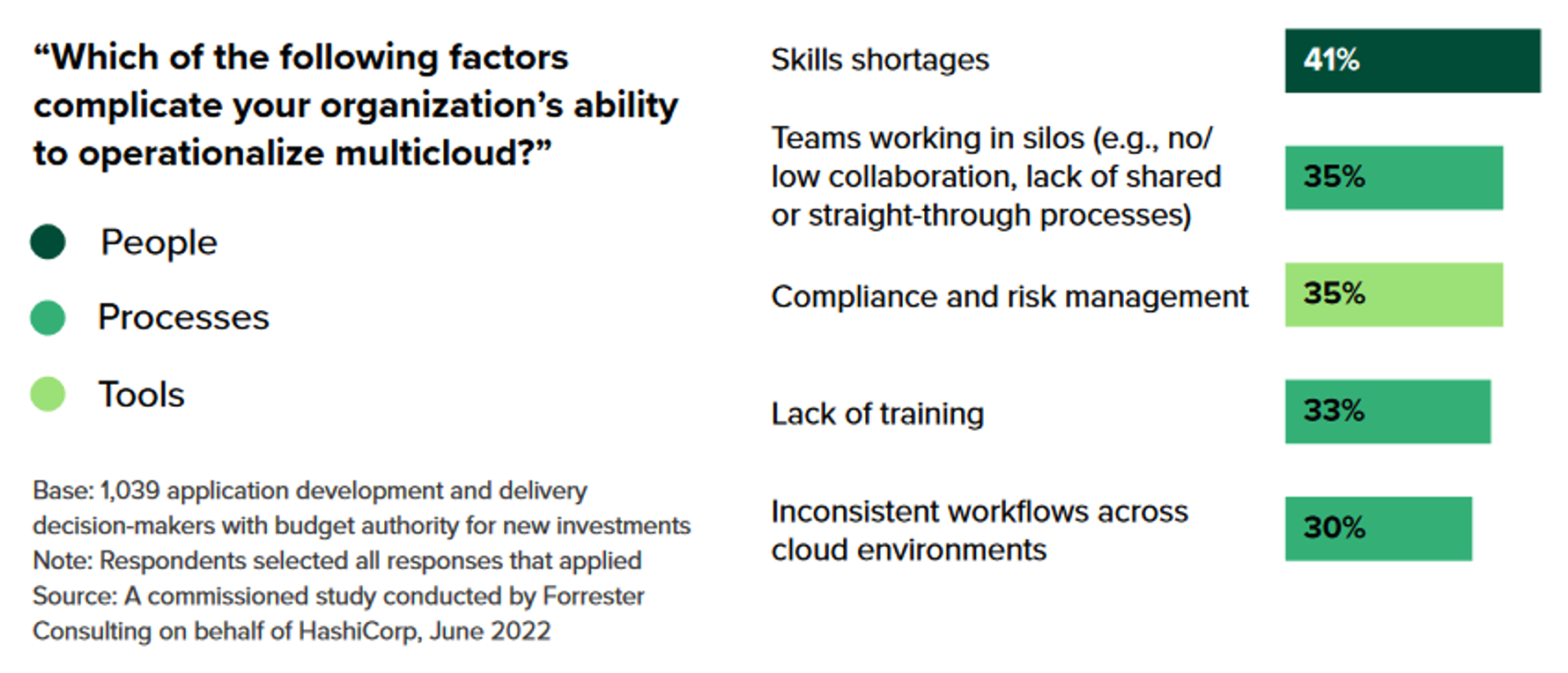 When the term cloud is thrown around, people tend to talk about a location or service, e.g. the public cloud or private cloud. That is an incorrect approach. To understand cloud, it must be approached as an operational paradigm. Cloud isn't where you are, it's what you do. Multi-cloud success – or any cloud success – hinges on well implemented cloud operations.
Recognizing the need for effective cloud operations shifts the perspective from location to people, processes, and tools. Based on the research, the challenges facing cloud operations are a lack of available skill, inconsistent processes across teams and cloud providers, and a high level of risk regarding security and compliance. One possible solution that helps improve cloud operations efficiency is the adoption of cross-cloud platforms and tools.
Cross-Cloud Platforms
A cross-cloud platform does exactly what it implies, it works across multiple cloud providers offering a consistent look and feel along with standardized processes. To further define the term, I believe that an effective cross-cloud platform needs to have the following characteristics – consistent look and feel, abstracted control plane, cloud-native intelligence, and a managed offering.
For a platform to function across multiple clouds, it needs to present a consistent experience to the operator. Otherwise, the operator could simply use the native tooling on each cloud provider. By giving a consistent experience, operators are able to create standardized operations across multiple providers, while reducing the number of tools and platforms they need to learn and support.
Underlying the experience is an abstracted control plane that functions independently, regardless of any given cloud provider, unifying operations and reducing the context switching, common of many solutions where each provider implementation is managed separately. Having an abstracted control plane makes it easier to incorporate new providers into the platform without needing to create a different UI or interface. In other words, the control plane should be abstracted from the data plane.
While the control plane needs to be abstracted for consistency and operational efficiency, it is simultaneously critical that the data plane remain focused on each cloud provider. Most organizations are leveraging special or unique functions on each cloud provider, and any cross-cloud platform needs to keep those functions available to the operational team. Likewise, each cloud provider has key points of differentiation in how they operate, and cross-cloud platforms must understand and deal with those primitives effectively.
Cross-cloud platforms also need to have a managed version of the control plane available for customers who do not want to deploy and manage the control plane themselves. One goal of adopting a cross-cloud platform is to improve operational efficiency by reducing administrative burden. A managed control plane, and possibly the data plane, will give the operations team one less thing to care for and maintain.
HYCU's Protégé
According to the HashiCorp's State of multi-cloud report, data protection was the most important tool in a successful cloud strategy with 88% of respondents listing it as "important"or "very important". Recently, I took a briefing from HYCU about their Protégé platform, and I have to say that it ticked all the boxes of a true cross-cloud platform. The Protégé platform is able to provide data protection and disaster recovery services across multiple cloud providers, including the big three public providers (AWS, Azure, and Google Cloud) and private providers like VMware and Nutanix. The user experience for each provider is consistent and surfaced through a centralized control plane managed by HYCU. Operations teams will have both consistency of experience across cloud providers and reduced administrative effort from a hosted solution.
Even though the control plane in HYCU is provided as a service, the data plane resides in the customer's environments. The data plane for each cloud provider is specific to that provider and was built from the ground up by HYCU to understand the underlying components of each provider. Baked into that understanding is a form of cloud intelligence regarding workload placement, data storage, and cross region replication. Operators can leverage the universal control plane to implement consistent processes, while still having access to the primitives of each cloud provider.
Another benefit of using HYCU as a cross-cloud platform provider is the portability of protected data between cloud providers. Systems protected on one provider can be recovered to another provider, granting both cross-cloud protection as well as a path to migration, if desired. That type of migration is only available from cross-cloud platforms that have a common control plane across multiple cloud providers.
Conclusion
Multi-cloud is the de facto strategy and operational reality for almost every organization. Unfortunately, we are also facing a massive cloud skills shortage, and multi-cloud only exacerbates the problem. The solution is to adopt tools and platforms that work consistently across multiple clouds, reducing the learning curve of administrators and simplifying processes and procedures. HYCU's Protégé is a great example of a cross-cloud platform built by folks who understand the problem space and have a deep lineage in data protection. They know what came before, where it fell short, and how to build a modern platform that will support cloud-native workloads in a multi-cloud world. Cross-cloud platforms are the next wave and HYCU is on board for the ride.
To see the full presentation from HYCU, check out our Showcase page on the Tech Field Day website.