The Importance and Complications of Back-ups
Backing up data has been important ever since that first engineer had a system crash back in the early days of computer technology. Backing up data has also been a neglected afterthought ever since one day prior to that first engineer having that first system crash. HYCU (pronounce haiku) promises to make on-premises and multi-cloud backups less complex and easier to implement.
Backups are complicated. You need to determine which environments need to be backed up, which applications will be best, and what SLAs does the important data have. Along with the complexity of backups, they are often incomplete. Users need to assure that all the data is being backed up without depending on frequently running an Application Dependency Mapping (ADM) tool. Another issue with backups is that they are not tested often enough. Mostly they are ignored until a Disaster Recovery event has occurred. Finally, backups are grudgingly funded because no one wants to pay for something that they never use.
Some Facts on HYCU
Founded in 2018, the goal of HYCU is to make backup easier by creating an agentless "true Backup-and-Recovery-as-a-Service" solution that can be leveraged on-premises (VMware, Nutanix, & Powerscale), in public clouds (AWS, Azure, GCP/GKE) and SaaS (365, DB2, SAP HANA). HYCU was recently named one of the Top 5 SME AWS Cloud Backup Solutions, and their Application Awareness process was awarded patent.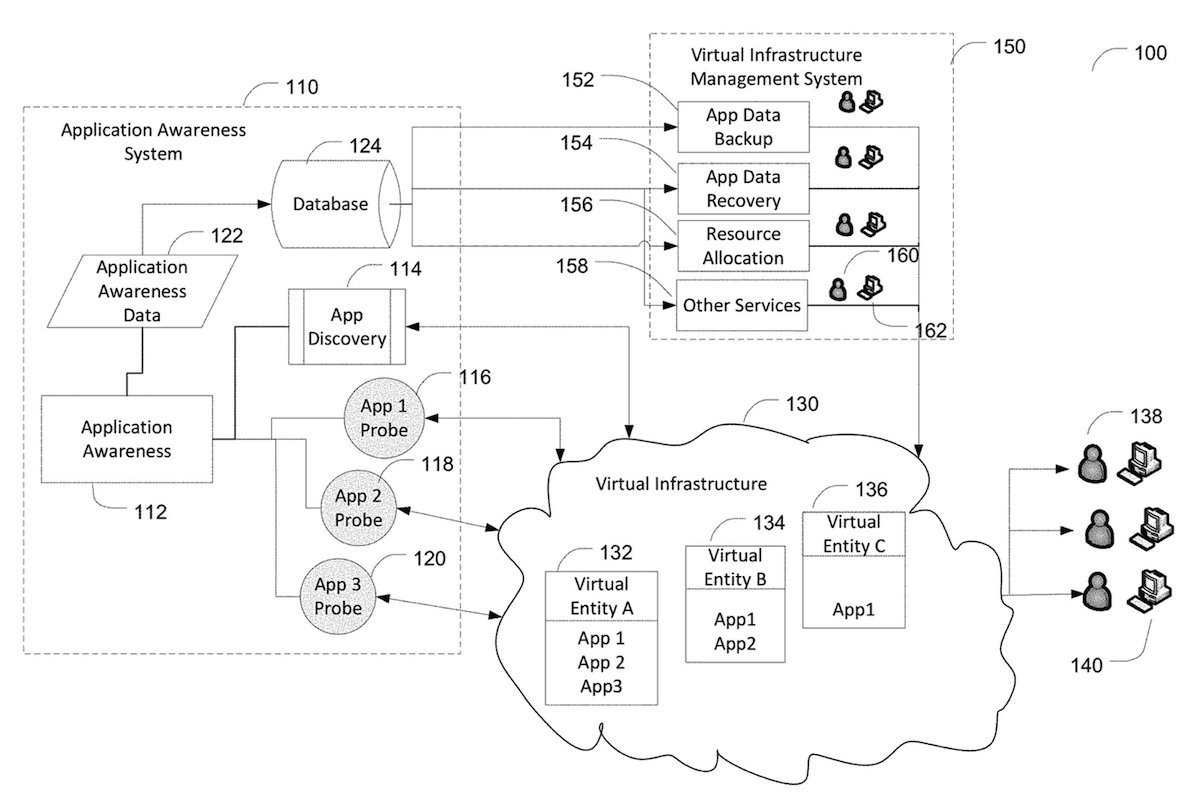 HYCU did a presentation of its product Protégé during a recent Tech Field Day Showcase. The delegate panel constituted experts from the cloud/backup space. The presentation delved into the product from several different perspectives allowing the delegates to ask questions about the architecture of Protégé, ransomware use cases, and migration capabilities. One of the more interesting aspects was a specific technology within their product that they called application awareness.
App Awareness
One of the biggest gaps inherent in most of today's backup solutions is the inability to modify a backup process when "something changes" with an application. Applications are continuously improved and the advent of microservices architecture has accelerated this trend further. When an application owner adds new functionality, it can live on a different virtual machine, container, Kubernetes pod, or even serverless architecture. Even with rigorous change control, manually modifying your backup schedule every time these changes occur can create a lot of unexpected overhead. Alternatively, if the change control does not happen and the backups are not modified, you run the risk of having inconsistent backups that do not have your entire applications state ready for retrieval.
Application awareness functionality seeks to ameliorate this situation by viewing backup from the application perspective. Subbiah Sundaram, SVP, Products at HYCU explained how Protégé handles Application Awareness. One of the big hurdles in any quickly changing IT environment is keeping tabs on what your applications are doing. The functionality of Protégé is for a specific subset of apps that can speak with MS SQL, Active Directory, Exchange, Oracle, and SAP HANA. As the product's use grows, additional functionality will allow incorporation of more types of applications.
Benefits of Protégé
There are several areas where Protégé stands out. Because it is a BaaS, backup infrastructure isn't a concern. This allows the administrator to focus on more important issues instead of simply caring and feeding the backup servers. Protégé does in fact seem easier than traditional backup solutions. Connectivity to your cloud resources involves configuring allowed backup accounts to access your environmental resource and then pointing Protégé at workloads and applications. Communication between Protégé and public cloud resources happens at the native cloud API level, so there isn't any awkward third party work-arounds that could break. Lastly, there is a Free Tier of Protégé evaluation to get a more complete picture of the process before committing.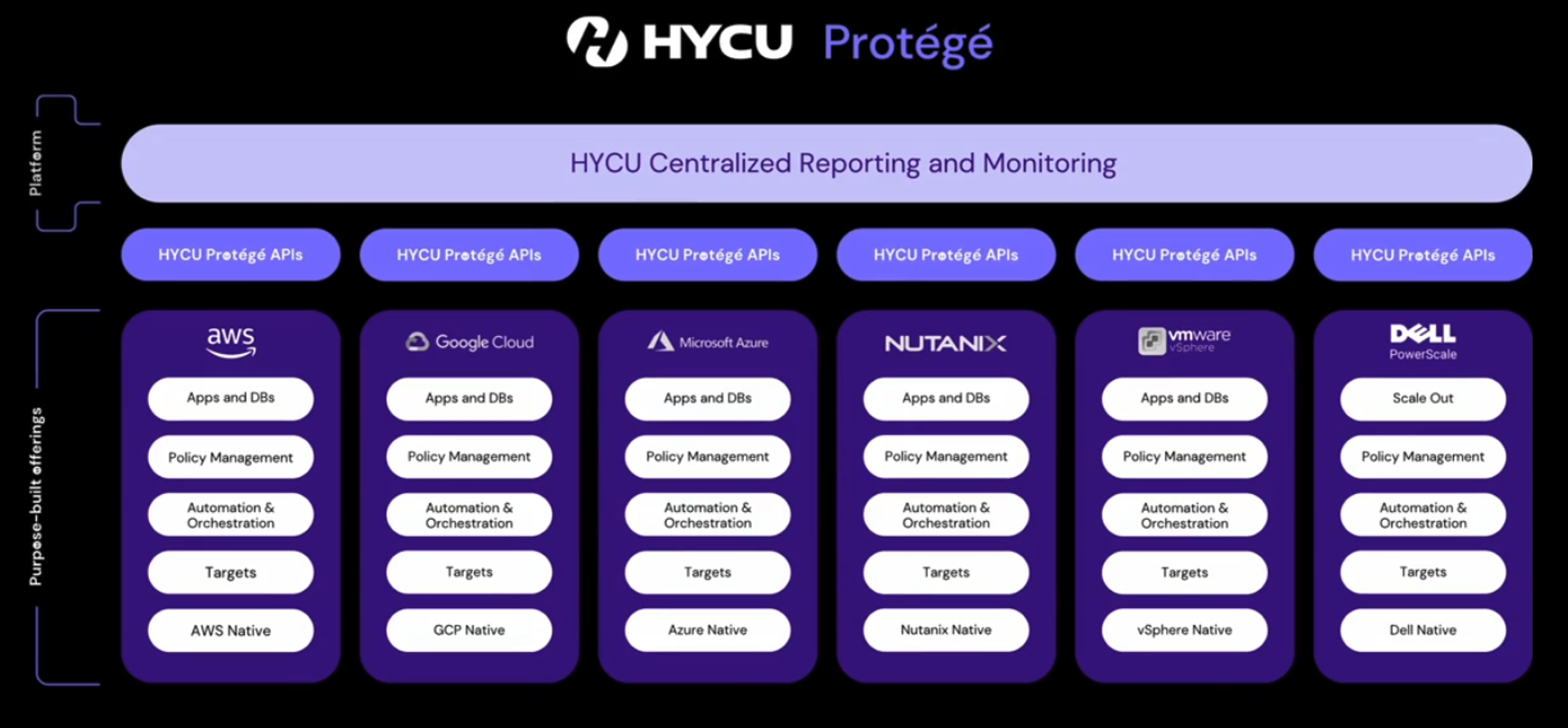 Conclusion
HYCU's Protégé addresses several issues and pain points that have existed in the backup space for a long time. Existing companies looking to re-evaluate their backup posture would do well to add Protégé to the list of considered options. This solution would be an excellent way to make the "undifferentiated heavy lifting" of backup someone else's problem.
To see the full presentation from HYCU, check out our Showcase page on the Tech Field Day website.