As a Tech Field Day delegate, I recently attended F5's NGINX Sprint 2.0 online event. If you don't know who NGINX are, they are behind the technology that powers over half of the websites on the internet, including web servers, load balancers, API Gateways, reverse proxy firewalls, and more. Since being founded in 2004 as an open-source technology company, they have grown, released a commercial offering, embraced modern applications standards, and were acquired by F5 in 2019. NGINX helps companies scale their web-scale apps beyond traditional limitations with improved concurrency of connections and enhanced performance and enables API to API and container-based communication within modern distributed architectures.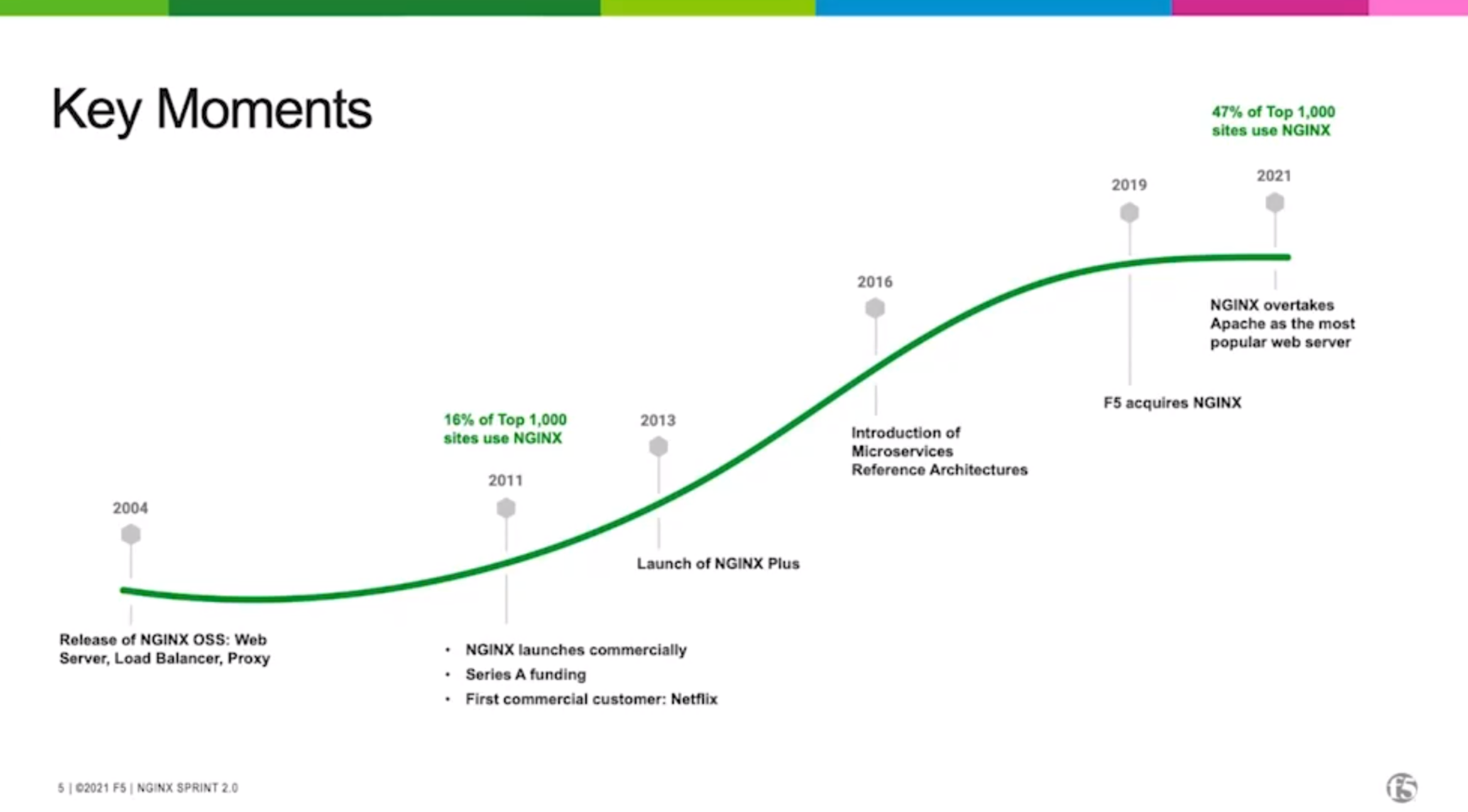 There was a clear delineation of where NGINX sits within F5's portfolio as their primary technology for modern applications, with BIG-IP remaining the go-to solution for traditional applications. However, it was also evident that the acquisition by F5 had not only bought considerable advantages to the F5 portfolio, as NGINX product offerings are being enhanced by the F5 technologies and investment which is bringing new possibilities to the NGINX platform and broader community.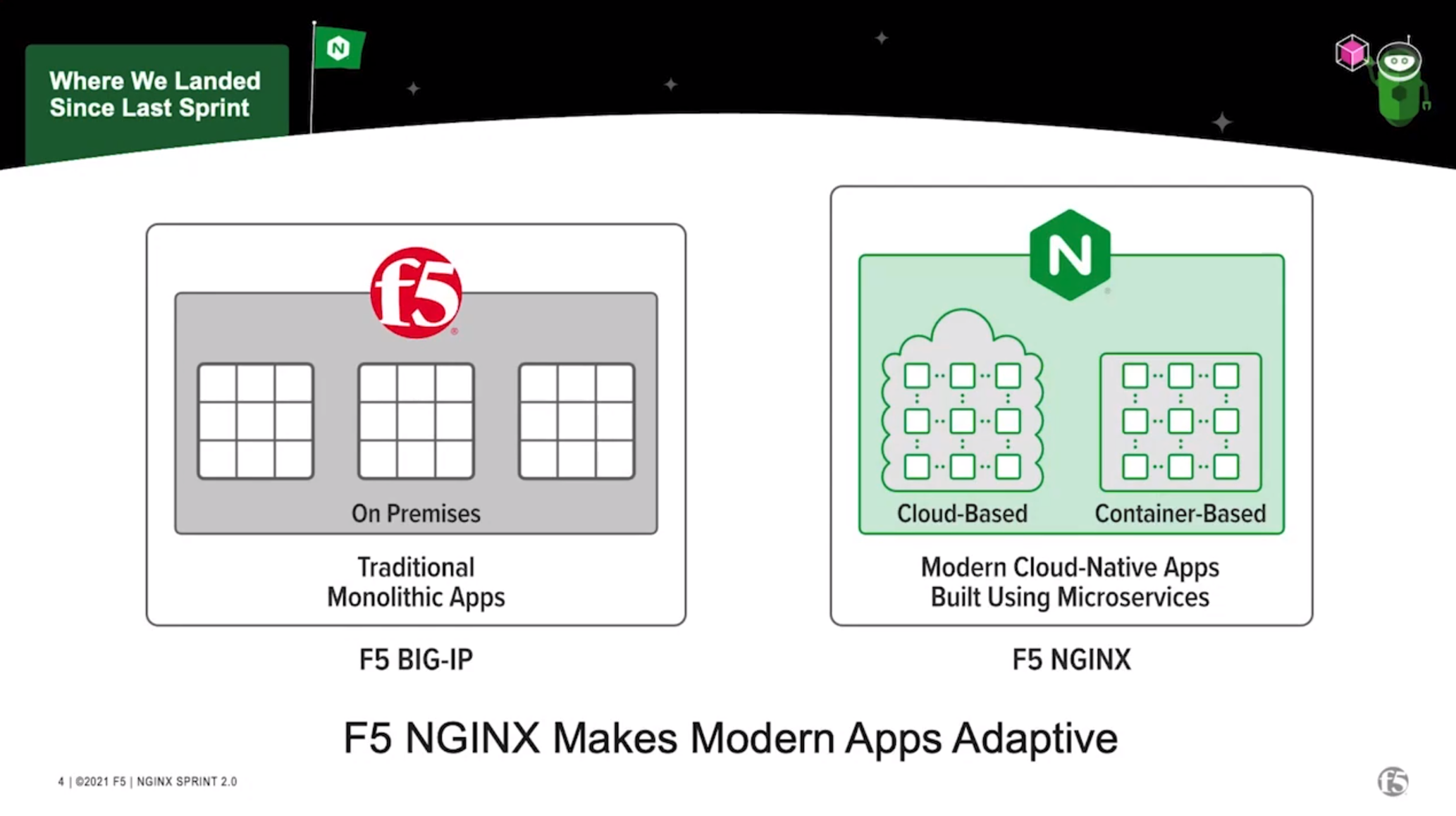 With NGINX now part of F5, they are leveraging the security technologies from F5 directly within NGINX through their App Protect product. F5 NGINX App Protect adds WAF and app-level DOS defense for your modern applications. During day two of Sprint, we saw impressive demonstrations of this technology, and not only was it effective but straightforward to be implemented by Ops when in production.
The main message from the Sprint 2.0 conference was all about open source and the community. From being founded, NGINX has focused on open source and has been a leading player in the open-source community. However, as the company grew and needed to bring in commercial models and satisfy investors, they haven't been able to invest as widely or deeply in the open-source side as they would have wanted to. The message from Sprint 2.0 was clear: that now as part of F5, NGINX is doubling down on their open-source investment with both a broader commitment to releasing products via the open-source routes but also investing time in the open-source community.
With modern application technologies, it has become clear to me that if you want to be a successful vendor in this space, you need to have both a solid open-source offering and a viable commercial model. Having both an open-source and commercial model allows your products to be easily accessible to developers to ensure ease of both development and testing in the early stages and the commercial offerings support the company and meet the day two needs of the Ops teams and the wider business.
Undoubtedly, of all the modern application-focused technologies I have seen, NGINX seems to have this well-balanced within their organisation with both a strong open source offering and a commercial model that adds real value required by the ops teams for day 2 operations. With the commitments and announcements at Sprint 2.0, they are committing to this model and doubling down on that open-source investment, which will be music to the ears of the developer community, I am sure.
During day 2 of Sprint, there were wide demonstrations of their products and offerings that covered the data plane layer of modern applications as well as the control and management planes. I have to admit that the more technology discussed during the conference, the more I felt there was an opportunity for simplification in their portfolio. However, as they mature their offerings in the data and management plane layers, I am sure they will be considering how they can achieve this.
I enjoyed taking part in the Sprint 2.0 event. It was eye-opening with regards to the critical factor that F5 NGINX technologies have to play regarding digital transformation and helping businesses deliver new digital experiences to their customers in a lightweight, fast, and flexible way.
If you want to learn more about everything covered during the NGINX Sprint 2.0 event, be sure to watch all of the on-demand content from the event here.