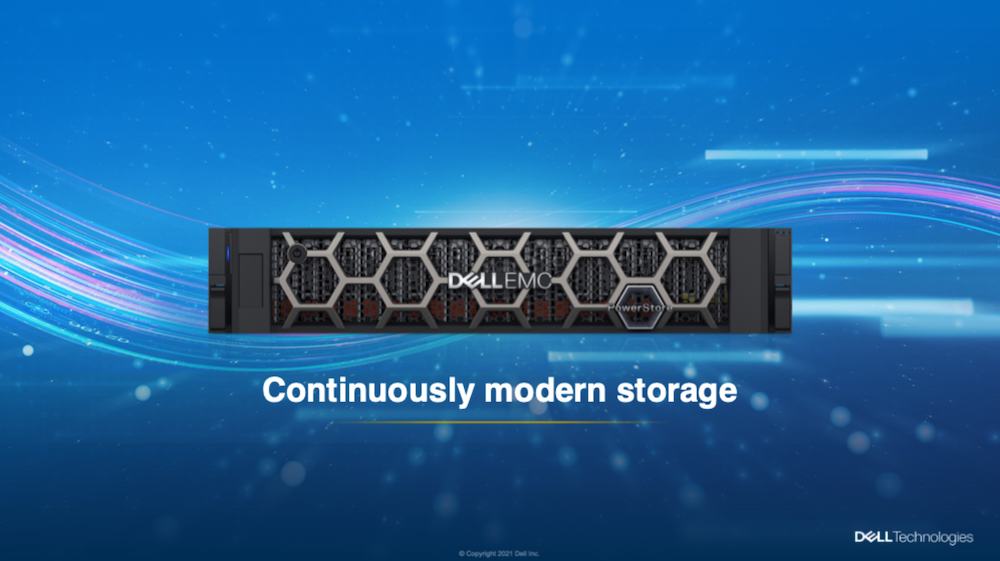 When evaluating enterprise storage solutions, organizations are often looking at flexibility as one of the decision factors. Be it in terms of price, capacity, or ability to accommodate diverse IT strategies, organizations of all sizes seek storage solutions that not only deliver immediate performance but are also capable of evolving to meet a very broad range of use cases.
Enterprise-grade capabilities and storage durability at acceptable prices are sought out by businesses of all sizes: organizations want intelligent solutions that scale, adapt, and seamlessly integrate in their broader infrastructure ecosystem, while also protecting against evolving and changing threats.
Primary Storage Needs Are Changing
Some of the most common criteria used to evaluate any primary storage system have been constant over the past decades. Customers of all sizes naturally expect enterprise storage solutions to deliver performance, reliability, efficiency, flexibility, and enterprise-grade data services at competitive prices. Although important, those expectations are now table stakes.
Today's organizations expect more from their primary storage solutions.
They must, among others:
support mixed workloads and environments
provide an intelligent, self-optimizing architecture
reduce the attack surface of their environment
identify and combat security threats
meet sustainability goals
Unfortunately, legacy architectures were not designed with those modern challenges in mind. Deployment models are rigid, patching is a major pain point, with either disruptive upgrades, or long wait times to get security fixes addressed. Management tools pre-date the era of rampant online threats such as ransomware, and sustainable approaches are non-existent.
Infrastructure teams must also achieve those imperatives while facing stagnating or shrinking headcount & budgets.
To meet todays and future needs of organizations, modern enterprise storage solutions should be designed around the following principles:
a modern, containerized operating system that enables rapid delivery of new capabilities over time and enables the evolution of the product more rapidly
unified storage support to holistically address diverse workloads
flexible deployment models with deep ecosystem integration to support workloads across locations
an intelligent management framework backed by machine learning algorithms
a native zero trust architecture embedded at the hardware and software layers
sustainable deployment options with forward compatibility
These principles should help build a storage solution that is future-proof, simple to manage, adapts to new workloads and threats, minimizes efforts, and maximizes results automatically, delivering tangible business outcomes and a shorter time to value.
The PowerStore Experience: Providing Continuously Modern Storage
Dell Technologies' PowerStore is built around those principles, placing it in an excellent position to deliver a superior customer experience.
PowerStore is the logical evolution of enterprise storage, built upon decades of storage experience. The solution is designed to offer an adaptable architecture that supports multiple IT strategies, with integrated intelligence to easily manage and expand, and in-place modernization to get the latest innovation, without business disruption.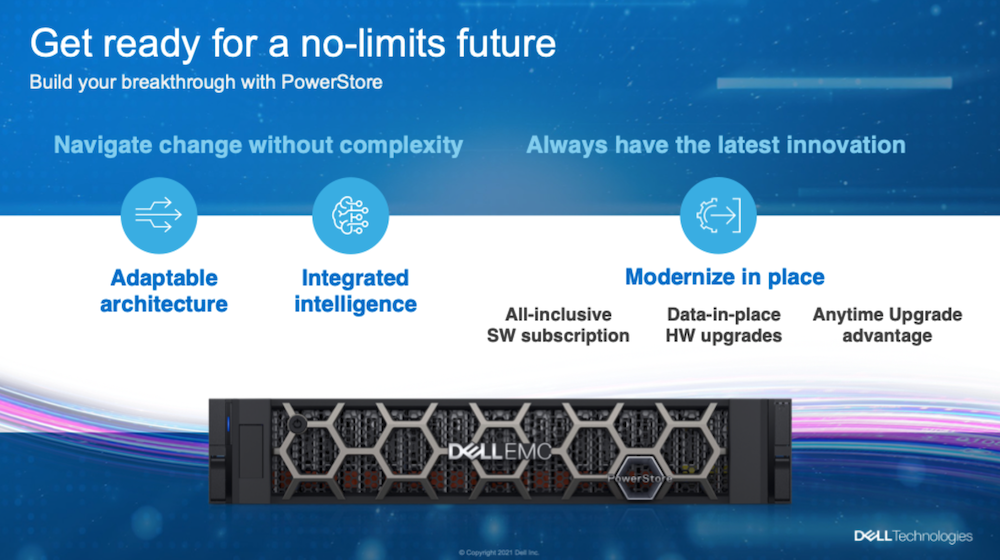 The platform can be scaled up with single-drive granularity, reaching up to 4.7 PBe (effective petabytes) per appliance, or scaled out in intelligent clusters to reach over 18 PBe. Scalability is automated: all the storage services are automatically configured, providing a zero-touch experience as soon as a new drive is inserted. In scale out scenarios, intelligent clustering delivers unprecedented data and application mobility, with quick resource rebalancing capabilities.
But flexibility is not just a matter of easy capacity expansion. Modern businesses also need freedom to continuously innovate across a wide variety of application ecosystems. PowerStore's deep integrations with VMware, Kubernetes, Ansible and more simplify DevOps orchestration and management – while unique capabilities such as Dynamic AppsON with VxRail allow PowerStore to provide scalable capacity and advanced storage services for HCI multi-cloud environments.
No matter how or where the solution evolves, PowerStore keeps workloads flexible and protected with native block, file, vVols and metro area replication. These built-in data protection capabilities support mission-critical workloads such as Oracle database servers, allowing them to remain up during planned and unplanned downtime scenarios.
The solution also harnesses the power of AI with integrated intelligence that makes changes easy. Built-in ML works in the background to continuously optimize the environment, performing intelligent data reduction, intelligent load-balancing, and a dynamic resiliency engine. This self-optimized architecture auto-tunes efficiency, performance, and availability without any manual intervention, even when making rapid changes.
PowerStore also benefits from Dell Technologies' CloudIQ, a holistic AIOps management platform that boasts a comprehensive range of capabilities such as predictive analytics, a health scoreboard, cybersecurity alerts, and more across multiple infrastructure categories including servers, storage, networking, and cloud. Automation is another key characteristic of PowerStore, with multiple DevOps integrations and deep, two-way VMware integration.
As PowerStore technology evolves and improves over time, those benefits will be seamlessly passed over to the customer, thanks to the all-inclusive software subscription.
PowerStore and Zero Trust Security
Besides CloudIQ security capabilities, the entire Dell Technologies ecosystem is built around a security-centric architecture that was already covered in a previous article.
PowerStore systems benefit from Dell's focus and investments in this area: the operating system is developed in accordance with the Dell Secure Development Lifecycle (SDL), and the hardware also implements a silicon-based security and cryptographic hardware root of trust (HwROT) solution, that was described with greater detail in the security-focused blog post referenced above.
The development of a modern, containerized operating system closes the security circle by shortening software development and release times, providing better structured code, and therefore better auditability and tracking of potential issues in accordance with the Dell SDL principles.
Sustainable deployment options
The solution is future-proof and meets sustainability goals thanks to a flexible architecture that includes headroom for future innovations and is designed to support the next generation of storage controllers.
PowerStore brings significant improvements in terms of sustainability compared with previous generations of storage or even competitor offerings. By unifying capacity and scalability possibilities across the entire product line, customers can select CPUs based on their performance requirements, without being constrained by scalability limits.
To future proof investments in PowerStore, Dell also proposes its Anytime Upgrade program. This program provides unmatched flexibility to upgrade and scale their PowerStore investment. When a new PowerStore generation is released, the program allows customers to upgrade their existing PowerStore controller nodes into the next generation equivalent of hardware, through a simple and flexible data in-place upgrade. Customers also have the choice to upgrade to the next higher model for more performance or redeem a scale-out credit to expand their cluster with another appliance through Anytime Upgrade's Select tier.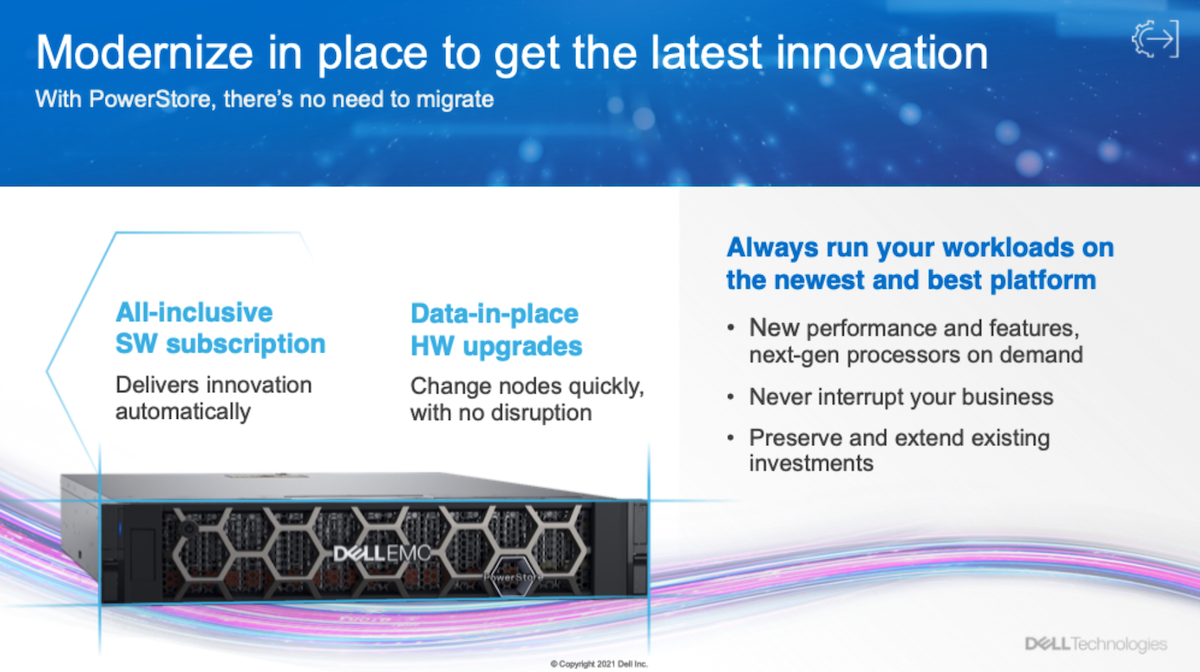 Conclusion
Even if primary storage is a mature market, customers are still looking for innovative solutions that solve today's challenges: regardless of their size, organizations expect versatile solutions capable of covering a broad spectrum of workloads with flexible deployment options, covering core and edge datacenters. With limited personnel and resources, customers want best-in-class solutions that are simple to deploy, operate, and maintain, while preserving investments.
Dell PowerStore proposes a comprehensive enterprise storage platform that meets and exceeds those requirements thanks to a flexible and secure architecture backed by one of the best AIOps management solutions currently available on the market. The deployment options, configurations available and rich data services & feature set position PowerStore as a polyvalent, enterprise-grade solution that will be deployed across a very large spectrum of use cases and locations, from edge locations to core data centers.