Effective troubleshooting requires more than just knowing that a problem exists. Troubleshooters need the right information so they can identify root causes and respond appropriately.
For home and remote workers, this is especially true. With more employees connecting over the internet because of the pandemic, IT teams need clear, actionable intelligence to keep productivity on track. They also need this intelligence to minimize the frustration of remote workers who can no longer expect an IT pro to come to their desk in person.
The challenge is that the problem space for remote workers is vast. IT teams don't only have to diagnose a laptop or a browser; there's also consumer-grade Wi-Fi, home routers, public broadband, some flavor of VPN, and innumerable systems between the user and the application (DNS, firewalls, load balancers, app, and database servers, and so on).
PathSolutions has released a new product that aims to help IT support its remote workforce. The product incorporates a local agent that runs on user laptops and PCs and a back end system (PathSolutions' TotalView) to gather metrics, schedule and conduct tests, and analyze results to assist with troubleshooting.
Call My Agent
The PathSolutions agent runs on laptops and PCs. It collects essential performance metrics, including AP signal strength, channel usage, LAN conditions, network hops, and more. The agent sends this data back to the PathSolutions TotalView server.
The ability to understand local conditions can help resolve problems quickly. For example, an admin can see that wireless signal strength is weak and asks the user to try a different house location. Or the admin can determine that a laptop is connecting to a crowded Wi-Fi channel and switch the device to a less noisy option.
The agent can also run 22 diagnostic tests, including traceroute and speed tests, and simulate VoIP calls.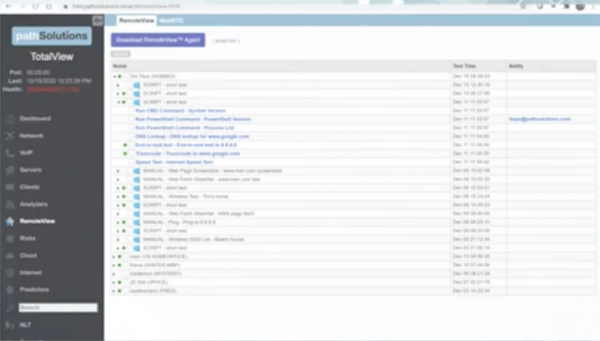 Admins can run tests on-demand, such as when a user complains about poor performance, or use simple scripts to run tests at regular intervals for a more proactive approach to identifying problems.
In the TotalView console, admins can flag tests so that if there's a bad result, such as a low MOS rating or too many dropped packets, alerts are generated. This alerting feature may be handy for finicky constituents such as executives.
The agent runs on any Windows OS. Non-Windows device tests can be run in any modern browser via WebRTC. The agent and the TotalView server communicate via TLS 1.2 to encrypt and authenticate connections.
PathSolutions says the TotalView backend can support up to 200,000 clients, a scale that should be sufficient for all but the largest organizations.
Addressing the Agent Conundrum
'Agent' is sometimes a dirty word in IT because it means another piece of software that has to be distributed, correctly installed, regularly updated and properly monitored to ensure it doesn't interfere with other apps. In other words, agents can be a lot of work.
That said, in our current (and likely future) environment of ongoing remote work, it's critical to have insights into local conditions and the ability to monitor end-user experience. If IT teams are to support home and remote workers virtually, i.e., identifying and fixing problems quickly and satisfactorily, an agent can be worth the extra effort.
PathSolutions says it has designed the agent to have little impact on the endpoint device and use resources efficiently to not impact other applications or services on the machine.
On the Roadmap
The PathSolutions agent collects a lot of data, which means there are opportunities to extract even more value via data aggregation and in-depth analysis.
For instance, large organizations might find it helpful to understand if problems with one user's ISP might indicate a more widespread issue with the ISP itself, affecting other users in the same region. Having such insights could help the organization better support its users. It won't hurt to have this information on hand if the organization raises its ticket with the provider.
Data aggregation and analysis could also spot common problems across groups of users, such as split tunneling, hair-pinned connections, poor application response times, and others.
PathSolutions says it is working to provide more insightful aggregation and analysis of the data and how best to present it to customers. In the meantime, the product provides immediate, actionable intelligence for IT teams supporting remote users.