Introduction
Pure Storage, a prominent player in the storage solutions market, finds itself at a critical juncture. With a comprehensive product portfolio covering block, file, unified, and object storage, the company has set its sights on becoming a one-stop solution provider for data center needs. While Pure Storage has long differentiated itself through its focus on flash memory technology, the narrative has shifted. Today, the key value proposition lies in customer-centric factors such as ease of use, lifecycle ownership, and data center space and power benefits.
Accelerating into 2023
Pure Accelerate in June 2023 proved to be a refreshing experience. After years of virtual non-events and strange hybrid attempts necessitated by the pandemic and changing work environments, Accelerate had a much more familiar in-person feel. Resorts World Las Vegas hosted a nicely-sized gathering of customers, partners, and analysts, providing an excellent opportunity to delve into the Pure Storage story both from inside the company and beyond.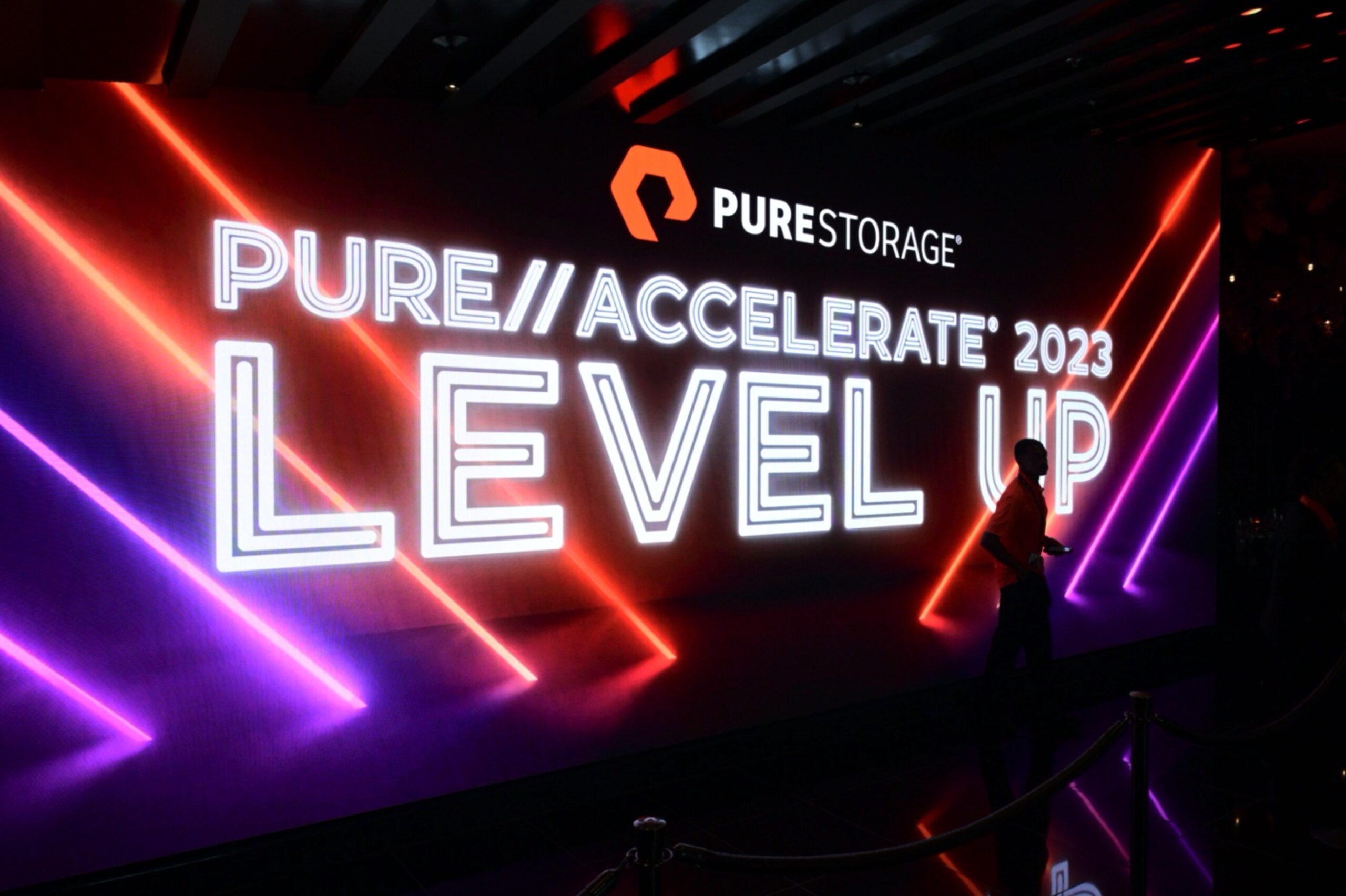 Although Pure's bold prediction that no new hard drives will be produced after 2028 garnered lots of attention, the focus on stage at Pure Accelerate was squarely on the business benefits the company's customers see. My discussions with customers revealed that their decision to invest in Pure Storage arrays was primarily driven by the ease of use, Evergreen lifecycle, and the data center power and space efficiency benefits. Choosing an all-flash array from Pure is akin to people choosing to buy a new car: Electric cars are compelling not because they are electric but because they outperform internal combustion in every way while still being affordable and meeting daily transportation needs. The technical design choice is a compelling differentiator, but it is the benefit to the customer that truly matters. The Pure Storage architecture allows their customers to achieve their business goals.
In today's highly competitive enterprise storage market, where every company claims to offer easy-to-use interfaces, as-a-service lifecycles, and flash solutions, one might question if Pure Storage remains competitive. This was the question I posed to the staff, and I discovered compelling differentiators in each case. Pure1 and Evergreen have proven to be game-changers for Pure Storage, providing customers with hassle-free experiences over the long term. Every customer I talked to focused on ease of use and simple ownership
But there is a tangible distinction between a truly integrated system like Pure Storage's implementation of DirectFlash Modules (DFMs) and a system that merely swaps SSDs for hard drives. This distinction reminded me of the Apple ecosystem, where every element of the device is designed to work seamlessly, from hardware to software to services. It's all about the ecosystem and integration, and here again Pure's Digital Experience group is delivering a compelling product. Notable, the SLAs offered by Evergreen//One, including the new Ransomware Recovery SLA, show the power of a truly integrated product. While Pure Storage garners attention with its "death to disk" messaging, the true story lies in the satisfaction of the customers I had the pleasure of meeting at the event.
The All-FlashArray Datacenter
As discussed in my previous articles, Pure Storage made two major product announcements at Pure Accelerate this year that have significant implications for the company and its customers. Firstly, the expansion of the E family to include a FlashArray model, and secondly, the upgrade of previous FlashArray devices to the R4 platform, which harnesses the power of fourth-generation Intel Xeon processors. While the R4 product upgrade is undoubtedly a welcome improvement, it can be considered an incremental upgrade that may not capture the immediate attention of most customers. Pure Storage's existing solutions already offered impressive speed, and customers who utilize Pure Storage as a service with Pure1 will seamlessly receive the R4 upgrade, possibly without even realizing they are using the latest devices. Therefore, our focus will primarily shift to the significance of the E family expansion.
The E family, with its inclusion of QLC flash technology, offers more than just a technological upgrade. It opens up new opportunities and benefits for customers. While FlashBlade and FlashArray remain distinct product families, they are now more closely integrated than ever before, sharing common hardware components, including the QLC DirectFlash Modules (DFMs) found in the E family. However, what truly matters to customers, especially with the introduction of the new FlashArray//E, is that it allows Pure Storage to enter new markets that were previously reliant on slow, bulk disk storage. This development brings customers one step closer to achieving an all-Pure Storage data center, a significant advantage that aligns with their desire for a streamlined and efficient storage experience. By relying less on external vendors and incorporating the E family into their infrastructure, customers can reap the benefits of the Pure experience, including ease of use, Evergreen upgrades, and reduced power and data center space requirements.
The expansion of the E family represents a strategic move for Pure Storage, enabling them to address a wider range of customer needs and offer a more comprehensive storage solution. By integrating QLC flash technology into the FlashArray//E, Pure Storage positions itself as a viable alternative to traditional disk storage, emphasizing the advantages of flash memory in terms of performance, data center efficiency, and reduced complexity. The FlashArray//E fills a critical gap in Pure Storage's product portfolio, catering to customers who require cost-effective, high-capacity storage solutions without compromising on performance and ease of use. This expansion not only enhances Pure Storage's competitiveness in the market but also brings customers one step closer to realizing the vision of an all-Pure Storage data center.
The Pure Storage Value Proposition
Beyond the hardware upgrades, what truly sets Pure Storage apart and drives its growing footprint in data centers is the complete integrated storage solution it offers. Customers are drawn to the core value proposition of a lifelong storage solution that requires minimal intervention. They can make a one-time purchase and continue to use the solution indefinitely, without the need for constant tinkering. While the utilization of flash memory is instrumental in enabling this seamless experience, it is the combination of various technologies, including both the scale-out FlashBlade and the familiar scale-up FlashArray, and the software components that Pure customers are truly buying.
The use of flash memory technology remains a critical aspect that customers highly appreciate. Flash storage brings many benefits, including reduced data center footprint, increased density, lower power consumption, and superior performance. Customers have shared stories of streamlining their storage infrastructure, transitioning from multiple racks to just a few rack units, showcasing the efficiency gains made possible by flash storage. While hard drives continue to improve in density and energy efficiency, they still lag behind the exceptional efficiency and performance of flash. Pure Storage is committed to continue to press this advantage, as they plan to introduce larger flash modules, from 75 TB DFMs today to 150 TB next year and double that in a few years time. The widespread use of QLC flash in models like the FlashArray//C and the new E family demonstrates that Pure can make the most of cutting-edge storage components.
While other companies may also tout easy-to-use interfaces, as-a-service lifecycles, and flash offerings, Pure Storage stands out due to compelling differences. The Evergreen and Pure1 offerings provide customers with hassle-free experiences over the long term, offering distinct advantages. The deep integration and ecosystem present in Pure Storage's systems, including the seamless incorporation of DirectFlash Modules (DFMs), go beyond the mere swapping of SSDs for hard drives. This integration creates a cohesive and optimized storage solution that maximizes performance and efficiency, setting Pure Storage apart from competitors.
In a landscape where many companies claim to offer similar benefits, Pure Storage's holistic approach and commitment to providing an integrated, user-friendly experience truly resonate with customers. The combination of hardware, software, and lifecycle management features ensures that customers can enjoy a seamless storage solution that meets their evolving needs. As Pure Storage continues to innovate and differentiate itself, customers can expect a comprehensive storage experience that goes beyond flash memory technology alone.
Stephen's Stance
Pure Accelerate 2023 showcased the commitment at Pure Storage to delivering an integrated and user-friendly storage experience, not just a new storage array. While the company emphasized the flash versus disk argument, conversations with customers revealed that their decision to invest in Pure Storage arrays was driven by the ease of use, Evergreen lifecycle, and data center efficiency benefits rather than flash technology alone. The expansion of the E family allows Pure Storage to access new markets that were previously reliant on disk alone. This development brings customers closer to achieving an all-Pure Storage data center, aligning with their desire for a streamlined and efficient storage solution. Pure Storage's complete integrated storage solution, combined with their dedication to advancing flash technology, sets them apart in a crowded market and positions them as a trusted partner for customers seeking a comprehensive storage experience.
If you want to find out more about Pure Storage's FlashArray, head to their website or see the announcements from Pure Accelerate. You can also read the previous article to learn more.
---
Pure//Accelerate 2023
Learn more about Pure Storage and their announcements from Pure//Accelerate 2023 by reading the following articles from Gestalt IT, brought to you by Pure Storage: