Cybercrime Magazine estimates that ransomware will cause $265 billion in damage in the next decade. Lump this in with other internal and external threats to your data and it's easy to see why protecting your data is so important.
RackTop's BrickStor Security Platform (or just BrickStor SP) takes a three-pronged approach to data protection. Before an attack organizations can reduce risk and improve their cyber posture through built in reports and analytics. BrickStor SP analyzes user and application behaviors across the file protocols to protect all data stored BrickStor SP. During an attack or malicious activity it will only block the offending user so everyone else can continue to operate. Finally, it provides remediation capabilities, should ransomware, accidental corruption or deletion, or environmental adversity affects an organization's data. BrickStor SP records all protection actions to ensure audit-ready compliance.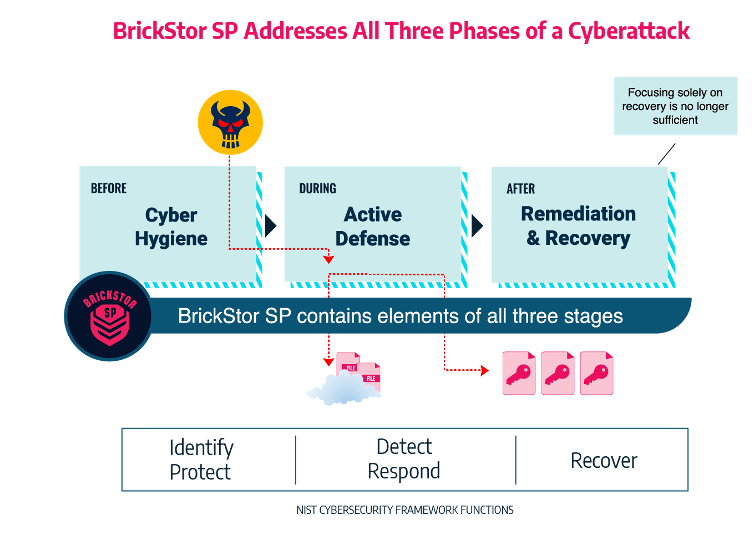 BrickStor SP includes a rich set of data services. Data is served via NFS or SMB. All data is deduplicated and compressed, inline. It provides a complete index of all files, folders and metadata for fast access and maintains versioning of each. This allows instant replacement of any lost, damaged or corrupted data.
It replicates data, providing WAN acceleration and encryption – both in flight and in the replica. Replication can take place to a remote location or a cloud service provider. Different data sets can have different replication priorities.
You can learn lots more about BrickStor SP features elsewhere, as our focus is flexibility of deploying it.
BrickStor SP Virtual Appliance
The easiest way to get your feet wet with BrickStor SP is through a virtual appliance. The appliance offers the complete feature set of Racktop's cyberstorage, as they call it. This is an easy way to protect existing Linux and Windows file sharing environments without changing the consumption model at all. A single VM can serve up to 384TB of data with the remarkably small footprint of 4vCPUs and 64GB of memory.
The appliance can run in a VMware ESXi system, on KVM, using Microsoft Hyper-V or on Nutanix Acropolis. You can use the high availability capabilities of the virtual environment to ensure access. It can also be used in AWS or Azure for cloud deployments. It comes as an installable image or can even be delivered as an OVA file. As with all instances of BrickStor SP, the appliance is licensed by the amount of data served. It is licensed in in increments of 1TB.
Best of all, RackTop provides a Virtual Jumpstart program that allows a 90-day test drive of the security platform for free. That gets you up to a pair of appliances to get a feel for the road.
Turnkey Appliance
Customers seeking a new or replacement storage system or are simply interested in having a stand-alone security platform can purchase a pre-configured ready-to-go system. RackTop offers these in a potpourri of configurations.
The basic components are storage processors, referred to as Head Nodes, Management Nodes and a variety of storage nodes. The Head Nodes run the BrickStor SP software acting as a front end for the storage components. The Management Node comes into play when more than one Head Node is used, providing oversight and acts as a quorum arbiter. Storage nodes are a Baskin-Robbins selection of flavors, including JBODs of hard drives, all-flash packages and hybrid units combining SSD caching and high-density spinning media.
The appliances are offered in three tiers. For the small or branch office, there are a few offerings. The smallest option is a single node with cache and data disks in a 2U form factor. For a larger workload you can deploy 2U drive enclosures for increased flash or hard drive capacity.You can add a second Head Node and a Management Node for a highly available kit.
All-Flash offerings include a pair of Head Nodes, a Management Node and a 2U storage enclosures holding 24 drives each. Different storage densities provide effective capacity of 276TB of usable capacity per 2U before dedup and compression. RackTop supports up to 12 flash enclosures per cluster.
Finally, high density systems are delivered with a pair of Head Nodes, a Management Node and between one and five 84-bay, 5U disk enclosures providing about one petabyte of effective storage each.
As might be expected from a secure platform offering, all drives and cache are FIPS-140 compliant.
SAN Gateway
If a customer is looking for a way to protect existing storage infrastructure, or has specific storage requirements in mind, a SAN gateway BrickStor SP would be the right option. In this case, the gateway sits between the storage and applications or users accessing it. The hardware appliance connects to existing (or newly-purchased) storage systems and serves data to the consumers.
This option provides a lot of flexibility because it works with existing storage and isn't dependent on a virtualization platform to work. It connects to any storage system providing iSCSI and even those unfortunate enough to still have Fibre Channel.

A compelling feature of this configuration is that you can purchase it directly from the HPE pricelist and they working to expand their OEM partnerships. Of course, existing block storage can be used without new storage, if that isn't needed.
Conclusion
RackTop BrickStor SP provides active data protection and an exhaustive set of data services. How you deploy it depends on the performance you need, the scale of your data, and your existing infrastructure and file sharing setup. Whether you deploy as a virtual appliance, a turnkey appliance or SAN gateway, you get the same level of data security and services. You can find out more from their site and the recent Storage Field Day event.