Networking is coming! Networking is coming! And Future:NET Is coming to San Francisco to celebrate its 4th Year!
For those of you already familiar with Future:NET this will be more of a primer and an update for you to be prepared for what is coming here at the end of August! And for those of you who are completely unfamiliar with the Future:NET event and may be anywhere within the IT stack from Developer, to Security or Network Admin to general practitioner IT Jack of all trades; this is the event for you to add to your roster!

Roger Lund said it best in his "Is a Cloud-Native Network OS Required?" from Future:NET 2018 with, "Operating Networks is HARD!"
And the evolution and influence that the Future:NET event has had even on visionaries of industry are referenced in Service Mesh: The Next Step in Networking for Modern Applications, a recent blog post by Bruce Davie, CTO VMware APJ, where he discusses Service Mesh and Networking and his first exposure to it two years ago at the Future:NET Conference!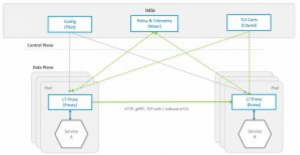 The best part of this, is not only how the Experts on stage get to share their vision and experiences with fellow Network Leaders and Industry Experts, but they get to grow and evolve through the conversation which helps the industry and us all grow as a consequence. But enough about the past, let's talk about what's coming here at the end of August!
Here in 2019, Future:NET will be kicking off at the St. Regis in San Francisco with a reception on August 28th, and the event itself kicking off bright and early at 8AM on August 29th!
The morning will kick off and returning for a second year with Tom Gillis, SVP/GM Networking and Security, VMware starting the dialogue on this day of Deep Networking and Collaboration.
With the first session of the day stepping in deep with an amazing cast of experts and former presenters on the subject of: The wizards of networking predict architectural shifts to happen by 2025.
Albert Greenberg, @AlbertGreenberg —Corporate VP/ Microsoft Azure Networking
Arun Gupta, @arungupta—Principal Open Source Technologist / AWS
Nick McKeown, @nickmckeown1—Professor / Stanford University
Pere Monclus—CTO Network and Security / VMware
Vijoy Pandey, @vijoy —VP & CTO, Cloud & Distributed Systems / Cisco Cloud
This will be a lighting round with these experts sharing their predictions, forecasts and the future of where Networking and the whole of our industry is likely to go over the next 5 years and beyond; This is a session that cannot be missed!
This will be followed by a DC Focused Network, Infrastructure, Other discussion and guided tour of what to expect and how to get through it vision by Joe Skorupa, – VP Distinguished Analyst with Gartner.
The session "Networks should be simple, right?" takes a stab at trying to put some daylight on my earlier slide about Operating Networks is HARD! This session will be an open debate with some specialists discussing how transitions in IP, MPLS, IPv6, LISP, 5G and so much more will impact the future of networking and the future of our networks.
Omar Baldonado—Director of Engineering, Network Infrastructure / Facebook
Dino Farinacci—Founder / Lispers.net
Arpit Joshipura—GM Networking & Orchestration + Edge/IOT / Linux Foundation
At this point the day will break up a little bit for Networking. No, not that kind of Networking. Okay maybe that kind. I mean what would a Networking event about the Future of Networking be without Networking, and Collaboration; likeminded professionals getting together, learning, advancing, discussing and talking about things. That's an integral theme of this event, not merely to be talked-at by presenters as is common in many conferences, but instead to discuss and collaborate together. Being able to understand together what new tech will be coming and how it will impact each of our businesses, and how to stay ahead of those challenges.
Future:NET is about being part of the conversation, and whether you have or haven't attended before the content is wholesome and great and doesn't require a pedigree like a CCIE to understand nor take action upon!
Alright I'll take a break from this break and the break mid-day at Future:NET and join me by coming back to the afternoon of the show! The morning sessions are hard hitting, insightful and give your insight into the workings of things without being in a vacuum. The afternoon, on the other hand, digs this even deeper. I'm excited about what's coming and what I'm about to share!
The first session as we roll into the afternoon is, "SOCs? NOCs? Both, just one, or maybe one and a half?" John Pescatore, an authority on this matter will bring SANS' unique view point on this issue as this is certainly something that plagues organizations of all sizes, scopes and compliances.
John Pescatore, @john_pescatore—Director, Emerging Security Trends / SANS Institute
This session follows up with not only touching on Networking, and not just Security but also the relevance and importance of Developers in the conversation with this session, "The keepers who should control the keys?" A panel, or perhaps brawl is the right term as each panelist rationalizes their position on Security Policy Keys; but the audience has the final say with a fun audience poll at the end!
Forrest Bennett—Cyber Security Advisor / FedEX Services
Lane Patterson @lanegpatterson—Co-founder, Investor, Board Member, Infras. & DevOps Expert / Global Webscale
John Pescatore, @john_pescatore—Director, Emerging Security Trends / SANS Institute
Keeping things edgy, or at least Edge Networking with SD-WAN, SDN, 5G, IoT and much more as we jump into "What's next in Branch+?" and frankly the abstract for Mike was so amazing I left it in here verbatim!
Let's delve into the world of edge networking, the Internet of Things, 5G, and innovations in SD-WAN. Join Mike Frane as he spells out the impact of these developments on emerging networking architectures and infrastructure. He's got the expertise and the real-world experience to do it.
Mike Frane—VP Product Management of Network, Security, Digital Experience / Windstream Enterprise
Second to last for the day the ever important, "Networking—from automation to operations." As we all know that without Operations we wouldn't have an operating system, and Automation has been at the forefront of progress in every movement for the past decades, and decades to come. This panel will leave our heads dizzy with excitement and learning.
Andrew Clay Shafer, @littleidea—Senior Director of Technology / Pivotal
David Erickson, @daviderickson_ —Co-founder, CEO / Forward Networks
Mansour Karam, @mansourkaram—CEO and Founder / Apstra
And last but not least we will wrap up the day with, "IT organizations of the future—a tale of org charts."
Buckle up for skill gaps, silo-less IT, and the role of networking—structure, operational models, tooling, and worst of all, certifications, as two esteemed leaders propose their vision for the org chart of the future. Dog fight? Maybe. Thought provoking? Definitely. Either way, you'll be compelled to listen.
Truman Boyes, @trumanboyes—SVP Infrastructure / Major League Baseball (MLB)
Stephan Massalt, @samassalt—VP Cloud Labs / Swisscom Cloud Labs Ltd.
I know this may be a huge undertaking and it certainly will be. You can get more depth and detail on the sessions, on the experts and the experience at the official Future:NET Site. I definitely encourage you to go out there and see what else there is to expect. Also, so you have a sense of and to paint a picture of what to possibly expect here are some resources from Past Future:NET as well as material posted by attendees in the past!
Future:NET 2018
Future:NET On Youtube
Future:NET Official Website
Service Mesh: The Next Step in Networking for Modern Applications
And if you haven't registered yet, WHAT ARE YOU WAITING FOR!? I'll see you there!