IoT or the Internet of Things has found its way into every part of our lives. Our children wear smartwatches and carry smartphones with internet connectivity. We can start our cars remotely from an app on our phones. Our kitchens' refrigerators alert us via a push message or email that we are running low on milk or that the temperature needs to be adjusted.
It has become challenging to go throughout a day without interacting with or connecting to the internet. One area where IoT has begun to take off is in healthcare, growing more necessary as we navigate this global pandemic. We can pull down our medical records through a web portal, see x-ray results on our tablets, and doctors can quickly share information because the machines and monitors in the hospital are all now connected.
While starting your car and checking your grocery supplies via smartphone seems harmless, security becomes a big issue when IoT and healthcare IT are mixed.
The amount of personally identifiable information (PII) and personal health information (PHI) within healthcare IT systems is vast. Patient records, lab results, research, and more are stored in hospital datacenters and the cloud worldwide. The IoT operational lifecycle consists of the following:
Inventory – What is running on my network, and where is it?
Performance – Can my critical IoT devices connect and perform their function well?
Baseline – What does "normal" behavior look like for these devices?
Mitigation – Alert me when devices deviate from normal behavior; take action to mitigate the issue.
Prevention – Ensure proper policies in place for IoT devices to mitigate future issues.
Given IoT's operational lifecycle within the medical field, it is easy to see how security becomes an essential piece of the puzzle. Having a hacker compromise an MRI machine connected to the internet or a life support system could have deathly consequences. Conversely, not having IoT in place for similar machines could compromise a patient's results or care. An MRI machine that is not an IoT device, which requires maintenance or is underperforming but does not alert anyone, could potentially be a life and death situation. This is where VMware SD-WAN and ENI for healthcare steps in to resolve these concerns.
SD-WAN Provides WAN Optimization
There are several situations where a WAN gateway would benefit clinics and hospitals. VMware's SD-WAN provides several solutions for a faster and more secure internet connection between hospitals and clinics, as well as clinics and cloud solutions. SD-WAN edge gateways connect clinics, caregivers, and patients to the internet securely by segmenting the traffic based on the intended destination.
For patients in a clinic waiting room wanting to connect to Wi-Fi, the edge gateways keep their traffic completely segregated from the caregivers and clinical staff who send much higher priority traffic across the web. Additionally, caregivers connected with their clients remotely via a telehealth application will experience an improved user experience thanks to the edge gateways providing an optimized last-mile connection. For example, a Zoom meeting with a remote user on camera can expect a packet loss of around 20%. Optimized with VMware SD-WAN, that same Zoom meeting only experiences roughly three percent packet loss.
Edge Network Intelligence (ENI) Enhances IT Operations
When it comes to clinical asset inventory, it is essential to have a secure system to handle the large number of devices within a clinic. What ENI provides is a simplified and accurate approach to asset inventory.
ENI utilizes an artificial intelligence and machine learning (AI/ML) hierarchical identification engine to track devices across the clinic or hospital. As new devices come online, ENI identifies them and begins tracking them immediately. Additionally, any unauthorized device or unexpected device picked up by ENI will be alerted to the IT team and can be quarantined until further investigation can confirm that it is legit. ENI provides detailed device information such as:
Attributes – model, s/w version, serial #, hostname, and location
Behavior – destination, protocols, SSID and VLAN information
ENI also provides integration with inventory management tools such as CMMS and CMDB from a project management perspective.
Further, ENI provides a Biomed Dashboard, similar to what an IT operations team would see with vRealize Operations (vROps) tracking VMs and storage containers within custom dashboards. The Biomed Dashboard provides a high-level device and infrastructure overview and can dive deep into specific device inventory summaries and highlight problematic devices.
The dashboard shows incidents and advisories and labels them with a priority level and category, much like vROps. When there is a critical incident, ENI will alert those that need to know and are responsible for managing those devices. It provides mobile alerts for high priority issues and includes incident context, scope, and the physical device location. This service can easily integrate with an IT service desk solution, such as Slack or ServiceNow.
SD-WAN lets IoT and Healthcare IT Co-Exist Securely
The answer to this blog post's title is yes, healthcare IT and IoT can exist securely with the right tools. SD-WAN and ENI are the tools that allow healthcare IT and IoT to co-exist while keeping performance-optimized and securing IoT devices in clinics and hospitals worldwide.
We live in a world that relies on internet connectivity, which can, unfortunately, expose our PHI and PII to people who intend to do damage.
SD-WAN and ENI allow us to interact with healthcare workers securely and with optimized connections for our convenience. Healthcare IT teams should investigate SD-WAN and ENI to make their jobs easier and provide a more streamlined and straightforward telehealth platform.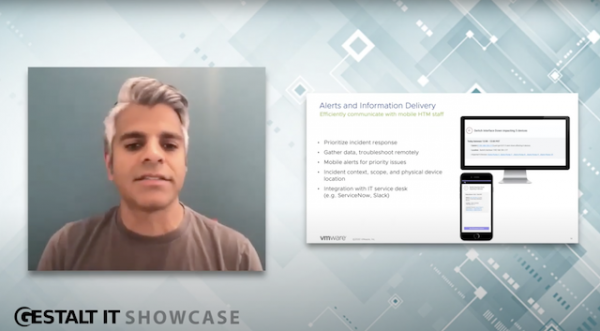 VMware SD-WAN Healthcare IoT Provides Actionable Insights for IoT Healthcare Networks by Max Mortillaro
Can Healthcare IT and IoT Co-Exist Securely? By Greg Stuart
VMware SD-WAN and Edge Network Intelligence for Healthcare by Bruno Wollman
IoT Supply Chain Assurance with VMware Nyansa by Tom Hollingsworth