VMware has built a suite of applications designed to get businesses onto the cloud/s of their choice in an efficient and timely manner. These applications will help enterprises get onto cloud deployment, whether it is a Greenfield roll-out or adding another cloud to an already on-cloud business.
Cloud promises a limitless capability to scale, gain flexibility, efficiency, agility, and cost savings. However, deploying cloud, whether on-prem, public, or a hybrid mix of both, is not quite as easy as flicking a switch or clicking a button.
At Cloud Field Day 9, VMware walked delegates through its vRealize platform and showed how VMware could assist its customers in getting cloud deployment right, the first time.
Cloud Deployment Woes

The reality of cloud deployment is daunting. Many businesses find it precisely the opposite of the ease promised. This is particularly apparent for clients who already have an assortment of cloud services.
Private clouds, public clouds, a manned location, or an edge location, all of these clouds all come with a different stack of management tools, and their own APIs. Each of these is very different. Keeping up with what is going on with which, when, and how can be a giant headache.
Because of all of these heterogeneous stacks, tools, different contracts, and automation templates, users end up with cloud systems they cannot work within. VMware shared examples of customers merely trying to refactor applications, which should take months, ending up taking years to accomplish. So much for the speed and efficiency of cloud deployment.
VMware began many years ago saying that virtualization will break down the compute storage networking silos, but what has ended up happening is that the cloud is creating new silos. This is what VMware wants to prevent with its vRealize cloud management system, a single persistent operating model across the hybrid cloud environment.
The Solution

vRealize, a SaaS management suite, is designed to help businesses control IT operating costs, improve agility, improve responsiveness, be more efficient, and help developers be more productive. It combines on-prem and SaaS and gives users the ability to move between the two, change up, switch around, and do what they want with their cloud deployment.
The platform allows users to provision, optimize, and govern their deployments across hybrid and multi-cloud using a single operational model. Gone are the days of juggling multiple cloud interfaces and tools. vRealize is specifically designed to accelerate cloud adoption, allow users to gain scalability, and increase overall efficiency, no matter what stage of the cloud journey.
vRealise started on-prem, but VMware has created a SaaS version for all of its products over the last few years, including vRealize.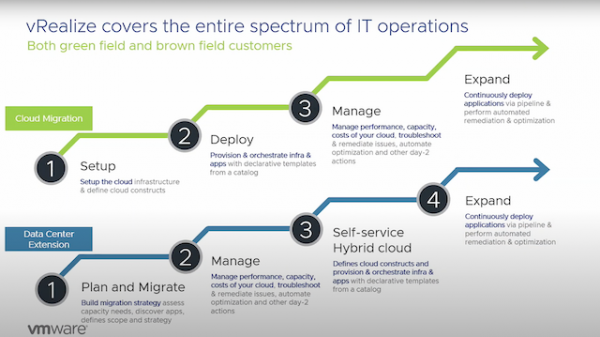 vRealize Cloud Universal

In 2020, VMware announced its vRealize Cloud Universal, a hybrid subscription SaaS management suite designed to accelerate cloud evolution. It combines on-premises and SaaS capabilities for automation, operations, and log analytics into a single license. This is aimed at businesses with a hybrid strategy or customers who are cloud curious.
According to VMware, vRealize Cloud Universal is for businesses with a mix of workloads where they can't just flip a switch and manage all of their clouds. The company may not have a definite end cloud strategy, and the Cloud Universal model allows users to use both their hybrid and on-premises vRealize products and SaaS products interchangeably without having to buy, as they work on modality changes.
Easing the Cloud Burden
Many companies are struggling with a cloud burden because of management complexity, juggling hybrid cloud tools while just trying to get their data and applications where it is needed, when it is required, in the most painless way possible.
VMware promises to be that helping hand with its vRealize management suite.