Where the simplicity of infrastructure management matters, customers increasingly choose hyper-converged or converged infrastructure. VMware Cloud Foundation on-premises is an ideal platform for converged infrastructure. At Tech Field Day Extra at VMworld 2020, Pure Storage showcased FlashStack and how it can bring simplicity and flexibility to an on-premises VMware Cloud Foundation (VCF) deployment.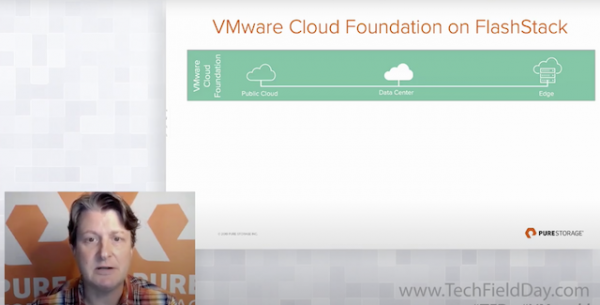 Say Goodbye to Nerd Knobs and Hello to Simplicity
The quest for simplicity in IT is real. Customers often will trade away the ability to customize and fine-tune features for solutions that are easy to use. Each moment not spent managing infrastructure means more time for projects that add value. This saved time becomes a big part of the appeal of hyper-converged and converged infrastructure. Bundling compute, storage, and networking with management software often means that procurement and support come from a single vendor. Since these solutions are designed with ease of use in mind, deployment and management are typically less complex on hyper-converged or converged offerings.
FlashStack, where Cisco and Pure Storage Converge
At Tech Field Day Extra at VMworld 2020, Pure Storage showcased FlashStack Converged Infrastructure and how it can bring simplicity and flexibility to an on-premises VMware Cloud Foundation (VCF) deployment. FlashStack is a joint offering from Cisco and Pure Storage that bundles Cisco Nexus switches, Cisco UCS servers, and Pure FlashArray into one convenient converged package. Unlike hyper-converged infrastructure, though, compute and storage can be scaled independently in FlashStack. Adding more storage doesn't mean that an organization needs to add more servers or compute. The flexibility to scale storage and compute separately also translates into money saved.
Reap the Benefits of VCF 4.1's External Storage Support with FlashStack
VCF 4.1 introduced an important new feature. VCF Workload Domains, 'resource containers', where user applications run, now supports external storage like Pure FlashArray. External storage support requires vVols using iSCSI or Fibre Channel (FC). VCF Management Domains, responsible for vCenter, and other VCF services are hosted from UCS vSan Ready nodes on FlashStack. An upside to this architecture is the limitations of Direct Attached Storage (DAS) no longer apply. Resources can now be shared across workload domains, and resource silos disappear.
With external storage support in VCF brings the ability to leverage storage snapshots outside of vSan. With FlashStack, customers gain an additional layer of data protection. These snapshots also enable customers to use storage replication with Site Recovery Manager (SRM) for disaster recovery. In addition, CloudSnap can offload snapshots onto Cloud storage such as AWS S3 for greater resilience and protection from data loss.
FlashStack is designed to bring simplicity to VCF architectures. Once the systems are racked, stacked, and cabled, customers can use Pure's SmartConfig to configure the compute, network, and storage. One of the other advantages that FlashStack brings to VCF deployments is fabric flexibility. Customers don't need to abandon their iSCSI or FC fabrics. In addition to using their existing fabrics, customers can expect support for NVMe to be forthcoming. Additionally, FlashStack supports features that you can expect from any Pure Storage offering: high-performance and support for Evergreen storage subscription service.
Conclusion
With FlashStack Converged Infrastructure, organizations don't need to pick simplicity over flexibility and performance. On VMware Cloud Foundation, FlashStack simplifies and speeds up deployment with their SmartConfig tool. Other benefits include flexibility with configuring VCF Workload Domains, simplifying backups and disaster recovery, offloading snapshots into the Cloud with CloudSnap, and more.
To learn more about FlashStack from Cisco and Pure on VMware Cloud Foundation, check out Pure Storage's presentation from Tech Field Day Extra at VMworld 2020.