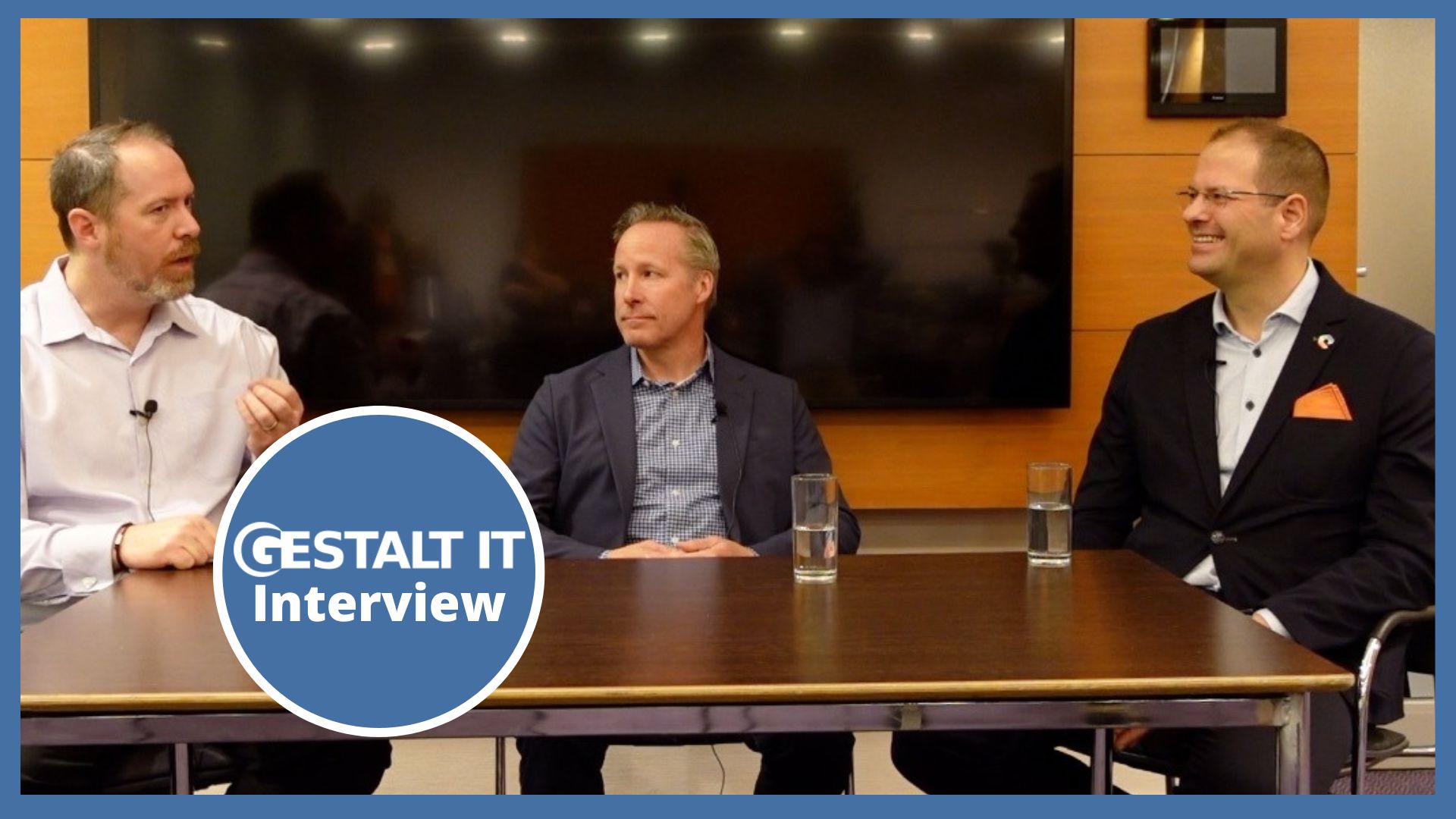 Sustainability is one of the most pressing themes of our times in IT. Every organization that is a part of this wave is pushing for it by fulfilling their obligations. At Cisco Live EMEA 2023, corporate sustainability resonated in Cisco and its partners' commitment toward going net zero, transitioning to renewable energy, and in the overall business model. Discussion around climate change and circular economy took centerstage as executives spoke about ESG risks and opportunities, and highlighted Cisco's goals and initiatives around environmental sustainability.
At the event, former network engineer, and Tech Field Day events lead, Tom Hollingsworth sat down with Eric Blonda, Global Alliance Executive at Cisco, and Remko Deenik, Director Systems Engineering at Pure Storage, backstage to talk about these trends, and learn about their companies' sustainability strategies.
Turning the Page on an Era of Reckless Capitalism
Until a few decades, sustainability was not a even priority on companies' tech spend list. Organizations operated with a downright capitalist mentality, with heavy focus on profitability. It was normal to turn a blind eye to problems like emissions and e-waste that were often dismissed as unimportant.
Fast-forward a few years, climate change sweeps through the globe, opening our eyes to the alarming reality that in order to preserve the future of the planet, industries need to reduce the impacts on environment. The first step towards that would be to embed ESG in operations, and modify business models around it.
As awareness grew, customers came at it with a growing intensity. Their purchasing habits changed overnight, making it clear that if their sustainability criteria are not met by a certain vendor, they will spend their money on a vendor that does.
"It's the top customer concern, and we're working in every part of our company, every part of our product line, to make sure that sustainability is a priority," informed Cisco's Eric Blonda.
Seeing as digital transformation is the best chance to survive in the business, companies in the last few years have started taking small steps towards sustainable practices to create more positive impacts. Today corporate sustainability initiatives are put under heavy scrutiny by authorities and customers alike.
Sustainability Pay-Offs
Companies and consumers have both come to recognize the merits of sustainability in the modern economy. Reducing energy footprint and waste inherently saves money. So, delaying the transition to a sustainable IT is not in the interest of either businesses, or their consumers.
The cost savings generated from sustainability initiatives has driven a lot of companies in the recent years, and inspired their customers to transition to sustainable practices.
Sustainability with Cisco and Pure Storage
Cisco and Pure Storage are jointly accelerating this transition to a circular economy. Pure Storage has sustainability embedded into their operations since many years.
"The way we've designed our system has been very sustainable from the start. But, the last decade, people weren't all that interested. It's now really picking up interest, primarily because of the energy consumption part," said Remko Deenik.
Mr Hollingsworth pointed out, "It's been a problem in the past in enterprise IT where we get locked into these systems where if you want to increase capacity, you have to get rid of the system you've been using, and you have to buy a new one because the new one is 10% faster and 20% quieter. But I could still be using the one that I was using."
Pure Storage's Evergreen model offers customers a break from the legacy consumption model. On it, customers can upgrade the components, and still continue to leverage the framework without overhauling it until it reaches expiration. This vastly reduces the amount of e-waste produced at datacenters, not to mention generate substantial cost savings for the operators.
"We're upgrading all hardware components within the duration of the system. We do that disruptively, but by just upgrading the components that we need to upgrade, we minimize waste and usage of components, in addition to, of course from a sustainability perspective, shipping optimized packaging, optimized power consumption and all of that," informed Mr. Deenik.
Green Datacenters with FlashStack
Recently, Pure Storage and Cisco have launched FlashStack as-a-Service, a converged infrastructure solution that constitutes Pure FlashArray and Cisco UCS X-Series chassis, UCS Fabric interconnects and Cisco Nexus switches.
"It aligns very well, from a technical perspective, to the way we architect our system, and how Cisco's architecting their system, using stateless design, being able to replace components at will without having to replace the entire system," said Mr. Deenik.
Mr. Hollingsworth agreed that such flexibility would be needle-moving in the way enterprises stage their upgrade cycles, and will be able to "use the least amount of components possible to produce good performance for their users, but also good performance for our planet."
"If you look at all the recent product announcements, you'll see that there has always been a lot of focus on reducing complexity, and reducing the number of cables for example, reducing power, and all of that. It is part of our commitment," said Mr. Deenik.
FlashStack uses Pure's Evergreen for discreet scaling and Cisco's network equipment for reduced complexity. The Pure Storage Evergreen consumption model is fully pay-per-use and lends great flexibility to consumers. Fully managed, it requires no planning at the customers' end, and users can pay only for what they use. So customers neither overbuy capacity, nor sustain losses from underutilization
"At the start of the contract, a lot of the customers invest for the next five years. They buy a lot of empty capacity that just sits there running in the datacenter, using power for no good reason. We're able, with this subscription model, to just right-size the solution as well as provide spare capacity so that they're free to go wherever they want to go. We only put the equipment in place," explained Mr. Deenik.
Additionally, the model affords flexible downsizing for times when businesses need to scale back their infrastructure when moving to public cloud. Pure Storage removes the free equipment and repurpose them to fit other customers' environments.
Wrapping Up
Achieving sustainability in an industry as robust and impactful as IT requires companies to first, believe that a clean, sustainable future is achievable, and unite in their efforts to power that future. Cisco and Pure Storage are paving the way toward environmental sustainability with their initiatives and innovations. With FlashStack, not only do the customers have a way to control cost, but also break out of legacy infrastructures to be in tune with the circular economy for better e-waste management and emission control.
To learn more about FlashStack as-a-Service, visit flashstack.com. For events from Tech Field Day Extra at Cisco Live EMEA 2023, check out the Tech Field Day website.
Panelists for Today's Interview:
Remko Deenik, Technical Director Europe at Pure Storage. Connect with Remko on LinkedIn.
Eric Blonda, Global Alliance Executive at Cisco. Connect with Eric on LinkedIn.
Moderator
Tom Hollingsworth
Twitter