For organizations that have begun to transition to the cloud, it has become apparent how straightforward it is to consume compute and storage services. Things that used to take days to provision are now accomplished in a number of clicks, or are transparently configured with no interaction required from the user at all. The fact that workloads are able to communicate with each other, or can be restricted from communicating, with equal ease is just as welcome.
Now that Enterprises have experienced this level of ease-of-use, it's easy to see why the on-premises world is being forced to change. The old ways of doing things, requiring extensive manual provisioning and configuration, are no longer good enough.
Networking Needs to Evolve
A number of challenges have arisen as both on-premises infrastructure and cloud solutions have evolved. Capabilities of compute and storage technologies have exploded and it's never been easier to configure and consume these types of resources.
Yet, configuring the underlying network to meet the requirements of existing and newly-provisioned applications still often requires a sequence of lengthy, manual processes. Ports need to be provisioned, firewall policies need to be created and vetted, and connectivity must be verified from end-to-end.
In the event of an environment change, it can be difficult to keep this configuration functional and consistent. In this situation, the network is a barrier to, rather than an enabler of, the positive changes that are happening elsewhere in the environment. It's become clear that network must evolve to keep pace.
Big Switch Brings Cloud Networking On-Premises
Big Switch sees themselves at the forefront of the movement to revolutionize how on-premises networking is approached. One of the core design tenets for their flagship networking product, Big Cloud Fabric, was to design, build, and operate on-premises networks using the same techniques employed by the public cloud providers.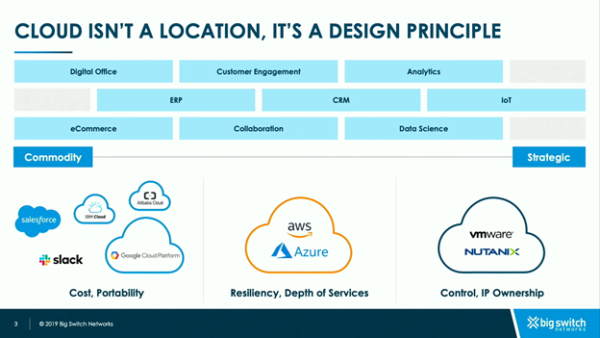 To accomplish this, Big Switch has taken a drastically different approach than traditional network switching vendors. Their product is offered as a software-only solution that consists of a central software-defined-networking controller and a network switch operating system (NOS) that is installed on supported open-networking switch hardware.
By employing this type of controller-based architecture and treating each physical switch as a subcomponent of one large, logical switch, Big Switch is able to bring cloud-like Virtual Private Cloud (VPC) network capabilities to the datacenter. And just like you would expect from the cloud, all elements of the virtual network can be automated and administered using a fully-featured API. Not only does this help with the initial configuration, but ongoing maintenance and visibility into network health and behavior are enhanced, as well.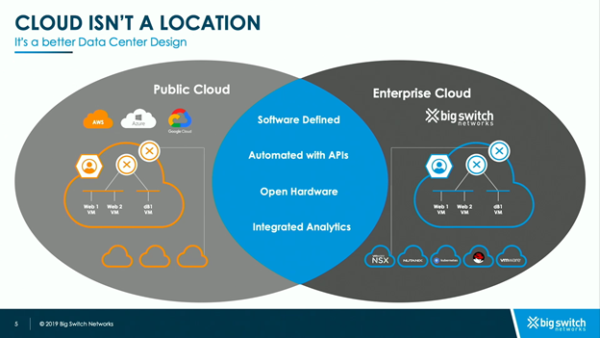 Now that Big Switch software is being offered for purchase directly through Dell for use with their Open Networking series of switches, customer adoption of this type of approach is sure to increase. As has been seen with the rapid growth of cloud computing generally, improving ease of procurement is a great way to fuel adoption of a new solution.
Conclusion
The widespread adoption of cloud technologies has changed expectations for how networking should be done on-premises. Customers are becoming dissatisfied with network solutions that require extensive amounts of manual configuration after the transparency and simplicity of cloud networking has been experienced.
Big Switch, with its Big Cloud Fabric solution, offers a solid alternative to traditional on-premises networking that is able to match the ease of use, responsiveness, and functionality of networking in the cloud. For more information on the company vision and product architecture, check out Big Switch's presentation at TFDx @ Dell Technologies World 2019, here.