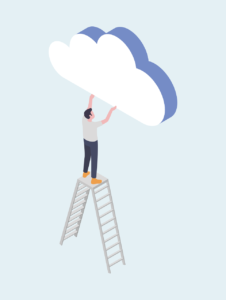 For some enterprises, the challenge of how to get to the cloud without disrupting all of their applications, workloads, and processes casts a shadow over the promise of cloud agility, scalability, and flexible consumption models. Solutions that don't require refactoring applications or drastically changing workflows can make the cloud move much quicker with less burden. Google Cloud VMware Engine (GVE) is that kind of solution. GVE can help organizations migrate or extend their on-premises VMware workloads while also bringing integration with Google cloud services such as Anthos and BigQuery.
The Path to the Cloud
The death of the on-premises data center has been predicted for a while. Despite this, many workloads still run on-premises or in hybrid cloud configurations. Can organizations migrate their existing workloads as-is, or must they refactor and rewrite applications to be cloud-native?
Refactoring applications, though, comes with its own set of challenges like changing workflows, and retraining and re-skilling staff. Also, as the cloud becomes less of a place and more of an operating model, organizations want to keep operational continuity and still gain cloud-scale and agility.
Native VMware Comes to Google Cloud
At Tech Field Day 21, Google Cloud highlighted Google VMware Engine (GVE), a subscription-based service offering that brings VMware to Google Cloud Platform (GCP). GVE leverages VMware Cloud Foundation (VCF) to brings familiar VMware solutions like vCenter, HCX, NSX-T, and vSAN to Google Cloud.
With this operational consistency of VMware, it allows these IT departments to migrate or extend their on-premises VMware workloads. In addition, GVE adds support for native GCP services like BigQuery, Anthos, and Google Cloud Operations (formerly known as Stackdriver) to help drive innovation, automation, and optimization. GVE is a first-party service and Google handles the VMware licensing, support, and billing.
The Goodness of Dedicated Hardware
GVE does more than ease VMware migrations to the cloud. It supports deploying a private cloud, standing up a Disaster Recovery site, and adding cloud-native services. While GVE might sound like a software-only solution, the hardware is also a crucial part of its value proposition.
GVE runs bare-metal VMware. Each subscription comes with dedicated, isolated hyper-converged nodes capable of 100Gbps networking, layer-3 visibility, and an ability to integrate with Google networking services and also potentially enable VPN access to on-premises environments.
But unlike many other cloud offerings, GVE comes with elevation privileges and the ability to configure third-party software options. This feature makes it easier for organizations to migrate or extend their VMware workload and not have to switch out all of their toolings like backup and logging solutions.
Dedicated nodes also eliminate the risk of noisy neighbors, but also frees organizations from the additional workload and application hardening and risk mitigation that often come with multi-tenant solutions. Security and compliance are much simpler on dedicated hardware. The hardware or nodes remain with an organization for the duration of their subscription.
Conclusion
Now for the wrap-up. Google Cloud VMware Engine (GVE) comes to the market to help enterprises migrate, extend, and enhance their VMware workloads using Google Cloud. Dedicated, hyperconverged hardware comes with many benefits, including guaranteed performance, and simplified security and compliance. But, one of the key differentiators is that unlike many cloud offerings, GVE comes with the freedom to install and configure third-party software so that businesses can migrate their workloads without disrupting their existing tooling.
To learn more about Google VMware Engine (GVE), check out Google Cloud's presentation from Tech Field Day 21.