All of this rapidly growing unstructured data needs to be stored somewhere, and it won't all be in the public cloud. On-premises object storage is a viable alternative for security and cost-conscious customers. At Tech Field Day in December, Quantum spotlighted ActiveScale, its object storage solution for on-premises private clouds with associated hardware appliances that run ActiveScale.
Object Storage for Unstructured Data
Unstructured data growth continues to accelerate. Some believe that the bulk of this data is headed to a public cloud. However, the economics behind storing all of this data in a public cloud suggests for some organizations; there are other alternatives like on-premises or hybrid cloud.
All of this unstructured data could benefit from the resiliency and manageability that often comes with cloud-based object storage. Deploying object storage on-premises seems like a viable alternative for cost and security-conscious customers. We can treat the cloud not as a physical location but as an operating model.
Quantum ActiveScale Brings Storage Scalability and Durability On-Premises
At Tech Field Day, Quantum spotlighted ActiveScale, its object storage solution for on-premises private clouds and its associated hardware appliances that run ActiveScale. Quantum designed ActiveScale for standard unstructured data use cases like media and entertainment, surveillance, big data, genomics, HPC, telecom, and medical imaging. Like any object storage solution, scalability and durability matter. ActiveScale appliance capacity starts at 452 TB raw data and scales well into the petabytes.
Offering all the features an organization would expect from object storage, ActiveScale supports immutability, flat global namespace, and custom metadata for searchability and classification. These features make managing storage more efficient without worrying about the number of inodes or managing directory structure. To minimize the failure domains and ensure greater resilience, ActiveScale appliances require a three-node minimum.
ActiveScale is also a unique offering for customers who remain on-premises because of security concerns. Security doesn't appear to be an afterthought for ActiveScale. It supports encryption for both data at rest and data-in-transit.
Delving into the ActiveScale FileSystem
ActiveScale filesystem is comprised of two layers: an access layer and a data layer. The access layer is where metadata gets stored and managed. All metadata is stored on solid-state drives (SSD) and tied together into a single global namespace. All reads and writes of objects support strong consistency. Amazon recently announced strong consistency support for its S3 storage.  Also, access to S3 and NFS protocols happens at the access layer.
Next up is the ActiveScale Data Layer. This layer is where data placement and data repair happen. This data lives on hard disk drives (HDD). By leveraging erasure coding instead of RAID, ActiveScale can take advantage of low storage overhead (and greater capacity) coupled with high availability/resiliency.
Ultimately, data durability is determined by erasure coding scheme, but double-digit 9s are supported. ActiveScale uses Dynamic Data Placement (DDP) for hierarchical placement of data to manage failure modes like disk, node, or rack.
Dynamic placement is unique to ActiveScale. Repair speed defines durability, and ActiveScale doesn't wait for a disk to be replaced, but the system takes proactive action. If a drive fails, the drive isn't rebuilt. However, data chunks on the failed disk are immediately placed on existing disks to rebuild endurance level.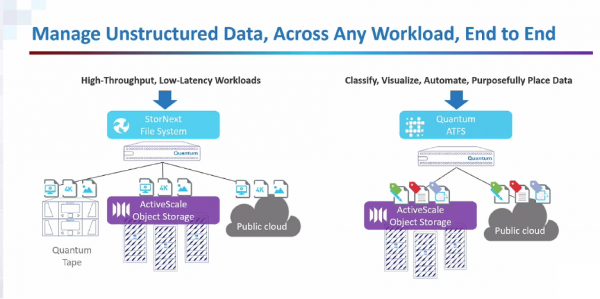 Conclusion
Quantum has a legacy in storage with disk drives and tape drives, 40 years in the making. From this product portfolio and intellectual property, Quantum's self-proclaimed goal is to help customers manage unstructured data through the data's entire lifecycle from inception to archive, whether that's on a tape drive or in object storage. It's easy to see that Quantum's ActiveScale solution plays a part in this objective.
While it's no stretch to see Quantum ActiveScale as a viable alternative for those backups and archives, Quantum has built a robust object storage solution capable of handling all of an organization's on-premises object storage needs.
To learn more about Quantum, check out its presentation from Tech Field Day!