As data and applications get dispersed across multiple environments like on-premises and public clouds, data management challenges mount. Getting the data to applications that need it becomes much more of a struggle. Leveraging compute and accessing data stored on-premises with local network performance almost sounds too good to be true. At April's Tech Field Day event, Vcinity introduced its Vcinity Data Access Platform (VDAP) that enables organizations to sustain Local Area Network (LAN)-like throughput over Wide Area Network (WAN) distances. With this technology, storing multiple copies of data and moving entire datasets might become a relic of the past.
The World of Data Silos and Geo-Dispersed Applications
Traditionally, organizations stored data on-premises right next to servers that run business applications. However, the rise of public cloud and edge means that organizations often spread their workloads and data across geo-dispersed environments. Also, on-premises data and workloads are here to stay for the foreseeable future.
Meanwhile, the availability of analytics and service offerings in public clouds means that sometimes organizations spend a lot of time moving and copying data. Larger datasets become silos that are harder to move. To get around this problem, in multi-cloud workloads, organizations often co-locate data with service providers with direct connections to public clouds to avoid egress charges, the need to copy data, or other data gravity challenges.
Using RDMA to Create a Global Fabric to Maximize Throughput for Long Distances
In a recent Tech Field Day appearance, Vcinity introduced its Vcinity Data Access Platform (VDAP) that enables organizations to sustain Local Area Network (LAN)-like throughput over Wide Area Network (WAN) distances. To get this improved performance, organizations don't need to copy or move datasets close to compute. VDAP transfers only the bits that are required, not the entire dataset. VDAP does not rely on deduplication or compression. Instead, VDAP leverages Remote Direct Memory Access (RDMA), a protocol in which networked computers directly exchange data stored in memory without relying on the CPU, cache, or operating system of either device.  

Typically, RDMA alone is not sustainable over long distances, but Vcinity's patented technology addresses those challenges. To get around all devices not supporting, VDAP encapsulates RDMA in an IP Header. Additionally, because RDMA needs a lossless network, VDAP uses buffer credits together with intelligent packet loss recovery and flow control. By extending RDMA into a global fabric, VDAP makes it possible to deliver local network performance to applications that access data over WAN.
Changing the Paradigm of Co-Locating Data Near Applications
During Vcinity's Tech Field Day presentation, Vcinity demoed a 3D Modeling application running seamlessly on a workstation in a public cloud on the West Coast with data on-premises on the East Coast. To this application, VDAP makes the data appear local. While the first bit of data transferred is slower, every bit after that has consistent LAN performance. VDAP can minimize the effects of latency without requiring organizations to manipulate data or change applications.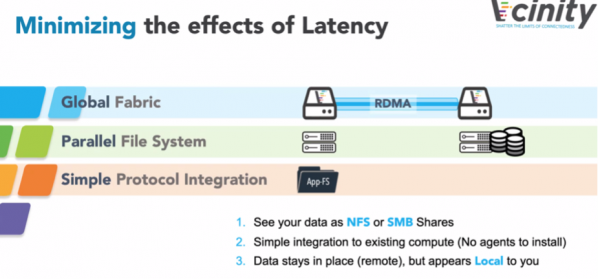 VDAP requires organizations to deploy a virtual machine (or server appliance and hardware) at the endpoints of where the application and data reside. A parallel file system like IBM Spectrum Scale that can run inside of a virtual machine underpins VDAP. To a user, Vcinity looks like NAS storage with files and shares. Additionally, VDAP also supports object storage
VDAP is available for a trial in the AWS Marketplace.
Conclusion
Vcinity wants to create a world where data no longer needs to be co-located near compute without requiring data access methods or applications to change. VDAP can ease the data management challenges of keeping multiple copies of the same data in sync or moving data around for many organizations.  To learn more about Vcinity and its Vcinity Data Access Platform, tune into Vcinity's Tech Field Day presentation.