If you are even slightly informed about data center switches, you'd likely have heard about merchant silicon. Currently, there is a big debate among industry insiders about who comes on top between merchant and custom silicon. In the Networking Field Day: Service Provider presentation of December, Arista made a bunch of presentations of their merchant silicon based routing products which settles the debate in favor of merchant silicon, at least for the service provider companies.
Merchant Silicon Across Providers
Merchant silicon which are ASICs are not proprietary to a certain vendor which means they are sold in the market by vendors that are not the manufacturers of the chips. There is a tremendous amount of competition in the merchant silicon space right now led by the likes of Intel, Marvell and Broadcom.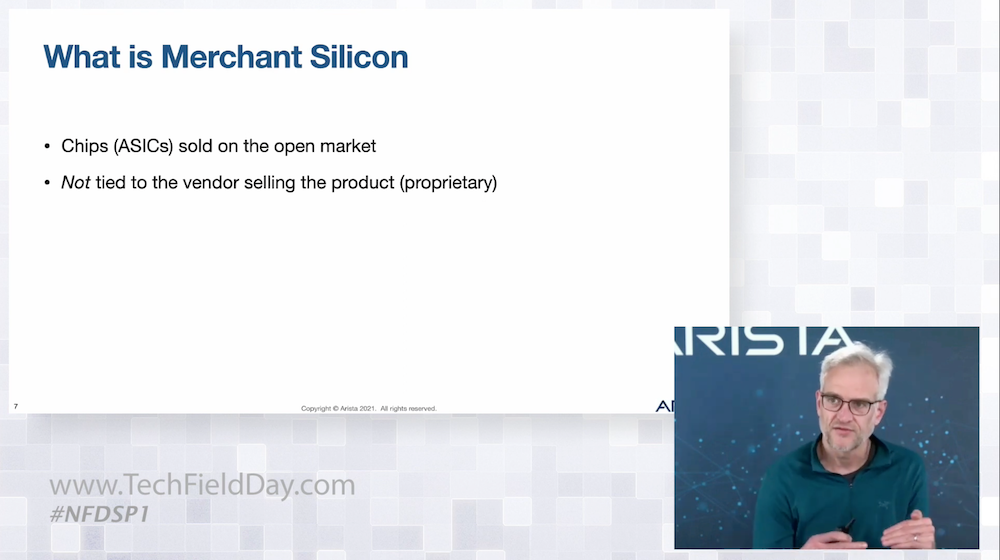 What's interesting is that the makers of merchant silicon all use the same fabs, processes, memories, TCAMs and certs resulting in an approximately similar clock rate achieved in all the process technologies. If you are wondering how then are the products so different? It's because of the design choices each provider makes in order to cater to targeted use cases. However different they may be from one another, every provider in the merchant silicon market is now pursuing to meet the greatest demand of all- to make products simpler, faster and more reliable.
Arista Over the Past Decade
Over the past ten years, Arista has developed a number of routing products using merchant silicon of families like Trident, Tomahawk, Jericho, Tofino and XP from brands like Marvell, Broadcom and Intel and through the different trajectories each of them has followed, it is clear that their different curves have only been caused by the different marketing decisions, which being the use cases, process shifts and execution.
With focus on the three end goals of quality, architecture and scale, Arista has been building software-first products since the beginning to contribute to the merchant silicon space. Today, it's portfolio also comprises a selection of cloud networking solutions at scale for switching use cases and routing.
Taking a Look at Arista's Merchant Silicon Based Products for Service Providers
Hugh Holbrook, Group Vice President, Software Engineering for Arista offers a thorough presentation of Arista's merchant silicon hardware platforms and how they have been designed to keep up with the top trends in merchant silicon and the most common asks of the customers. In discussing the platforms, he also offered a close look at the major trends in merchant silicon right now and their connection to service providers.
Today Arista has an expansive portfolio that comprises of seven different families of merchant silicon, chassis and fixed config, all of which high on operational consistency. Some of its routing products are high-function, deep-buffers while others are compact and fast. Irrespective of their capabilities, they all apply to service provider customers to a diversity of use cases. All its architectures are enabled by Arista EOS which supports storing and streaming state for all things needed by a router or a switch.
Arista has designed many different routing products over the years. The ones that are based on the Jericho family merchant silicon has deep buffers, support advanced traffic management and have large tables among other things. In use in Arista since 2006, this family of merchant silicon has many use cases and is one of the classic products Arista has in offer.
Over the years, Arista has adapted its products to meet the changing requirements of SP networks. It's routing products well meet the basic requirements of speed, reliability and simplicity. They have reduced OPEX, high bandwidth and automated management of complexities which make things smoother on the user end. Everything concerned, Arista's routing devices make choice products for service providers who have a lot of different use cases and different kinds of routers in their networks. They are also one-OS systems which makes testing of all products fast and effective.
Final Verdict
Arista has insofar been successful in bringing to offer high-performing merchant silicon routing products at inexpensive pricing. That is an advantage most service network providers would be happy to grab at. That coupled with all its updated product development strategies, Arista's merchant silicon is definitely a top-of-the-line solutions available in the market right now.
Watch the rest of video on Youtube or here at Tech Field Day.