Converged solutions have been taking root in IT for several years now. When the side-effects of having numerous tools and solutions in the environment were first felt, a desire for a combined solution started to develop among organizations. The awareness that a robust paraphernalia presents unpredictable complications and sloughs away resilience, turned up the urgency to adopt all-in-one solutions that make life easy for everyone.
Last week's Networking Field Day event saw Aryaka present their all-in-one networking and security as-a-service solution. Hugo Vliegen, Senior Vice President of Product Management gave an overview of Aryaka's integrated services, and talked about the solution architecture. Senior Director of Product Management, Natraj Iyer and Director Engineering, Anu Chettur, took the floor to offer a closer look under the hood, and a demo of the customer portal.
Holistic Solutions
Despite being two separate disciplines, networking and security are intertwined. Most vendors in these spaces tend to stick to one or the other. An SD-WAN vendor would provide the SD-WAN overlay, and the connectivity and managed services would come from a Managed Service Provider (MSP). This standard multi-vendor approach has some gaps. Essentially, more tools means more training, more siloes and overall more work. Think of the onboarding of the solutions, then the integration work to make them function together synchronously. Information siloes and gaps are another worry. A lot can get lost easily in the mix.
Alternatively, having a converged solution that mashes up networking, security and managed services into one integrated solution has several upsides. Organizations can turn down the technology fatigue from get go. Things will likely be more streamlined than scattered, and employees don't have to put up with getting used to new features routinely. And at the end of the day, the organization saves money. It's a win for everybody.
Aryaka Bonds Networking with Security
This is why Aryaka's offering stands out from the rest of the vendors. Aryaka is a managed service provider with an impressive customer service record. As an MSP, Aryaka wears many feathers in its hat. Three-times winner of Gartner "Voice of the Customer" award, Aryaka offers a converged network service that encompasses SD-WAN, SASE and full life cycle management.
"We are a converged WAN service with security embedded, and it's developed from the ground up. We optimize everything from a customer experience point of view," said Vliegen.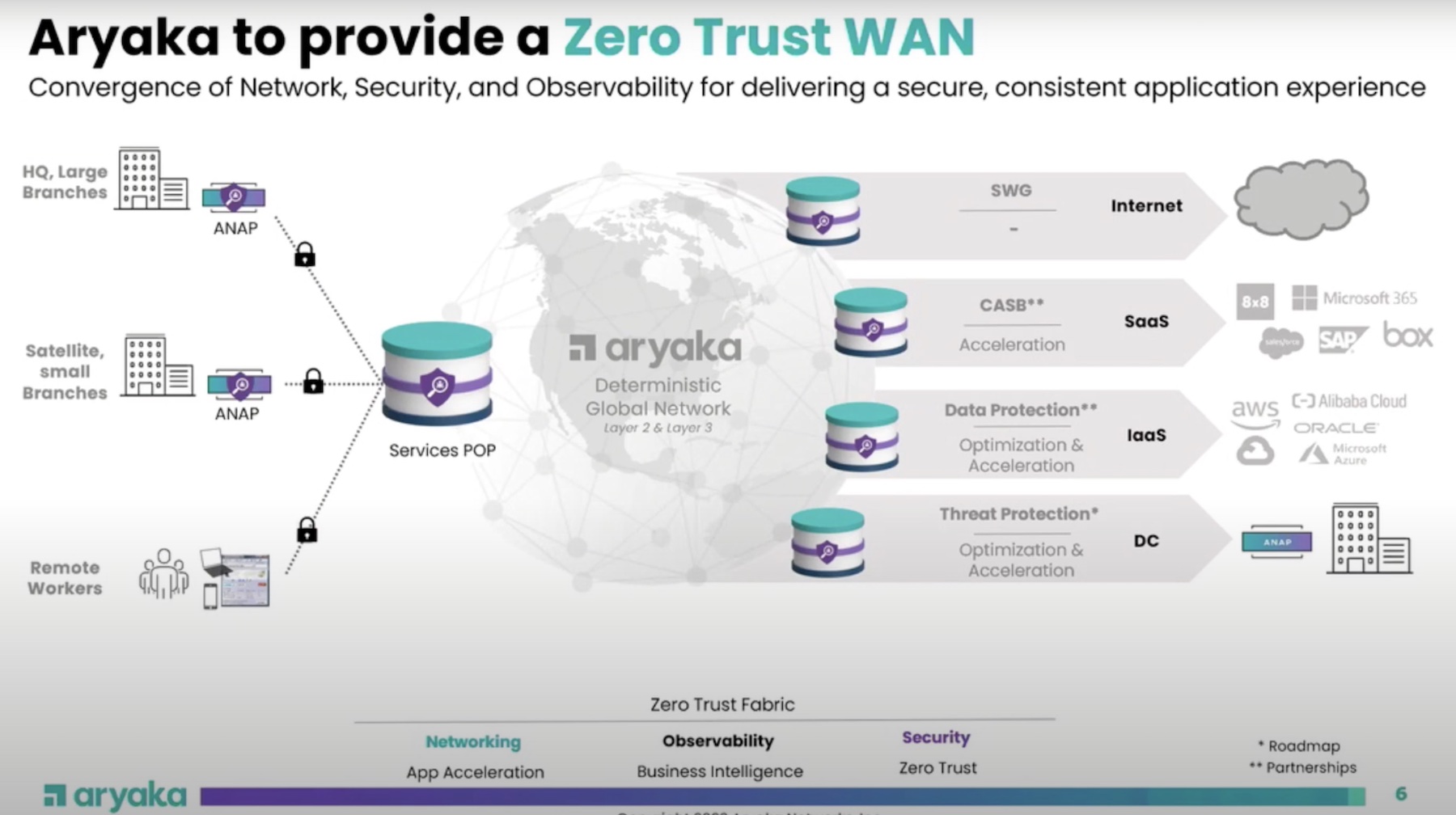 Aryaka provides a global network anchored in the cloud. Aryaka calls it a "private superhighway" that connects organizations to regions around the world.
According to Aryaka, there are three things where it gets most of the firepower from – its agile network, superior customer service, and an unconventional approach. As opposed to those of other vendors, Aryaka's is a holistic solution that constitutes the overlay, underlay and a managed service.
"We have a single unified network that has a private core where we can connect in all the offices, the users, the various flavors of cloud, and datacenters," he said.
Vliegen further explained, "We're in control of the workflows. We collapse the work of the software developers, the technology players, together with delivering the service. But what it boils down to is that we deliver a better workflow. In terms of agility, all of it is built from the ground up and connected with our technology. There's not an orchestration layer in between. We have the services and support organization as well."
Aryaka's offering of a unified network service is quite unique. But there are several other ways too in which Aryaka delivers value for its customers – cost benefits, secure remote access, network reliability and performance gains among other things.
The Architecture
Aryaka has a zero trust WAN architecture that is the secret to its secure and consistent app experience. Aryaka's private core layer-2 infrastructure, or what Natraj Iyer called the "middle mile" spans the globe, and comprises of over 40 service points-of-presence (PoPs), strategically sprinkled across regions. These are compute, storage and networking infrastructures that Aryaka has built over the past decade.
Aryaka believes that because of their strategic positioning, there is a service PoP "within 15 to 30 milliseconds of 90% of the world's knowledge workers".
Aryaka envelopes the entire architecture with security, from the PoP infrastructure to on-premises, in devices. It also has WAN optimizer built into it.
"We've a single architecture where security can live anywhere. The functions can live on-prem, they can live in the PoP, and we can manage them using the same service delivery systems so that all the elements can come together."
About three years back, Aryaka started working on the security aspect with the goal to build a zero-trust WAN. Today, it has multiple products in the security bucket, the first of which is secure web gate (SWG) for the Internet. Additionally, the portfolio includes cloud access security broker (CASB) and firewall as a service (FwaaS), data protection and threat protection.
Aryaka's other object of focus is observability. Aryaka provides high visibility of performance-impacting elements in the network, and large amounts of actionable insights. Vliegen informed that Aryaka is working on tuning up the observability with advanced insights in the coming years. Aryaka's fully managed service also has a co-managed option.
"We have always integrated the convergence factor with lifecycle services to bring this one single experience of delivery that is agile and on-demand. You can completely outsource it to us."
Everything is manageable from a single control plane which keeps all teams up to speed, no silos whatsoever. The management console has a rich set of security controls baked into it which include URL filtering, content filter and malware blocking.
Wrapping Up
Aryaka makes a compelling solution for multi-national and mid-market organizations who favor unified, single-vendor solutions. For them, Aryaka provides a fast SD-WAN network with security woven into its architecture, and enables SASE for an optimal security posture. Aryaka's customers can leverage the trifecta of overlay, underlay and managed services from a single vendor, and enjoy a breadth of capabilities that includes, but is not limited to integrated cloud connectivity, zero trust security, and remote access. Being a unified solution, Aryaka requires little to no integration which further makes lives of engineers easier. Last but not the least, a converged solution like Aryaka's is a cost-effective alternative to multiple point solutions that require paying several bills for the same functions.
Be sure to check out Aryaka's presentations from the recent Networking Field Day event to learn more about their unified SASE service.