IT teams have had a nice run doing things manually a long time. But the recent tech sprawl and a tight labor market raise skepticism about whether the manual approach is anymore the appropriate approach in IT.
Typically, companies rely on operators to run maintenance and upgrades on network and security hardware. An overwhelming majority of network engineers and cybersecurity professionals find this approach inefficient.
A network device goes through countless upgrades during its lifecycle, putting increased pressure on operators to keep it up-to-date. The manual way introduces delays, and elevated risks of misconfigurations, things often believed to be the root cause of vulnerabilities.
BackBox rethinks this approach with a smart solution. At the recent Networking Field Day event, they showcased the BackBox Automation Platform that offers a smart way to push updates to firewalls and network devices without the grunt work. Senior Product Manager, Perry Greenwood, and CTO, Josh Stephens showed through several demos how task and upgrades are performed on the platform with no-code automation.
Inside the BackBox Automation Platform
BackBox features tens of adjustable device and context-aware scripts that can be reused over and over with slight modifications to run upgrades on full fleets of devices. By making changes to the variable, a script can used to run commands on different devices.
"When it comes to programmability, we think about it in two terms. There is the programmability where you can extend scripts and then there's the programmability where you want to integrate with outside services, sources or whatever homegrown system you have in your IT department," said Mr. Greenwood.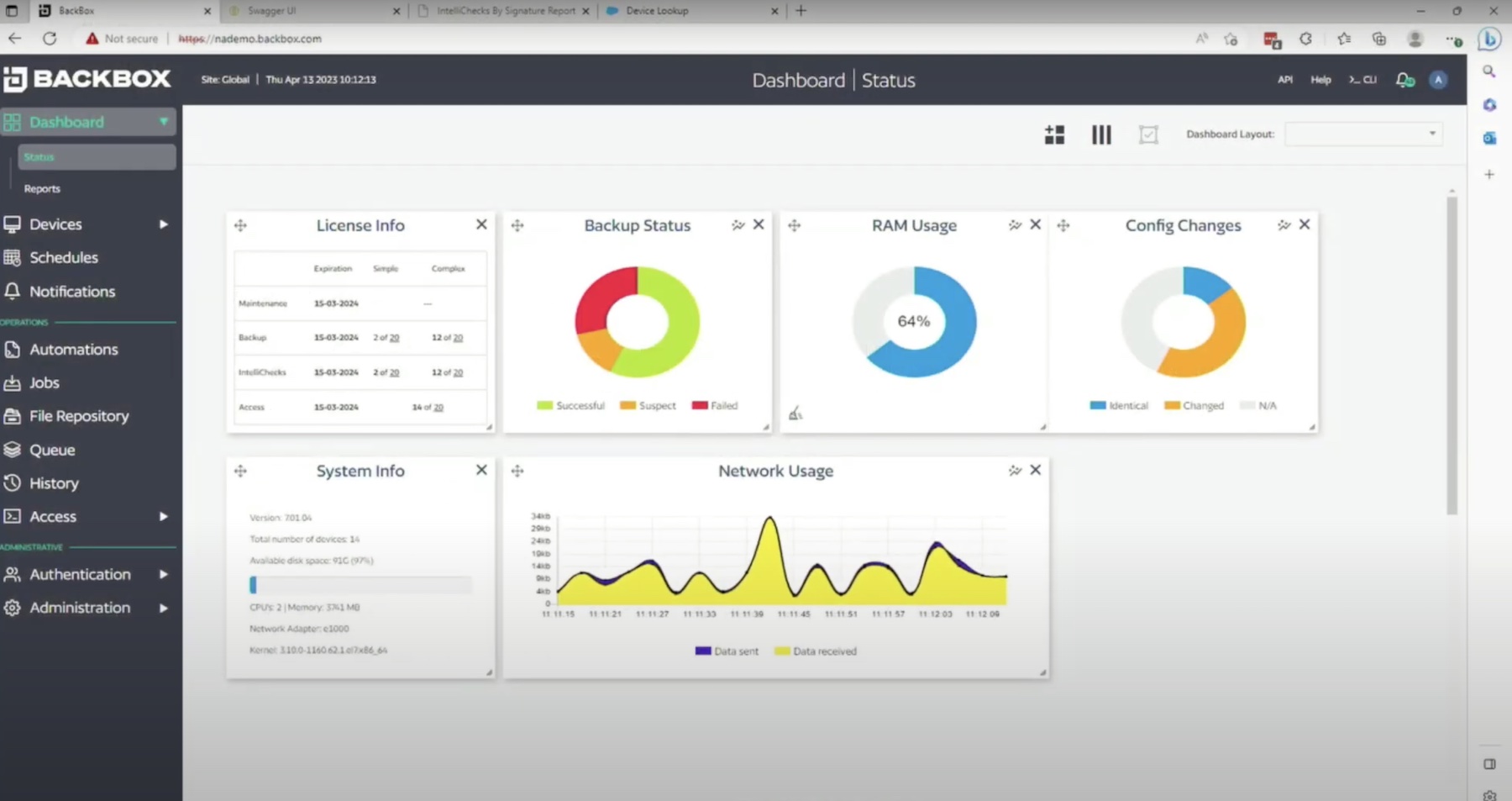 He assures that BackBox does not require deep Python expertise. Knowing CLI and a little knowledge of Linux is all it takes to leverage the platform.
As device maintenance windows are typically in the wee hours, BackBox allows operators to schedule upgrades ahead of time so that upgrade cycles do not interfere with their sleep. Both one-time and cyclical upgrades can be pre-scheduled from the platform, and the system will keep the upgrades going at the set hours.
BackBox can handle upgrades for both common and complex equipment. Prior to an upgrade, the platform runs pre-checks to ensure that all routing and traffic conditions are ideal, so that upgrades goes through uneventfully. In case of failures, BackBox can bring the device back up using a remediation script.
The BackBox's intelligent notification system can be customized to whatever makes sense for the operators. Notifications for successful updates can be made to arrive by email during regular office hours instead of receiving them on personal phone at odd hours. All urgent alerts can be prioritized to be sent out in real time on collaboration channels.
Designed for multi-vendor networks, BackBox currently supports 180 vendors. The platform is deployable on premises, in the cloud, and in a customer-managed model.
Complimentary Professional Service
The BackBox platform has 47 built-in OS upgrade automations that users can choose from. If a customer is not on the list, they can request the BackBox service team to add it at no extra cost to them.
"We provide network automation team as a service as part of our offering. We're not expecting our customers to have their own automation teams of Python experts to write those. We do that in house," said Mr. Stephens.
As part of their subscription, BackBox also offers complimentary product enhancement services allowing users to fine-tune the platform's capabilities to fit their use cases. Anything that is not an extended enhancement is covered by BackBox free of cost.
Wrapping Up
The recent wave of automation indicates that we've reached an era where technologies can reliably replicate human processes, and a few times, even surpass humans at their game. The BackBox Automation Platform is one such example. It brings operators peace of mind by keeping devices up-to-date without them having to oversee and install upgrades click by click. With almost no scripting involved, there is near to no adoption curve, and administrators do not need to feel their way about.
For more information, be sure to check out the BackBox demos from the recent Networking Field Day event.