"Great wine starts with great grapes. Great AI starts with great data," said Bob Friday, Juniper Networks' CTO and Chief AI Officer, while presenting at the recent Mobility Field Day event in California.
One of Juniper Networks' biggest story this quarter is updates around its AI assistant, Marvis. The company announced that it is expanding Marvis with Zoom data and ChatGPT, further augmenting its ability to respond to complex networking questions.
Errors and Disconnections
Video conferencing apps like Zoom are some of the most widely used applications running on corporate networks. A workday calendar packed with Zoom meetings is business per usual for the distributed workforce. As we are filling our calendars with more virtual meetings than we did in normal office settings, it is vital that the platforms hosting these meetings run flawlessly.
Contrary to the expectation, Zoom and many other conferencing apps are often failing, freezing and crashing frequently, often several times a day.
"Video applications are probably the hardest applications to run on a network. If anything's going to break first, it's going to be your real-time video collaboration experience," noted Mr. Friday.
Such errors can stop important collaborative sessions mid-way, hurting productivity, and slowing down innovation. Owing to poor call quality, a quick half-hour meeting can stretch to hours without satisfactory results. It is a frustrating struggle for employees, as many of them are working this much out of office for the first time.
An even bigger puzzle is identifying the root of the problem. An application outage can happen for a myriad of reasons – poor Wi-Fi, overworked devices, software errors, service downtime. Having to figure out the origin of the problem does nothing to move the real work forward, and only adds an extra layer of stress.
Turning the Page
AIOPs has come a long way with helping companies turn the page on distracting technical errors. It is making already headlines with how easy it has made leveraging everyday technologies.
AI algorithms are trained on billions of datasets that allow them to mark and magnify nuances, nipping a problem off before it becomes an anomaly that diminishes the user experience.
"AI is the next evolution in automation. We've always been doing automation with scripts. AI is just taking that automation to the next level, doing things on par with humans," commented Mr. Friday. "The paradigm shift is around AIOPs moving us from client to cloud tradition. We want to make sure that the connection is good," he added.
Core to AI's success is good-quality data, which allows algorithms to process an input efficiently and produce definite diagnosis. This requires cycles after cycles of training, state-of-art infrastructure, and a stellar data science team behind the whole operation.
Juniper Networks' AI Journey
About some years back Juniper Networks debuted Mist AI, a solution that combines AI, ML and data science. Fundamental to all of their subsequent AI initiatives, Mist AI furthers the goal to expedite operations and optimize user experience.
The Mist journey started when Bob Friday was still working his 9-year-old job at Cisco as the VP.
"We were hearing from some of our very large customers that they wanted us to have the controllers stop crashing. They wanted to get things moving quicker, and a space to innovate faster and keep up their digital transformation. But most importantly, before they were going to put anything critical on the consumer device, like an app, or on the network, they wanted to make sure that it was going to be a good experience," he remembered.
Ensuring this requires a lot of data. To get customers that data that they need, Juniper Networks built its catalogue of APs with Mist AI integrations. The new Marvis updates take that work forward.
"When we started the journey, we started with the wireless access points because that's what allowed us to answer the question of why you are having a poor internet experience. What you saw us do at Juniper was basically extend that across the access point to switch, and the router" said Mr. Friday.
Likewise with the Zoom data, Juniper Networks is taking steps towards understanding and answering questions specifically about Zoom user experience.
"This is basically going to let us to start leveraging technologies like ChatGPT and taking terabytes of data, training models that can actually predict user performance, and start to understand why you're having a poor experience," he said.
Continuous Learning
With the goal to reduce barriers and defeat more difficult problems, Juniper Networks has constantly experimented with AI models, refining training and inferencing to achieve better results. Ingesting Zoom data on Marvis is part of that effort.
Up until recently, Marvis had two key components – the conversational interface which provided answers to queries in natural language. Juniper Networks recently expanded this by integrating with ChatGPT. The second is Marvis Actions, a self-driving feature that proactively highlights user-impacting issues by automatically creating RMA tickets.
The third and the brand-new element is continuous user experience learning. This lets Marvis consume labelled session data in real-time from public cloud applications – in this case Zoom – at the rate of per-minute, and continually monitor its user experience. This labeled data helps create models that can predict the performance of applications in machine learning.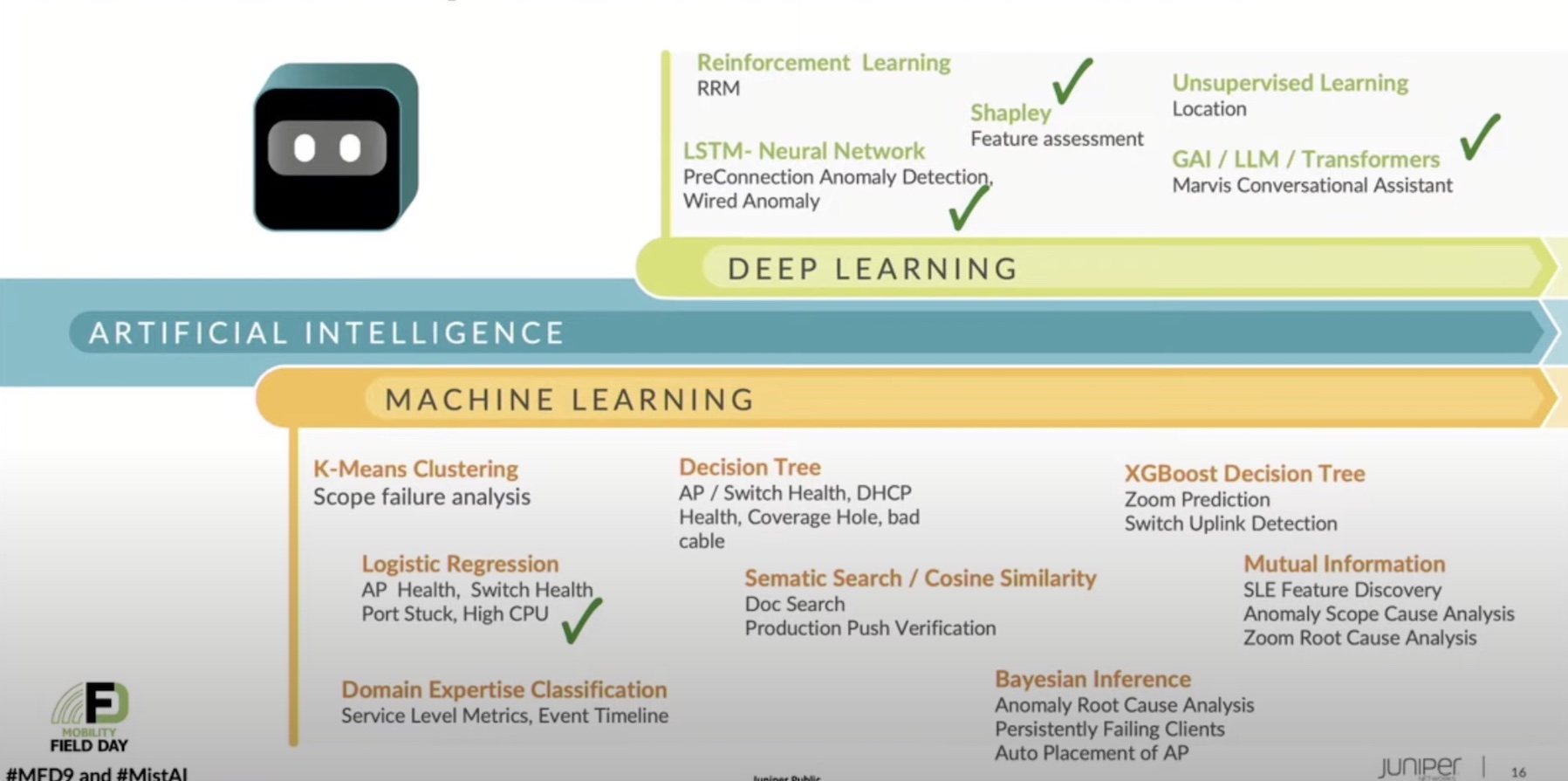 This runs natively in Marvis giving operators feedback of the Zoom experience in real time.
"This is where we're leveraging ChatGPT. We're taking these deep learning models with terabytes of data, and training them to predict your Zoom audio-video latency, and performance. We're getting down to predicting Zoom latency, plus or minus 5 milliseconds 90% of the time," informed Mr. Friday.
Juniper Networks distills down the AI findings with Shapley that tells which network feature is responsible for the problem.
"The good news is when we get data from Zoom, they give us information about the client. Turns out a lot of the problems have nothing to do with the network at all. It has to do with downloading a video while on call, an overloaded CPU, etc."
Mr. Friday emphasized that the key difference with Marvis is not the algorithm, but Juniper Networks' robust data science team that is working behind the scenes. The company has recently expanded its in-house data science team, adding new members, paving the path to faster innovation.
Customers can talk directly to the support team when they have a problem. The support team works closely with the data science team at the back end. They meet weekly going through the existing tickets and deciding which ones AI can help resolve. This helps improve the models' accuracy and optimize user experience leading to fewer support tickets.
Wrapping Up
With consistent improvement of AI solutions, and integration with other breakthrough technologies, users are on the cusp of using AI as an everyday tool across domains and disciplines. Marvis is a fine example of that. The new feature will serve to make Zoom user experience so much more predictable and consistent. Thanks to its AI-powered predictive observability, thousands of hours of painstaking rooting around is an effortless push notification.
For a demo of the new feature, be sure to watch Juniper Networks' presentations from the recent Mobility Field Day event.