The world we live in is highly connected. Around us, there is a prolific number of devices and equipment hooked to the network, constantly interacting with each other. This new wave is sure to hasten the pace of technological evolution, but not before it has created a surge of challenges for operators.
At the recent Networking Field Day event, Juniper Networks showcased a solution that tones down operational complexities of wired switching, making Day 0 to Day 2 tasks cloud-like simple for campus fabrics. Abhi Shamsundar, Product Management, AIDE, presented Juniper Mist Wired Assurance, an AI-powered service that borrows from Juniper Networks' wireless portfolio to deliver improved device and user experience.
Inescapable Complexity
The campus network is rapidly expanding. In its current state, it has too many operational kinks. With a growing number of switches and routers in the picture, cyclical tasks like onboarding, configuration, integration and monitoring of devices have become a nightmare. Engineers find themselves chasing their tails when looking for the source of a problem, resulting in interminable delays in remediation.
This inside chaos reflects poorly on the overall network performance, not to mention, drives operators crazy. A demand is growing for services that would render low-friction experiences, and make campus fabric management simpler.
Bringing AI-Powered Automation to Switching
Administrators can overcome a lot of the user-experience quality and visibility issues if they adopt a cloud-like management model.
Case in point, Juniper Mist Wired Assurance. Wired Assurance addresses the problem two ways. It simplifies wired switching by replacing Day 0 tasks, like onboarding and provisioning with plug-and-play capabilities. It enables auto-provisioning via global configuration templates allowing users to configure switches and site attributes consistently and effortlessly.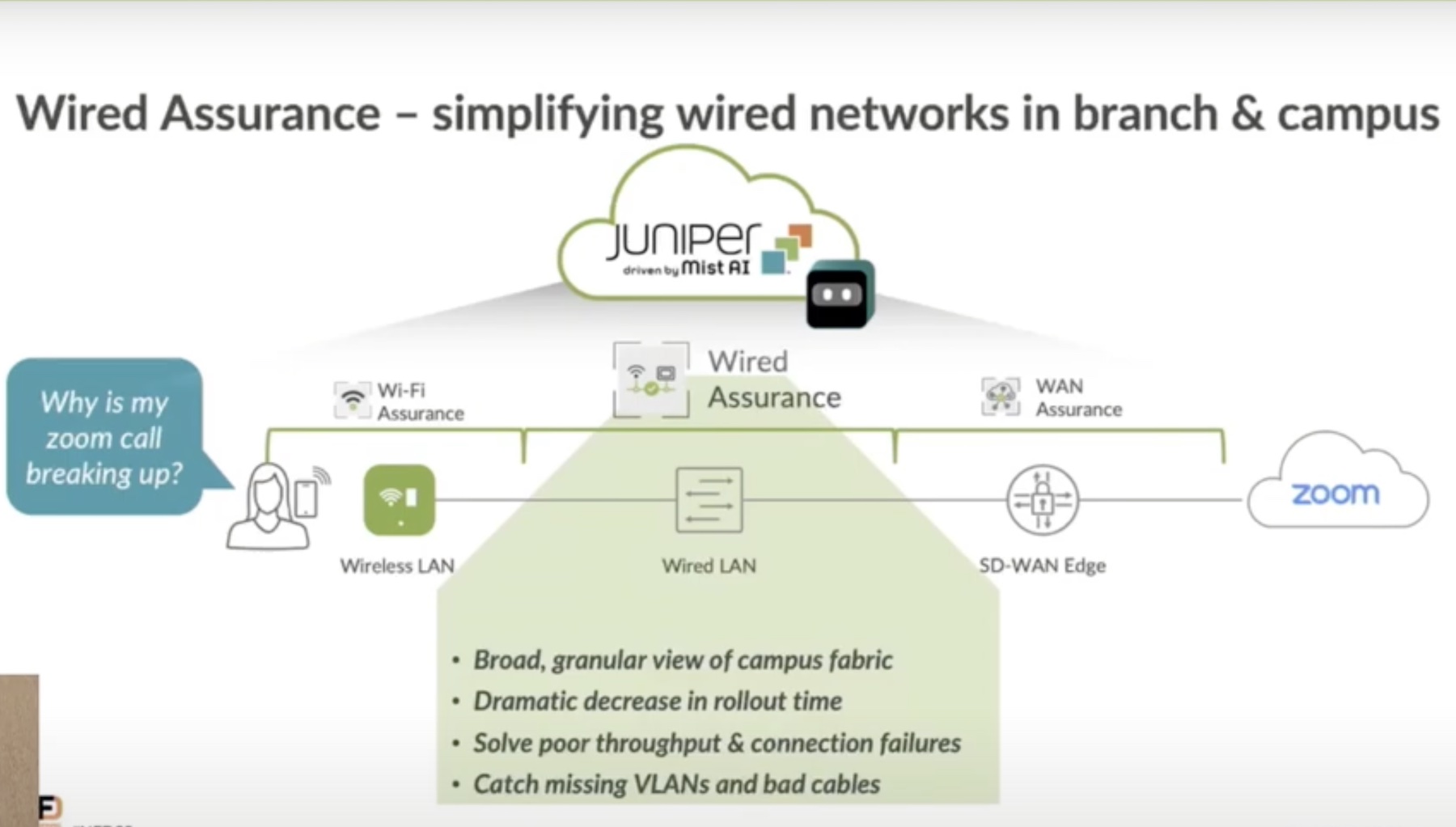 "Our focus currently, from a Mist standpoint, encompasses every piece of network equipment, all the way from wireless, wired and WAN, to ultimately give you answers on what the experience is like," said Shamsundar.
Juniper Networks switches stream in rich telemetry data that gives operators deep visibility into the states of the switches in real-time, reducing root cause analysis and time to repair.
"We have telemetry coming in from Wi-Fi, from wired as well as the WAN portfolio. Our focus is to get the most out of this telemetry and make sense of it," said Shamsundar.
Wired Assurance combines the power of automation with Mist AI to extract actionable insights out of the telemetry data, and expedite troubleshooting with self-driving actions.
Juniper Mist Wired Assurance
Juniper Mist Wired Assurance is a cloud-based service that is paired with the underlying EVPN-VXLAN architecture. Together, they make the Juniper AI Driven Campus Fabric. The goal of Wired Assurance is to make provisioning, deployment and operations at scale seamless and swift like Juniper Networks' Mist access points (APs), and at the same time provide a granular view of the fabric on the whole.
Automation of switching operations happens in three stages – Day 0, Day 1 and Day 2. Using single-click activation via Zero-Touch Provisioning, wired switches can be onboarded in groups. Within minutes of onboarding, network administrators are able to view switch metrics and service levels on the dashboard.
"Every single switch that goes out is shipped with a claim code. You can either onboard all of your devices that are part of a particular purchase order in one shot, or you could do it via a mobile app as you go on installing, racking them and stacking them. The goal for us is to make the deployment as console cable free as possible," explained Shamsundar.
Wired Assurance also brings a host of AI-driven automation capabilities to Day 2 operations, chief among which is Juniper Marvis, a virtual network assistant that draws its power from Mist AI to provide real-time answers in natural language.
Shamsundar said, "Our whole focus when we brought the construct of Service Level Expectations (SLEs) from the wireless world, was to answer the question of how your network is doing from a client experience perspective, and not just the network devices being up or down."
The dashboard offers detailed analytics on all the metrics starting with switch health to throughput, congestion, interface anomalies and more. This is particularly useful for swift root cause analysis (RTA) and repair.
Juniper Mist Wired Assurance takes observability a step further with Marvis Actions. Marvis Actions provides a client-to-cloud view that Juniper Networks calls administrators' "morning cup of coffee". While Marvis brings real-time visibility into network issues on the SLE dashboard, Marvis Actions bubbles up the high-impact problems and makes proactive troubleshooting recommendations.
All the information is automatically filtered out and presented based on category and relevancy, so that administrators do not have to navigate through all of the alerts to get to the important ones. While they can still view the entire health of the organization in one shot, they can also hone in on the top worst sites by just activating a filter. For a more fine-tuned view, they can select the specific metrics they want to look at, to get an even cleaner view.
Wrapping Up
From the demo given in the presentation, it is obvious that AI-based automation is the brain and the muscle of Juniper Mist Wired Assurance. Wired Assurance fully utilizes it to reduce operational overheads, and really enable cloud-like management of campus fabrics. By alleviating the burden of time-intensive, manual tasks with streamlined, automatic functions, it plays a critical role in killing downtime, improving user experience and making campus fabric management push-button simple.
Be sure to check out Juniper Networks' other presentations from the recent Networking Field Day event for latest updates on the Juniper AI Driven Campus Fabric.