Good tech comes with big benefits. They provide steam for innovation, and ability to get more done for less which makes their adoption justified. But occasionally, frequent acquisition of technologies can backfire and cause businesses to check their assumptions and expectations.
VMware's Director of Product Marketing, Rachna Srivastava, gave a presentation at the recent Cloud Field Day event in California, that summed up the modernization story, and the tech sprawl that comes with it.
Necessary Evil
One of the things principally driving adoption of technologies in tech companies is application strategy. To most CIOs, it is a top priority to upgrade their application portfolio. Data indicates that companies that have been able to tap into app modernization release applications exponentially faster than their rivals.
But what makes an app strategy solid? Technologies that further the goal of accelerating migration and modernization.
The exercise typically entails secondary adjustments such as optimization of business operating models, convergence of teams, and ultimately expansion of the IT budget.
An app strategy, no matter how infallible, spews out an ungodly amount of technical overheads. There are many unknowns down the road, and companies resort to investing in new tools that provide them software agility to bootstrap out of probable standstills.
"Software agility and the ability to bring applications to production quickly are critical for companies to succeed. Once companies have started to implement the app strategy and actually get it right, the results have been pretty dramatic. They've been able to bring thousands of releases in short period of time out to the market, and that makes them more competitive," said Srivastava.
The Inevitable
For most organizations, the key is a mixed bag of solutions – Kubernetes, open-source, and what have you. While there is no doubt that some of these technologies are phenomenal additions to the app modernization journey, they also weigh heavy on the teams, and seldom culminate into accelerated delivery.
Technologies that are enabling modernization are becoming stumbling blocks themselves. "As we introduce new technologies, there's always new challenges that come in," says Srivastava.
For an average company, every new technology that's added to the stack stretches their IT budget a little more, and throws a gauntlet at the teams leveraging them. The processes grow from tens to hundreds in a heartbeat – lifecycle management, migration, capacity management, elastic scaling, compliance, policies and guardrails, observability – making it a challenge to just keep up.
In the age of microservices, the number of applications scale to thousands in a blink. Keeping these going round the clock and scaling with little or no downtime is an impossible mission. Even forming new teams such as platform engineering teams or CloudOps work groups prove insufficient to get the complexity under control.
An overarching concern is cost to performance. How do companies balance and optimize all the different parameters? "The customers we've talked to are looking for a continuous closed-loop optimization, being able to constantly optimize cost, performance and security of the applications. As they are adopting a strategy that's enabling them to migrate, they're looking to have it done in an optimal manner," told Srivastava.
The Magic Formula
The way to that is to have an easy path to production that captures app knowledge and practices. But besides development, the apps must also continue to deploy, and scale seamlessly regardless of infrastructure updates and maintenance. Lastly, the cycle must be optimized such that cost, performance and security are continuously auto-tuned.
Platform engineering and cloud operations teams must have a shared view across various tools that're being used – open-source, legacy, or otherwise – so that they can observe, manage and make changes to the applications while tuning the cost, performance and security, says Srivastava.
Presenting VMware Tanzu Intelligence Services
"Being able to offer these on a common platform that's aligned and anchored across all three" is what VMware strives to achieve through its Tanzu portfolio.
VMware has a host of products under the Tanzu label – Tanzu Application Platform, Tanzu Application Service, Tanzu Hub and Tanzu Labs, and now Tanzu Intelligence Services – that jointly provide app modernization for better software to production.
Srivastava highlighted the newly launched Tanzu Intelligence Services which expands the capabilities of the Tanzu Application Platform with AI/ML, and drive application delivery across clouds.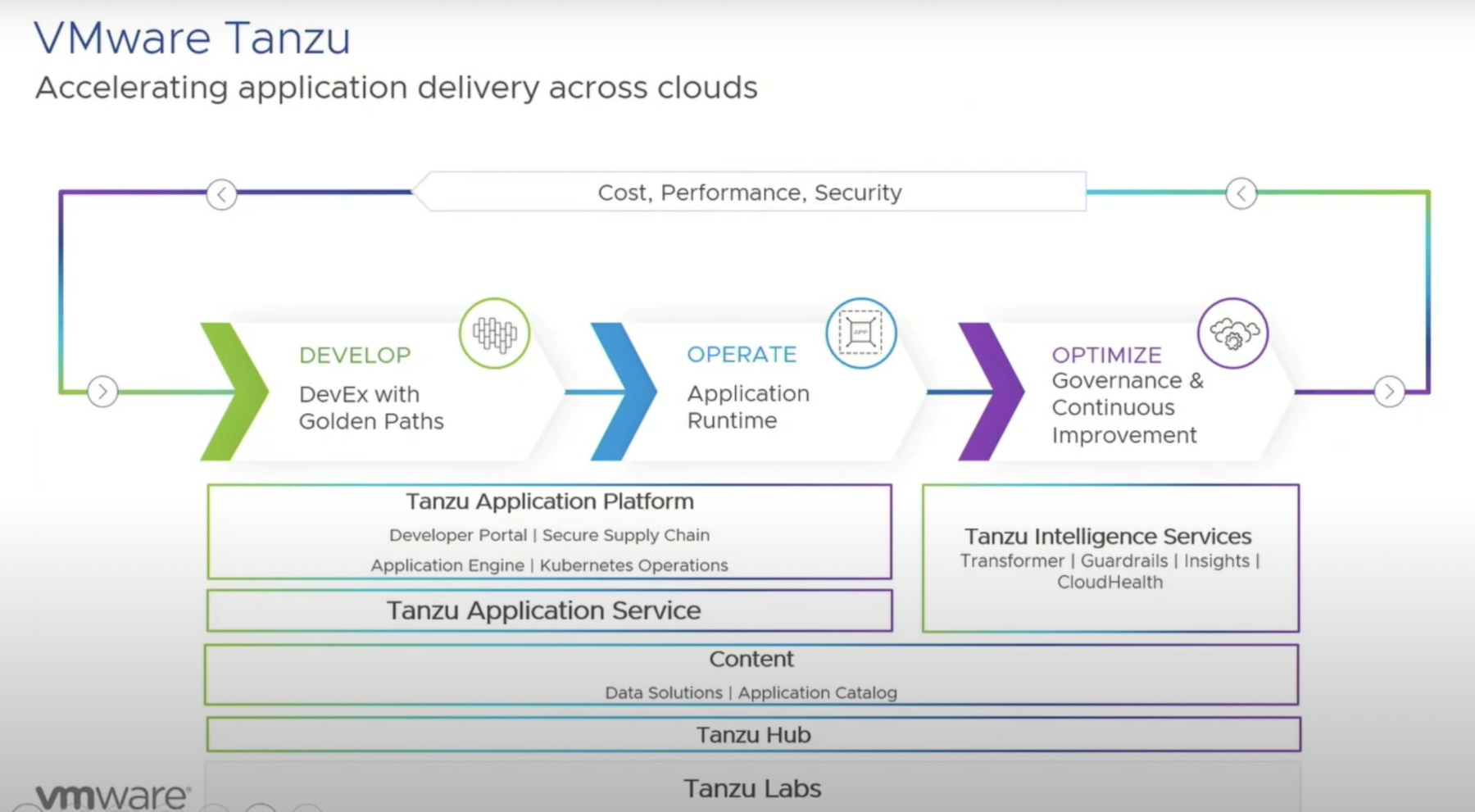 Designed to deliver three targeted outcomes – a) transform applications faster, b) bring teams together, and c) automate business processes through one unified platform, the Tanzu Intelligence Services bundle comprises four sub-services – Tanzu Application Transformer, Tanzu Guardrails, Tanzu Insights and Tanzu CloudHealth.
In a nutshell, here's is what each does. Tanzu Transformer offers support for migration planning and assessment. Tanzu Guardrails optimizes multi-cloud governance through policy-based automation that allows users to create and enforce policies on set-and-forget.
Tanzu Insights is an analytics solution that offers deep and wide visibility through ready actionable insights and recommendations. This helps teams find root causes and troubleshoot issues faster.
Last but not the least, CloudHealth addresses the cloud cost blow-out. Through ML-powered analysis and cost prediction, it helps improve budget planning, provisioning and rightsizing, unlocking big savings.
Wrapping Up
Software agility does not necessarily come from adding more tools or expanding teams. Instead, focusing on select solutions that can assimilate moving pieces into a streamlined whole, can have big payoffs. This keeps processes and technologies from overpowering professionals and eating away their efficiency. Tanzu Intelligence Services touch the vein of effectiveness that organizations are searching for. Each of its services checks a box that go into adding more firepower to the app strategy, and empower teams to successfully execute it without breaking a sweat.
For more on this, check out VMware's separate presentations on each of the tools from the recent Cloud Field Day event.