The emergence of multi-cloud spurred a gold rush among software and technology makers, many of whom find themselves moving from one cloud provider to the next in the hunt for best-of-breed services. The payoffs are huge – high availability, ultra-low latency, lightning-fast deployment, and a resiliency previously unknown – but so are the pains.
Before the hype and the reward comes the part of re-platforming workloads, a process commonly known as cloud migration. To say that this work is unglamorous is an understatement. Cloud migration is disruptive, and few understand its inner workings. It tends to be a dance of progress and setbacks where one step forward is met by two steps backward.
At Tech Field Day Extra at VMware Explore US 2023, VMware launched a new solution that streamlines workload migration and maximizes mobility in the multi-cloud. HCX+ takes out the work and the panic, making workload migration a natural transition.
Brianna Williams, Sr. Product Manager, detailed HCX+ to the Field Day audience, explaining how it makes migration a breeze.
HCX+ seeks to take the uncertainty and the chaos out of workload migration, and in its place allow customers "to get to that first migration quicker instead of having to go through the trusts and turmoil of getting everything set up and not knowing really what to do next" she said.
An Uncomfortable Truth
89% of organizations struggle with workload migration between public and private clouds. There are several reasons for that – runaway costs of expensive third-party migration tools, user experience frictions from site version incompatibility, post-migration testing difficulties, and disruptive misconfigurations. Little wonder IT teams are left bewildered trying to work out a way through all of these.
"Usually, it takes a lot of buy in from the business in order for them to feel comfortable and to know that their application is moving from somewhere that they know true to them," said Williams.
One of the things, VMware is resolved to do is provide companies a way to migrate workloads at zero business impact. It's second goal, to carve out a consistent and simplified experience on multi-cloud.
Making Migration More Predictable
A service under Project Northstar, HCX+ connects different cloud platforms, namely, legacy datacenters, modern datacenters and VMware-managed clouds, allowing seamless movement of workloads.
"HCX+ is great to help customers looking to solve their mobility and migration needs," said Williams.
With the original HCX offer, VMware targets enterprises looking to modernize to VMware Cloud or to hyperscalers such as AWS and GCP. HCX itself serves a myriad of use cases ranging from adoption of new cloud platforms to support requirement peaks, to consolidation of datacenters to reduce overheads.
HCX+ takes it one step further by introducing a "bird's eye view" of multi-cloud estates for easy and consolidated management.
"We have customers who are, at the core, either rehosting, re-platforming or rebalancing their workloads," she informed.
For these businesses, VMware HCX+ offers simplicity of management. "Simplification of operations is the core of why we're doing what we're doing," said Williams.
As a workload migration and mobility as-a-service solution, HCX provides users the freedom to go from one platform to another without running into unpredictable holdups. It facilitates migration by deploying managers to every site.
HCX+ brings all those sites up into a single console offering a complete overview. Accessible via a cloud service portal, this console allows users to perform migrations, and operations for any number of sites from one place. For all these tens of sites, HCX+ offers a simplified single pane-of-glass visibility and control.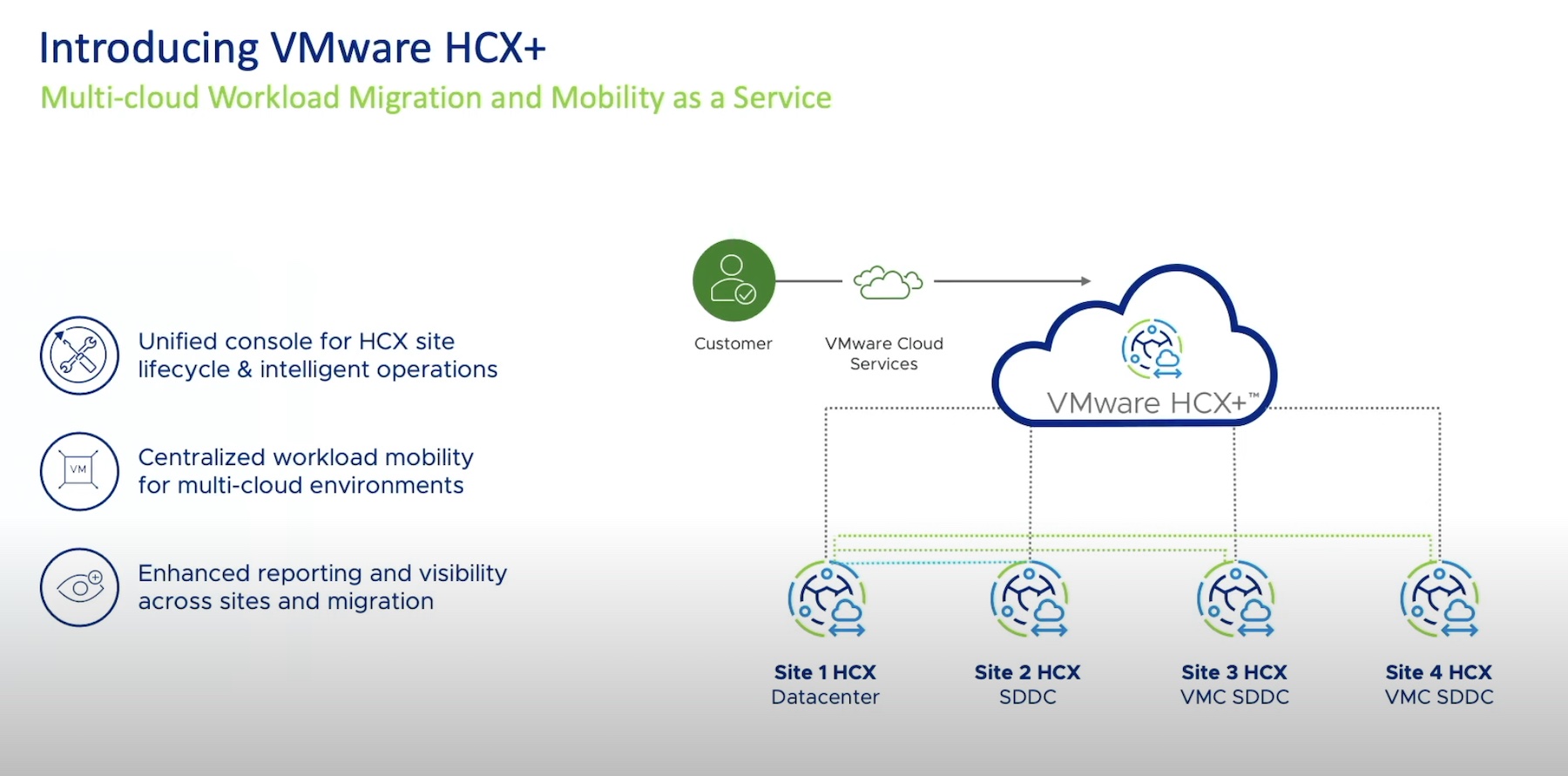 Things New and the Same in HCX+
The key capability of HCX is that it enables workload mobility between sites giving customers less to worry about the infrastructure, and letting them focus on the daily operations of migration. HCX+ adds four key capabilities to that – simplified deployment for a fast first-time migration, centralized management for a simple and user-friendly multi-cloud experience, lifecycle management for reduced maintenance overheads, and reporting and visibility for insights into the health and statuses of applications.
At the core, HCX+ uses the same principles and tenants of network connectivity that powers VMware HCX. "We're still extending networks and network spaces into these new environments, and using mobility-optimized networking to reduce the latency where possible. All of that is tried and true," said Williams.
As of today, HCX+ does not offer OS assisted migration service, and supports only VMware Cloud on AWS, but both an OS assisted migration and support for more hyperscalers are on the horizon.
Wrapping Up
The biggest stumbling block that lies in the way of organizations' multi-cloud aspirations is adoption complexity, a thing that is at the root of every new innovation, and hence, is inescapable. With solutions that help abstract away the bulk of the complexity and facilitate uptake, technologies like multi-cloud can reach a wider base of customers. HCX+ is, without a doubt, a key solution for companies walking down the multi-cloud road, going from traditional datacenters to modern cloud platforms. It extends the legacy of HCX, enabling enterprises to cleanly lift and shift workloads to where they perform best, sans the usual troubles and chaos of migration.
For more, be sure to check out the full presentation and other deep-dives by VMware from the recent Tech Field Day Extra at VMware Explore US 2023.