There's no debate whether an organization, in today's digital economy, should migrate to cloud. Cloud offers the most enhanced opportunities for innovation in decades. Things like high availability, scalability, accelerated deployment and low housekeeping make some of the biggest reasons to shift to cloud. But enterprises face some shared challenges when it comes to moving data to cloud. It's an inherently inefficient process, that when organizations jump into without thinking, or planning, leads to wasted time and effort, not to mention a struggle that lasts the entire journey.
Frequent Field Day presenter, Komprise offers a way to overcome the barriers of data migration to cloud. A company whose domain expertise is management and mobility of unstructured data, Komprise recently released a solution – Komprise Hypertransfer for Elastic Data Migration – that fast-tracks data migration to cloud, making the process a lot less messy, and way more efficient. Komprise tops this off with enhanced migration security.
Running into Obstacles
Data migration, especially when it comes to cold data, is a slow and rigorous process. It begins with pulling petabytes of data from scattered addresses.
When moving to a destination in the cloud, the data has to go through several routing protocols and countless handshakes, all of which levy a heavy toll on the transfer speed. Additionally, each of the billions of small files that constitute the datasets add overheads that further impact the roundtrip times.
The other half of the problem is the network itself. More WAN traffic equals high latency. This on top of a limited bandwidth makes bottlenecks inevitable. That explains why transferring large volumes of data over the network is time-intensive, and typically disruptive.
Smart Migration with Komprise
Komprise enables smart data migration with a structured approach that begins with analytics. To get enterprises started, Komprise provides deep analytics of the data and the environment. Information such as type, size and age of data, cost and usage, and possible bottlenecks help enterprises prepare ahead of the migration, and choose the best migration path. This approach has huge cost advantages.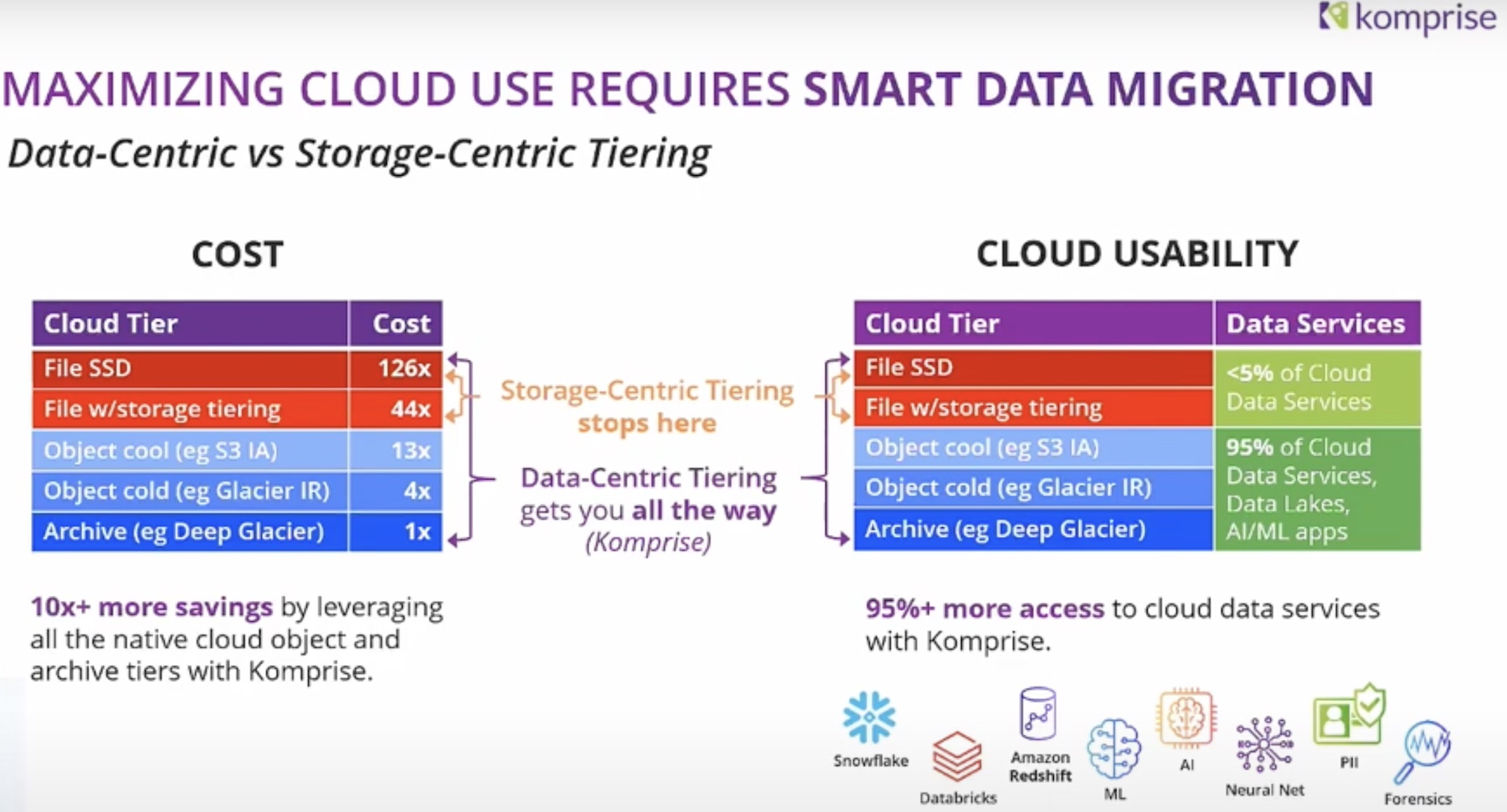 From the time data goes in, to the time it comes out the other side, users can centrally locate, monitor and manage all migrations. Komprise provides status updates for hundreds of datasets on the go through reports displayed on the dashboard.
Komprise Elastic Data Migration with Hypertransfer
With Komprise's Elastic Data Migration, users can get shorter migration times for all file and object data. Komprise claims that Hypertransfer delivers a 25 times faster SMB data transfer compared to other alternatives. This is based on results achieved from testing Komprise Hypertransfer for transferring small files to the cloud.
Komprise leverages parallelism to fully utilize available resources at multiple levels such as, threads, directories, shares, etc. Each migration task in Komprise Elastic Data Migration, is split into smaller subtasks, and executed individually in Komprise Observers which are virtual appliances present in the Komprise Intelligent Data Management platform. This parallelism is applied automatically for all transfers.
Komprise Elastic Data Migration delivers consistent performance over high-latency networks by minimizing network usage.
The cherry on top is, Komprise's accelerated data migration comes with enhanced security. Hypertransfer for Elastic Data Migration transmits data through private virtual channels that run across the WAN network, from source to destination. This method dramatically improves ransomware protection, and speeds of transfer. Data integrity is preserved through access control and routine file-level integrity checks.
Komprise Elastic Data Migration is sold as a Software-as-a-Service (SaaS) solution. It is available as a point product, as well as a feature in the bigger Komprise Intelligent Data Management platform.
Wrapping Up
When you think about it, the part where you put data in and wait for it to come out in the cloud, is really the last mile. What comes before and that which determines the outcome is planning and preparation, and enterprises need to have a good, workable plan right from the onset. Komprise provides datapoints for a strategic plan, and performs the execution. By providing comprehensive analytics prior to the process, it lays the groundwork for a successful and cost-effective migration. With the new Hypertransfer for Elastic Data Migration speeding up the process, and layering it with an extra blanket of security, moving high volumes of unstructured data, especially for data-heavy industries like genomics, life sciences, media and entertainment, can now be quick and painless.
For more information, visit Komprise's website. Also check out Komprise's presentations on smart data migration from this last year's Cloud Field Day event. For more stories like this one, keep reading here at Gestalt IT.