With today's networks expanding far beyond the reaches of the traditional office, IT departments need to be able to hone in on how users leverage their applications to ensure everything is working smoothly. That's why Cisco has integrated ThousandEyes' agent-based product for application visibility, which was showcased at their exclusive Tech Field Day event, the Future of Cloud.
Expanding Network and Application Visibility
Today's IT departments need as much visibility as possible into their cloud resources and infrastructure in order to keep their operations running smoothly. Unfortunately, the state of many modern IT environments is distributed; employees work from anywhere yet still need access to all the various tools that drive their workday.
As such, IT admins need a tool that works in tandem with their network to provide visibility across the entirety of the environment. That way, when anything happens, be it normal or out of the ordinary, the IT staff are made aware and able to take necessary action.
Combining ThousandEyes and Cisco
In light of this need for widespread network visibility, Cisco has partnered with ThousandEyes to ensure the utmost visibility across distributed environments. Thanks to cloud-deployed agents that live on the device, ThousandEyes provides insights into application performance but does so from the user's perspective, showing IT admins and Ops staff how and where they can make improvements to upkeep user experience.
In order to meet the needs of today's IT organizations, Cisco has gone to lengths to integrate ThousandEyes into their product line, specifically their Catalyst, and then later ISR and Nexus portfolios. This includes Cisco's SD-WAN capabilities, which are quickly becoming a standard in the majority of IT environments.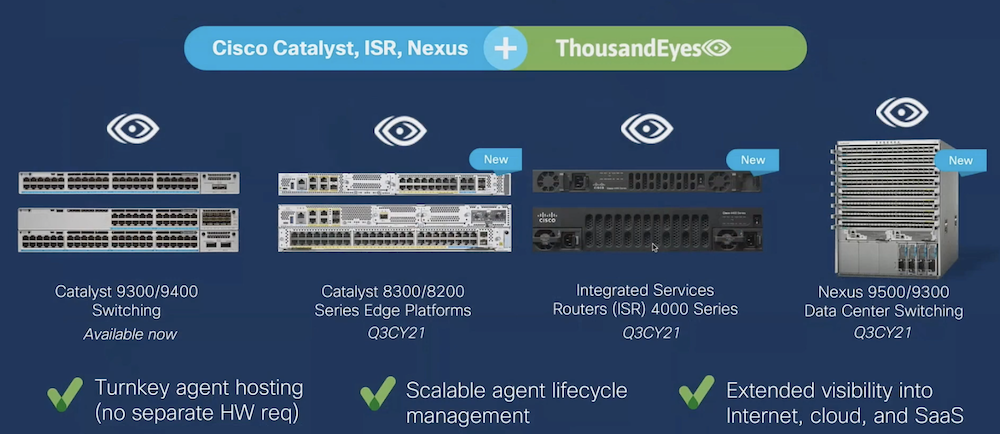 Because ThousandEyes integrates with Cisco's SD-WAN routers, it can provide requisite visibility across expansive, globalized networks that today's decentralized organizations need. That way, IT admins can ensure that, regardless of where their end users operate, they're able to utilize their applications to the fullest at any point in time.
Delving Further into
ThousandEyes and Cisco
Angelique Medina, Product Marketing Manager for ThousandEyes at Cisco, detailed the depth of the integration between the two products at the Tech Field Day Cisco Exclusive: Future Cloud event. There, she showcased the ways today's IT organizations can leverage ThousandEyes in their Cisco environment.
When deployed, ThousandEyes appears as a Docker container on both the Catalyst 8300/8200 and ISR 4000 SD-WAN routers. The agent downloaded onto these devices then creates continuous communication between the router and the main ThousandEyes hub, ensuring you can view and manage it at any point in time.
Zach's Reaction
The Cisco + ThousandEyes integration is sure to bring application visibility to nearly any network, especially those that are distributed across countries. Best stay tuned over the next coming quarters as they continue to roll out capabilities across more of Cisco's product portfolio.
Learn more about the intriguing tech coming out of Cisco by watching all of their presentations from the Future of Cloud Tech Field Day Exclusive event.