With hybrid clouds quickly becoming the new normal for enterprise IT environments, finding a storage solution that can work effectively across all clouds is also rapidly becoming a target for IT admins. MinIO feels they are expressly suited to fill this need with their cloud-native, containerized object storage solution, which they expressed in detail at the recent Cloud Field Day event.
Setting the Stage for Object Storage
The enterprise IT landscape is radically different than the way it once was, and as such, some of its facets need to be reevaluated to ensure everything works well together. For example, the cloud is now a ubiquitous part of many IT environments, but as more clouds (public, private, and hybrid) are introduced, more sources of friction arise.
One such source is storing data. Traditional file-driven storage methods constrain individual data by file type and nested location, which can create issues when used across clouds. That's why effective object storage solutions are being sought after; storing each file as an individual object governed by its own metadata means that it can be transferred between clouds or Kubernetes clusters and accessed within moments.
MinIO's Multi-Cloud Object Storage
MinIO believes their cloud object storage is purpose-built to address the friction of storing data across clouds, Kubernetes, and more. Built Kubernetes-native, MinIO integrates with nearly every possible facet of the cloud — be it public, private, or at the edge — to ensure consistent and effective storage across the entire environment.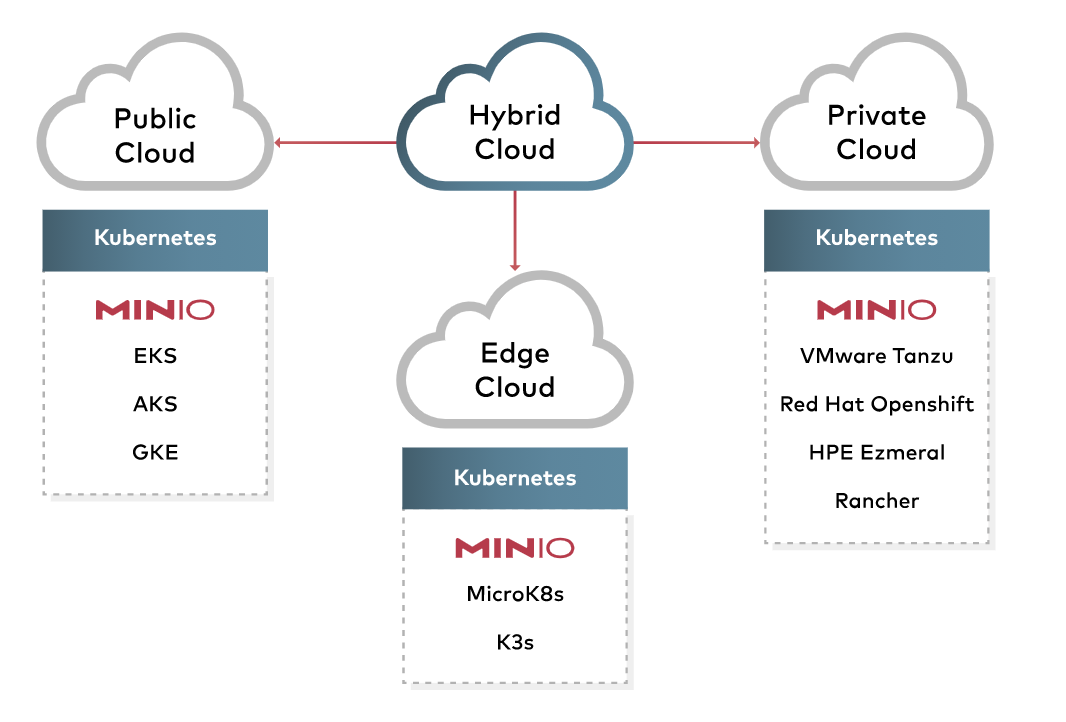 MinIO is built atop RESTful APIs, meaning no drivers or connectors are required to integrate it with frameworks like VMware Tanzu or RedHat OpenShift. The default MinIO API is S3 and has been since its inception, so it is purpose-built to work with AWS, but also works smoothly with the other public cloud offerings as well. Put simply, MinIO does object storage to best-of-class specifications across the entirety of a hybrid cloud environment.
Digging Deeper into MinIO
At their Cloud Field Day appearance in June, MinIO's CEO and Co-founder, AB Periasamy, their CMO, Jonathan Symonds, and Engineer, Daniel Valdivia, presented some of the deeper technical capabilities of MinIO. Specifically, they detailed how integral Kubernetes containerization is to MinIO, as well as its multi-tenant capabilities and new GUI possibilities.
Thanks to the fact that MinIO is built atop Kubernetes, each object storage container can be assigned to individual tenants, allowing for tight control over which business units have access to object containers. With data tiering, active replication, and continuous data protection features as well, MinIO not only provides adaptable object storage anywhere across clouds, but it does so securely.
Zach's Reaction
MinIO takes cloud-native object storage to a whole new level. Following their recent announcement about their hybrid cloud solution being available on Red Hat Marketplace, it's apparent that MinIO is making quite the splash in the space. Learn more about what MinIO offers by watching all of their Cloud Field Day presentations or checking them out on the web.