In our remote work world, issues can arise anywhere, and without the proper purview into the network as a whole, IT departments will have a challenging time solving the problem. Riverbed seeks to combat this with their new end-to-end network visibility solution, which they showcased during the recent Networking Field Day event.
Addressing the IT Visibility Gap
Today's IT operations have become disparate and spread over multiple domains, putting a strain on IT staff's ability to see when things go wrong. As such, IT departments need to be able to use all of the data generated across their environment to understand the ins and outs of their network operations.
This task is one that is often far easier said than done. With so many remote users, resources, and other endpoints at play in an organization, it's tough to be able to wrangle them all into a single point of view from which to take actionable insights.
Setting the Stage for Riverbed
In response to the problem of network visibility that arose due to multi-domain and remote work environments, Riverbed has created a dedicated business unit to help organizations to achieve end-to-end visibility across their entire environment. Building off existing parts of their portfolio like their Aternity and Synthetic Test agents, Riverbed collects data from across all facets of a network environment.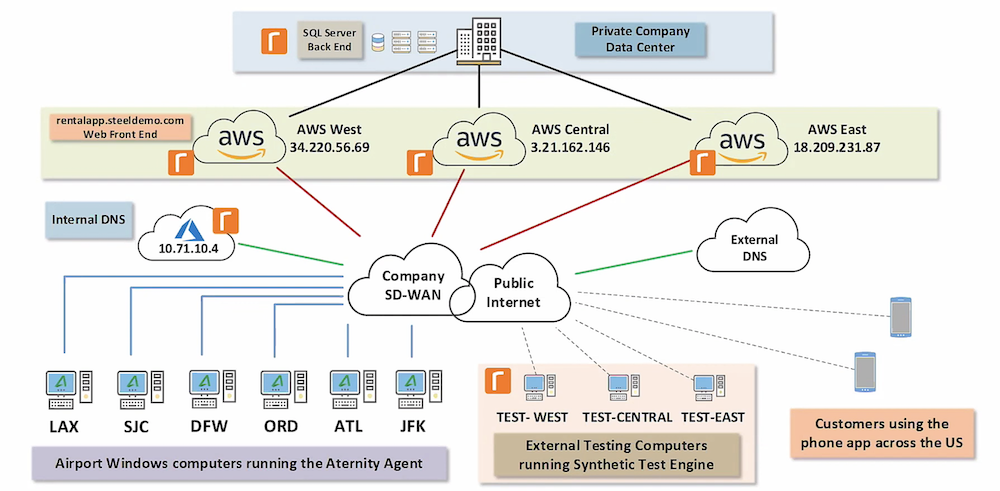 By intaking and analyzing data from public clouds, private data centers, internal DNS and systems, and just about everywhere in between, Riverbed paints a larger picture of the goings on in the network. So, if an issue arises, say with a customer accessing an app that is slow, or an employee not being able to access the internet for some reason, Riverbed removes finger pointing and head scratching from the equation. Instead, IT organizations can hone in directly on the problem at its source and address it with ease.
Watching Riverbed Visibility in Action: SteelDemo Rental Cars
At September's Networking Field Day event, Riverbed's Senior Technical Evangelist, Phil Gervasi, showcased the end-to-end visibility capabilities that Riverbed has developed. The presentation surrounded a fictional company, SteelDemo Rental Cars, and showed how they would use Riverbed in a number of different use cases. The topology for the demo is shown above, but I will highlight some of the interesting parts of Phil's rundown below.
In his presentation, Gervasi makes an important distinction: although Riverbed's visibility solution does rely on multiple facets of their product line, it's not a collection of point solutions. Instead, it uses all of Riverbed's strengths to create a holistic view into network activities at scale.
For example, IT staff can use Riverbed's Portal tool to catch real-time glimpses into the network environment, using comprehensive graphs and figures to show exactly what's happening so anyone, from Tier 1 help desk technicians to DevOps to the CIO, can understand it. Metrics included can range anywhere from HTTP status, SD-WAN CPU usage, response times, and more. All of these in tandem show the overall health of the network and where problems can, may, and have shown up.
Zach's Reaction
Riverbed's end-to-end network visibility solution is sure to reduce time spent troubleshooting remote work issues, and as a result, improve the experience of both IT staff and end users — internally and externally. If you want to get even more technical insight into how Riverbed closes the IT visibility gap, please check out their other demos from their Networking Field Day appearance.