With employees working nearly everywhere, modern enterprise IT operations need a way to mimic the control they used to have over their in-office network across their distributed environments. SASE by VMware offers such a solution, allowing IT staff to monitor and maintain connections between users and their IT resources — regardless of location — by leveraging VMware's SD-WAN capabilities for globalized network controls. In their appearance at March's Security Field Day, VMware highlighted those capabilities and how they can be used to secure fully remote workforces.
Securing a Remote Workforce
At the beginning of the COVID-19 pandemic, many organizations had to completely shift the way they work, moving to work from home/anywhere models for the sake of public health. Although crucial for maintaining business operations, the shift to work from anywhere introduced considerable friction to many processes, especially those related to security.

Traditionally, security was built right into the office. Users with access to the office network subsequently had access to their work resources, so anyone without direct access to the network couldn't access crucial data and environments. Extensive monitoring solutions built into office infrastructure gave visibility into network activity, making sure only the right people were accessing data.
With remote workers, no one is acting on-prem, so traditional physical and network-based security approaches don't work nearly as well. IT staff need to set up extensive VPN networking so that remote users can securely access on-prem networks. Monitoring tools need some sort of system agent to run remotely, with reliable, secure internet connections to relay configuration changes and event logs.
VMware SASE: Purpose-Built for Remote Work Network Security
VMware, known for their immense work in the virtualization space, believe they have the answer to remote work security: their Secure Access Service Edge product, or SASE. The cloud-based security solution builds off of VMware's existing SD-WAN gateway architecture to control network traffic — regardless of where it's coming from.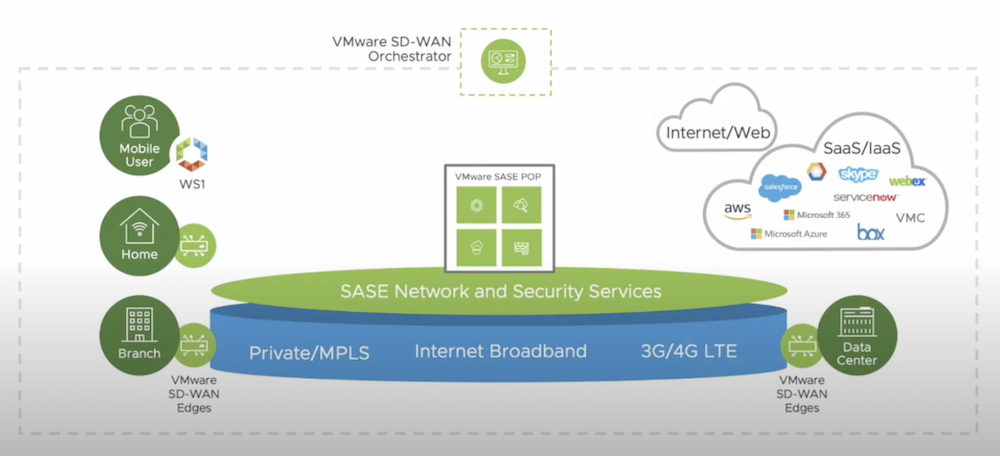 In practice, SASE intakes your desired traffic configurations, routing traffic to the correct cloud and on-prem resources as if it were happening within your own data center. SASE even handles load balancing, seamlessly switching user internet access to an active network if the one they're on goes down.
SASE Security According to VMware
In their Security Field Day appearance, VMware's Vice President and CTO, Chris Connors, detailed the SASE solution and how it affects the modern enterprise. In his words, Connors feels SASE is much more than a virtualized firewall: the product creates a great user experience by switching traffic seamlessly while also ensuring all connections remain secure.
From an end user's perspective, nothing changes. But, on the backend, SASE determines the best possible WAN link to route user traffic while also measuring real-time performance, identifying errors that arise along the way, and addressing them accordingly. Additionally, SASE builds atop VMware's existing infrastructure services, "drinking their own champagne" as Connors says in his presentation. That integration allows for scalability and future-looking innovations that will arise from the wider adoption of SASE across the industry.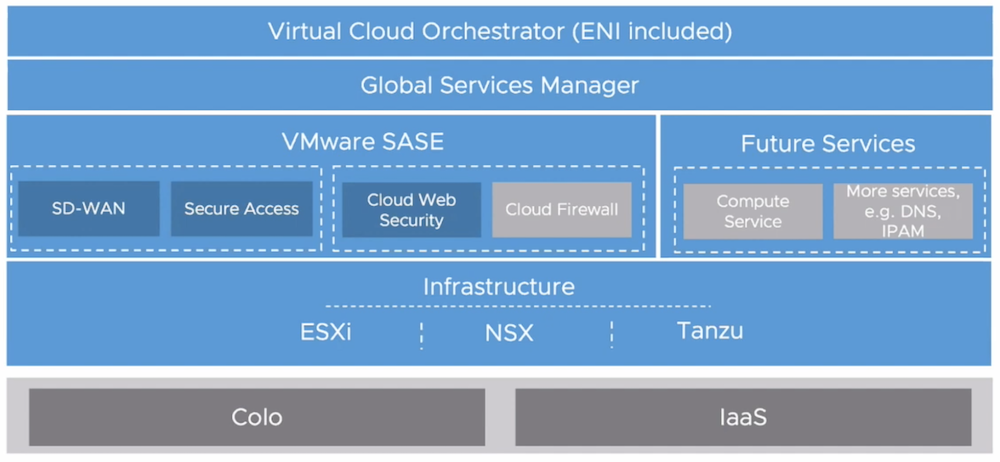 SASE also integrates with a majority of IaaS, SaaS, and other cloud resources, keeping a clean, consistent experience regardless of what apps are at play in your organization. Regardless of whether traffic is at the edge or at home in the data center, SASE maintains all of it from a single pane of glass console.
Zach's Reaction
With today's workforce and IT resources distributed across the globe, the network used to connect them all together needs to be just as distributed. With SASE by VMware, enterprise IT departments have a flexible and wide-reaching tool to keep those connections secure while also ensuring a seamless end-user experience.
Learn more about SASE at VMware's website, or by watching all of their Security Field Day presentations.