The hybrid cloud is now very much a reality for today's enterprise IT organizations, and while it does increase the pace and flexibility of DevOps teams with regards to deployments, it also presents new challenges, specifically in terms of managing all of the multi-cloud environment at scale. By focusing on delivering hybrid cloud self-service through an all-in-one cloud management and orchestration solution, Morpheus Data believes they have what it takes to keep organizations moving at the pace that hybrid cloud environments demand. At June's Cloud Field Day event, Morpheus showcased how their solution helps organizations achieve hybrid cloud management self-service.
The Role of Self Service in Cloud Management
In today's enterprise IT landscape, we're seeing a convergence of clouds: public, private, containers, and on-premises infrastructure are all being leveraged to further business goals, but in turn, come with challenges when managing them effectively at scale. With business units like Dev teams, Ops teams, Security teams, and Finance teams all needing access and control across cloud environments, ensuring each team has access to the right interface for their needs is no simple task.
One method for keeping everyone happy across multi-cloud environments is through self-service. By enabling each respective business unit to pick and choose which clouds they need at a particular point in time and how they want to interact with said cloud — whether through a GUI, CLI, or API — organizations can maintain a fast pace while still making sure their cloud is secure and effective.
Managing Clouds with Morpheus Data
Morpheus Data positions themselves right at this crossroads of clouds, offering their core product as a method for introducing self-service to the task of orchestrating clouds at scale. Their hybrid cloud management solution integrates practically all parts of the cloud — be they public or private, virtualized or on-premises — into a single management console.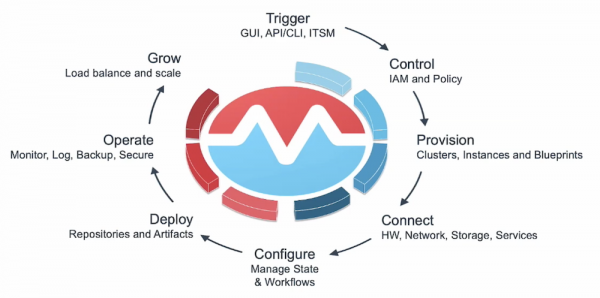 There, operations teams can fine-tune their control over their hybrid cloud, allowing them to build a platform for their Dev teams to work off of. Morpheus also provides security by way of governance and role-based access controls, ensuring everyone has their correct access rights with nothing more and nothing less. Leveraging the platform mentioned earlier, Dev teams can automate their applications across clouds with Morpheus, leveraging webhooks and APIs to further their Infrastructure-as-Code goals. Finally, Morpheus also collects data that Ops and Finance teams can use to visualize their resource usage to optimize their cloud deployments based on the needs of each project.
Morpheus Data in Action
At June's Cloud Field Day event, Brad Parks, Morpheus Data's CMO, detailed their solution and how it fits into the enterprise IT industry as a whole. Amidst his breakdown of the product, Parks also touched upon some key Morpheus customer use cases.
The most notable of these is the case of AstraZeneca, who have used Morpheus Data for several years now to optimize their cloud deployments. After spinning up their initial Morpheus instance in just about a day, AstraZeneca has relied on the orchestration and self-service capabilities Morpheus provides to cut their app provisioning time down from 80 hours to under 20 minutes. This increase in efficiency has not only propelled the pace of their DevOps teams, but has netted AstraZeneca a $6M ROI over the past two years of use.
Zach's Reaction
When a product can help you save time in a space like hybrid cloud management, where keeping a fast pace is essential, and saving you money in the process, it's sure to be a useful tool for both IT and DevOps teams alike. It's no wonder organizations like AstraZeneca and others rely on the self-service capabilities of Morpheus Data to further their orchestration goals at scale.
Learn more about Morpheus Data by watching their deep-dive technical demos, or by visiting their website.