When it comes to testing out your office network, having a handheld tool that scans, tests, and sends data back to a centralized hub makes each test a walk in the park, or at least just a walk around the office. NetAlly, who we've seen grow over the past few Mobility Field Day events, showcased their network testing capabilities during their appearance at the recent Mobility Field Day event.
Field Testing the Network
Although not as common as it was, say, a year or two ago, field testing an office network is still one of the best methods for checking to make sure that everywhere in your office is connected and working smoothly. In smaller offices, manually checking various locations around the office with a laptop can work just fine, but as the size of the office ramps up, such a method can be a real hassle.
Armed with a networking testing tool, mapping and measuring the wireless connectivity around an entire enterprise office space proves a relatively easy task. That tool, however, needs to be smart, adaptable, and efficient to make the jobs of the networking engineers using it more effective.
Enter, the NetAlly Product Portfolio
NetAlly has taken on the challenge of creating top-tier testing tools for networking professionals. Their product portfolio features handheld testing solutions for both wired and wireless networking as well as site survey and analysis software, all working to provide you with an in-depth look at your network.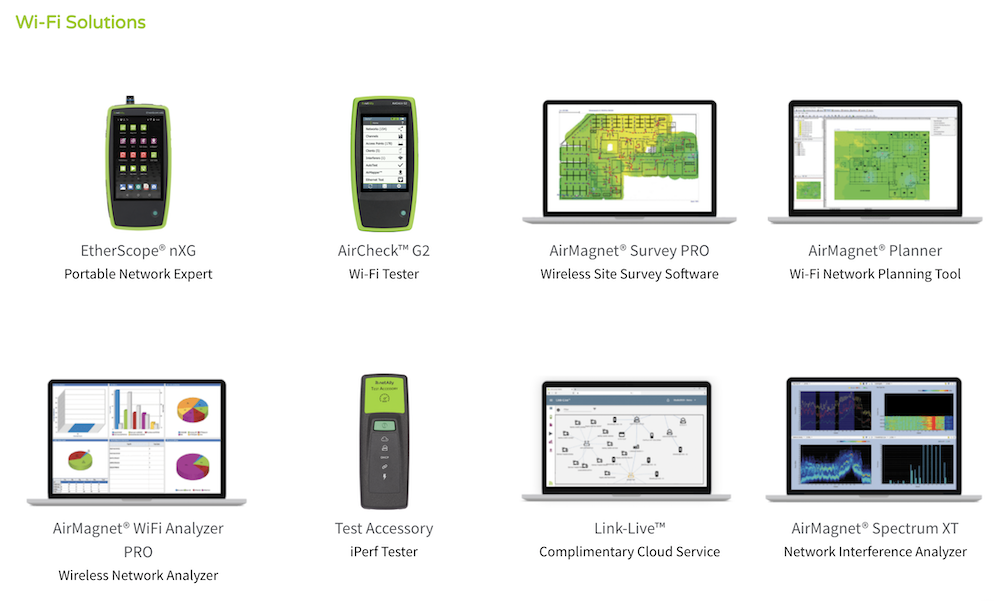 As you can see above, NetAlly emphasizes usability with their handheld tools, leaving the more in-depth, data-heavy operations for their analysis software. That way, networking engineers can actively test their office, mapping connectivity while they walk, and then worry about crunching numbers once they've returned to their desk. In practice, it means you can test your whole office in a single walkthrough, saving time that would be spent testing manually.
NetAlly at Mobility Field Day
During the Mobility Field Day event that took place in August of 2019, NetAlly actually launched their brand to the public. In the following Mobility Field Day event in July of 2020, NetAlly made several key statements regarding their heading and product direction. Almost exactly a year later, in the most recent Mobility Field Day event which happened this July 2021, NetAlly made true on their promises. NetAlly's CTO, James Kahkoska, presented the promises made and how they delivered on them during their Mobility Field Day appearance.
First among these was complete remote management capabilities. Now, you can use NetAlly Link-Live to create projects in real-time from the cloud and then edit them from your handheld device for expediency.
While out testing, NetAlly's handheld devices now actively survey, including 1×1 and Bluetooth surveys, automatically pushing information gathered back to Link-Live or another NetAlly software. With this delivery, testing a network is really as easy as walking around the office, that is, provided you're carrying your NetAlly handheld.
From a visual perspective, engineers can create heatmaps and topology diagrams of their WiFi coverage, making a more understandable view of connectivity around the office. Additionally, handhelds can also be used for commenting and editing, with complete import and export functionality so you can cross-collaborate with other engineers in near real-time.
Zach's Reaction
It's been such a journey for NetAlly over the past 3 years, and it's so exciting to see their hard work come to fruition during this Mobility Field Day appearance. I've only heard overwhelming support and adoration of NetAlly handhelds and other products from our delegate base, so clearly, the folks at NetAlly know what they're doing, and are doing it well.
Learn more about NetAlly by watching all of their Mobility Field Day appearances, and by visiting their website.