Cloud-based infrastructure resources like SaaS, IaaS, and PaaS solutions provide immense benefits to organizations by way of their accessibility and as-necessary feature sets. Unfortunately, despite these benefits, the addition of cloud-based resources to existing IT infrastructure requires that all facets of said infrastructure are securely connected and maintained.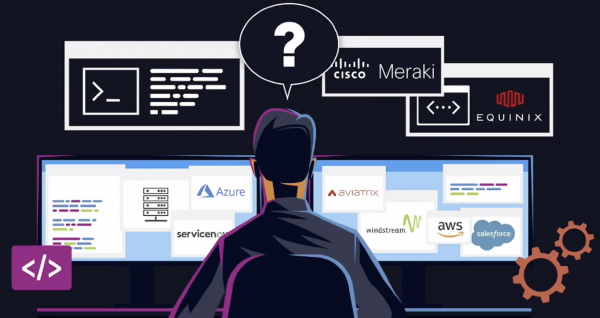 For network engineers who lack the time, tools, or training to do so, upkeeping network infrastructure across multiple clouds and domains can be difficult and time-consuming. With Itential's network automation platform, which they presented at February's Networking Field Day event, nearly anyone can automate their network infrastructure management across their cloud and on-premises resources.
Facing the Noise of Network Maintenance
The massive influx of web-based applications into the enterprise IT space shifted the paradigm from one that was almost fully on-premises and under IT's control to one that is disparate across many service providers and platforms. The diagram below details just one of the nearly infinite possibilities of modern network configurations and their complexities.
As network engineers work to regain control over this multitude of cloud-based services, many are met with extensive management tasks across their infrastructure. Often, these tasks appear in two places: at the command line and application programming interface layers, or CLI and API. Leveraging these two interfaces, network engineers and sysadmins can configure and customize their infrastructure through coding to ensure the utmost security and performance for their end-user base.
Unfortunately, as companies enter the space at high velocities, many network engineers find themselves either too busy or technically unequipped to deal with the massive amounts of IT-as-code required to maintain these connections. Left unprotected, however, web applications can present major sources of vulnerability, so how can high-paced organizations keep up?
Itential's Intelligent Network Automation Platform
Itential recognizes that not everyone has the means to automate their network infrastructure across multiple domains. They've crafted their suite of networking solutions to tackle that problem head-on, and ultimately, in a way that is accessible by almost any network engineer, regardless of their experience or technical abilities.
The goal of Itential's network automation platform is to help companies close the loop of their network automation, creating a seamless approach to managing network infrastructure. This closed-loop automation process is accomplished through the marriage of CLI and API automation tooling.
Instead of requiring extensive Infrastructure-as-Code operations, Itential's platform provides a low-code, drag-and-drop-style approach that builds on top of an organization's existing tool stack. Through pre-built CLI and API automation code, network engineers can layer Itential across their infrastructure to automate their routine tasks, ultimately saving them time and money, as well as ensuring compliance.
Making Network Automation Accessible
In their presentation at Networking Field Day in February, representatives from Itential dive into the issue of network automation at scale across multiple domains, and how difficult it can be without the right training, tools, and time. Perhaps Itential's CTO & Co-Founder, Chris Wade, put it best:
"There were statements that we needed to turn every network engineer into a software developer, and I think that statement's probably more aggressive than it needed to be…"
He continues, describing how potential talent pools narrow as organizations demand both extensive networking knowledge and coding chops. It ends up creating a bottleneck as the individuals who meet those demands then become swamped with work. Wade likens it to the Waterfall software development method, as every part of the process downstream relies heavily on that individual's ability to deliver consistently and on time, despite their burgeoning workload.
Itential's network automation platform levels the playing field, allowing almost anyone to maintain network automation across their apps and infrastructure. The Itential platform also enables those hyper-talented individuals to expand the limits of their automations by making it easier for them to build off of their existing creations and tools via a platform-agnostic solution.
Zach's Reaction
With network infrastructure made more disparate than ever due to the mass adoption of cloud-based resources, network engineers need to be able to control and secure connections across their many domains. By implementing Itential's network automation suite, organizations of all sizes can streamline routine infrastructure tasks while ensuring the utmost security. Regardless of whether you're a networking and coding wizard or still developing your chops, Itential's platform helps you save time and control your network.
Learn more about Itential's platform in their coverage from Networking Field Day.