With nearly everything available as-a-Service these days, application and infrastructure developers need their data to be as accessible as their creations. Unfortunately, many hybrid data models create hurdles in development workflows, introducing latency issues that can lead to poor performance and customer experience. Aware of this need, StorageOS and their cloud-native, software-driven storage platform provide a way for anyone to deploy containerized data storage anywhere. At a recent Cloud Field Day event, StorageOS details how their product can help developers build nearly anything following an as-a-Service delivery model.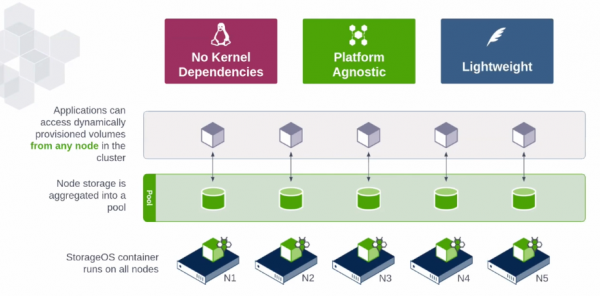 The Problem of Storing State and Data
We sit at an incredible crossroads when it comes to storage in the modern era. Advancements in container technology and orchestration through Kubernetes have allowed for data to exist everywhere it's being created, accessed, processed, etc. Put plainly, data no longer just exists on the server, and as such, needs to be readily available to keep applications running smoothly.
Unfortunately, many legacy storage methods simply aren't extensible enough to provide this level of availability. Add on top of that the fact that many of today's applications rely on storage states to take actions, and it's apparent that a more hybridized approach to storage is a requisite for modern operations.
Introducing StorageOS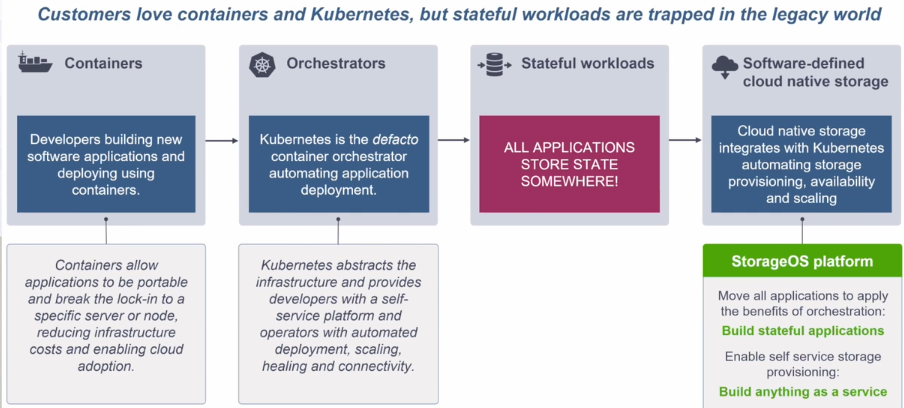 StorageOS is a fully cloud-native, software-defined storage platform that's bridging the gap between traditional servers, containers, and the rest of the cloud. By integrating with Kubernetes as well as on-premises servers like network attached storage (NAS), StorageOS ensures that data is available where and when it's needed — even through self-service provisioning.
Purpose-built as a deployable container, StorageOS doesn't rely on kernels at all, making it incredibly lightweight and adaptable for all sorts of needs and purposes. One such purpose of interest is the ability of StorageOS to serve as a backbone for nearly any cloud-native application.
Building Anything-as-a-Service with StorageOS
In their presentation at a Cloud Field Day event earlier in 2021, representatives from StorageOS detailed their position in the market and how their platform addresses customer needs, finishing off with a demo of the product in action. One presentation, in particular, the initial breakdown delivered by StorageOS Founder and CEO, Alex Chircop, establishes an exciting prospect.
Thanks to StorageOS's direct integration with Kubernetes, the platform can be deployed as a container that can sit atop anything. In practice, this means that developers can use StorageOS as the basis for applications and even infrastructure based in the cloud.
The ability to stand anything with an "as-a-Service" delivery model gives StorageOS and its customers an incredible edge. No longer do developers need to go through extensive work creating their own on-prem data centers to house data nor do they need to deploy from potential costly cloud-based infrastructure services. Instead, they can build on top of a StorageOS container and ensure that wherever their users are, their app will be performing at top capacity.
Zach's Reaction
By making containers accessible and deployable anywhere, StorageOS is revolutionizing the ways developers can create their own apps and make them available to a wider audience through the cloud. To see the full capabilities of the StorageOS product, be sure to check out the rest of their Cloud Field Day presentation.