In today's networking operations, creating a consistent administrative experience backed by artificial intelligence makes the lives of networking engineers easier. Arista Networks is providing such an experience with their product portfolio, including the new Awake AI feature, all of which was displayed at September's Networking Field Day event.
Managing Multi-Domain Networks
As the world becomes more decentralized, IT organizations need to effectively manage multiple domains with the same level of support they would normally provide to a singular one. A core part of this responsibility lies in ensuring each location's network is capable of handling the unique workloads of that domain as well as traffic in between them.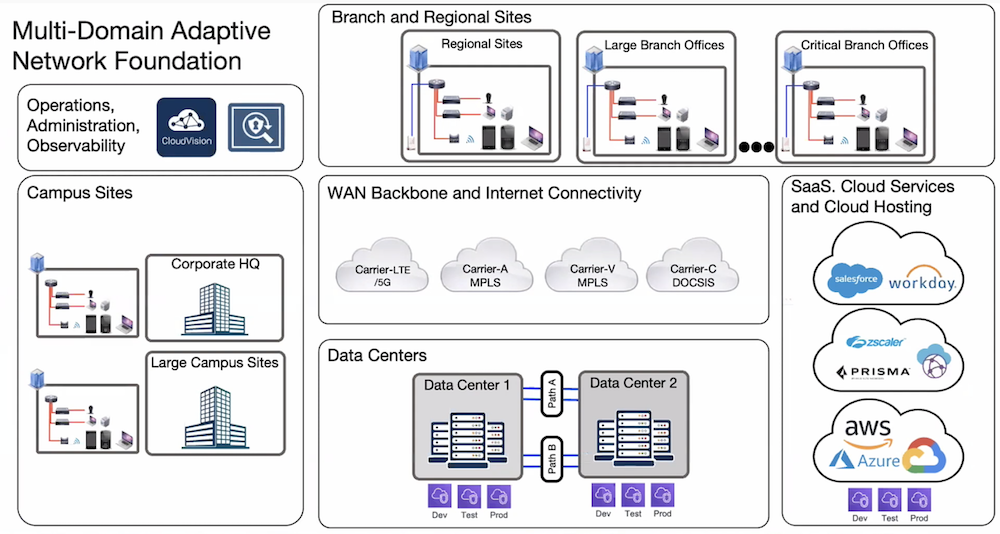 Consistency is key in these scenarios, both across the networking equipment in use as well as the tools sitting atop managing it all. A homogenous experience makes it easy for IT staff to reduce end user friction across the network and address issues in near real time.
Taking Control Over the Network with Arista
Arista Networks seems to have made it their mission to solve the needs of networking engineers with their product portfolio. It starts with their networking equipment suite, including WiFi6 APs and multiple modular PoE chassis which are segmentable across multiple domains.
Sitting atop all of that equipment is their CloudVision product, shown in the graphic above. CloudVision provides a single pane of administrative glass over all of Arista's other networking equipment, giving admins a simple yet effective method for creating a consistent experience across their environment, keeping their organization moving at pace and scale.
Arista Awake: NDR Security
While detailing their product portfolio at the recent Networking Field Day event, Arista's Douglas Gourlay, Vice President and General Manager of Software covered all of the organization's newest releases. Among these is their Awake security tool.
Awake takes network detection and response to a new level, leveraging an AI assistant "Ava" to rapidly identify threats and incursions into the network. Pairing data collected from a variety of sensors across an environment with the Awake Nucleus core, Awake consumes data from multiple domains and autonomously hunts and responds to issues that arise throughout the network.
Because it integrates seamlessly with the rest of Arista's portfolio, Awake maintains that same sense of consistency while also introducing AI-driven security features that protect an organization while reducing the day-to-day operations required by IT admins.
Zach's Reaction
I'm excited to hear about the new innovations like Awake coming out of Arista Networks. Bringing AI into an already consistent IT experience streamlines processes while increasing security, ultimately reducing the amount of work network engineers need to keep constant eyes on in their daily operations.
Learn more about what's new out of Arista by watching their Networking Field Day appearance, or visiting their website.