Cisco has a powerful presence in the converged infrastructure space and is investing in datacenter modernization with its hyper-converged and converged infrastructure stacks. The company's goal is to accelerate the adoption of this technology and ease people into utilizing its converged covered infrastructure. There is even talk of a marketplace approach to stacker technology.
Cisco showcased its converged solutions at Storage Field Day 20.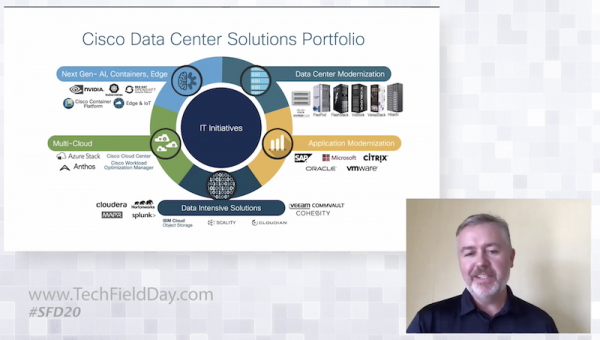 What's New
Oracle 19c, Cisco's database optimization release, forms a foundation for the next phase of autonomous database optimizations. These optimizations include the database's ability to automatically create indexes, which allow for the database to self-optimize and maintain optimal configuration.
19c is based on both the container model, as well as the classic Oracle implementation. The model looks very similar to FlexPod, except Cisco has optimized it. So, clients get all the goodness in terms of lower CPU, higher IOps, lower latency within a common design. This common design allows FlexPod or FlashStack, customers to easily migrate to the NVMe over Ethernet (RoCE) implementation.
Making Connections
Cisco has also released a device connector built into Cisco's UCS director, designed to allow you to orchestrate so that you can attach Intersight to UCS director. It also has device connectors in DCNM, as well as in APIC. The device connector's implementation allows you to get the visibility that the DCNM is there, what the health of it is, etc. All the management and configuration policy still resides within DCNM or APIC.
The Cisco Intersight Assist Appliance is a VM implementation that allows Cisco to develop SDKs with its partners so that they can extend this to third-party devices. It supports Pure Storage and the VMware vCenter. Cisco is currently working with other storage partners to make this a reality for them so that, from a single pane of glass, Intersight will give you enough information as an administrator to see where the problems are and take action.
Intersight has its orchestration engine so that workflows can be done, as well. This does have specific capabilities with Intersight, meaning Cisco has connected TAC, can get P-Certs, get CVEs, and security advisories. Users can also automatically do RMAs in certain instances.
AIOps
This is all AI Ops. Cisco announced that the company is learning as it gets more and more devices. Cisco currently has over half a million UCS servers registered to the service today, meaning Cisco gets smarter and can pass that onto its customer base.
All of this AIOps goodness comes on Cisco's engine; It has an available orchestration tool through its Intersight against Pure Storage environments. It has role-based access controls, so companies can define what workflows are certain users can use, who's a storage admin, who's not. It has a workflow designer, as well.
For Cisco, it's a considerable strategy to grow this ecosystem and not take control of everything. It hopes to give everyone enough information and enough access and control from this point of glass where they can make the right decision.
The Marketplace Approach
Cisco is working on streamlining and improving ease-of-use in the converged infrastructure space, and one of those innovations is building a marketplace approach to stacker technology.
Its infrastructure growth roadmap utilizes AIOps to improve the user experience. According to Cisco, there will be more developments in their converged infrastructure offerings, hopefully before the end of 2020.