Flash storage has fundamentally changed the storage industry. As applications grow in sophistication, they require storage that is performant and resilient.
Typically, these requirements are expensive at scale, leaving customers to design complex, multi-vendor storage environments to meet their ever-changing capacity and performance requirements.
The data sprawl is frustrating and wastes time managing multiple systems. Pure Storage addressed the capacity and management challenge with their FlashArray//C series at Storage Field Day 20.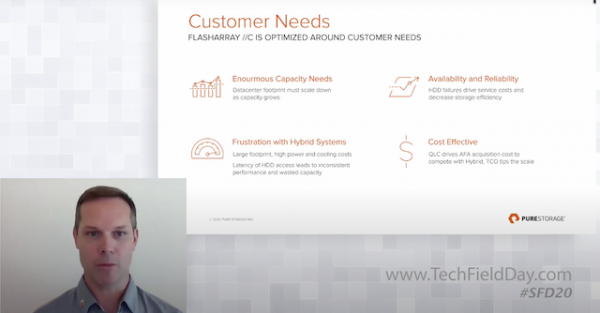 Storage Evolves with Customer Expectations
Customers traditionally tier storage based on performance or capacity profiles. Each tier is specialized and typically serviced by a different vendor. Management was difficult, and various management tools provided different levels of detail and disparate features. Hybrid systems provided large capacity and adequate performance; however, as a hybrid system's utilization increased, the cache could fill. Cache misses force the read to occur on the slower mechanical hard drives.
Today, storage is no longer just storage. Customers expect their investment in a storage system to work with their applications. Customers expect arrays to integrate into virtualization environments and provide access to primitives that improve performance and availability. Storage systems must be API driven, easy to tie into automation workflows, and compatible with on-premises infrastructure and cloud storage. Application uptime is king, and there are more 'business critical' applications than ever before. Infrastructure upgrades must be non-disruptive. Storage providers have to address all of these challenges while still providing resilience, performance, and capacity.
Introducing FlashArray//C with QLC
Pure Storage takes on these problems and more with its FlashArray series. It combines FlashArray//X for high performance, low latency applications, and FlashArray//C with QLC for high-capacity requirements. The system is controlled by the Purity Operating Environment, enabling more features such as disaster recovery and data protection.
FlashArray//C with QLC provides high-capacity all-flash storage by leveraging Quad Layer Cells (QLC). FlashArray//C leverages QLC flash to drive down the cost of capacity. QLC flash modules bring the acquisition cost of FlashArray//C close to matching the acquisition cost of hybrid arrays while providing a better Total Cost of Ownership and advanced data services. The large capacity and affordable QLC DirectFlash modules make FlashArray//C an ideal solution for workload consolidation. Migrating data from multiple sources onto a FlashArray environment gives a customer automatic tiering and a 'single pane of glass' management layer.
Solving QLC
Designed to write four bits per storage cell, Quad Layer Cells (QLC) increase storage density and address capacity limitations with flash storage. However, it comes at a cost. Write latency is extremely high, typically in the 10 – 20 ms range. Triple Layer Cells (TLC), which write three bits per cell, provide 2.4 ms of write latency. The high write latency associated with QLC requires optimization. Endurance is also a problem for QLC. QLC realizes only one-third of the endurance of a TLC flash device. Storage vendors typically address QLC endurance by overprovisioning storage, providing up to 25% more capacity than a customer requires, and reserving it to replace failed blocks.
Pure Storage utilizes DirectFlash modules to solve the limitations of QLC. DirectFlash can directly address the cells through the software, eliminating the flash translation layer associated with traditional SSDs. DirectFlash exposes individual block status and can intelligently place bad blocks away from the written data. Direct access to the flash modules eliminates garbage collection, allowing the QLC flash to manage disk wear better and extend endurance. DirectFlash also provides read optimization using adaptive tuning and a unique caching mechanism to address read disturb.
Storage Consolidation and Single Pane of Glass Management
Pure Storage addresses storage consolidation and management through the Purity//FA 6 Operating System. Managing applications migrated from existing infrastructure, which has been cobbled together over the years, should be complicated. Customers can manage multiple applications with different storage profiles in one unified system. FlashArray//X will provide high performance, low latency data service, FlashArray//C with QLC offers high-capacity storage, and Purity//FA 6 enables File Services for NAS and NFS services from the same infrastructure as block services.
Conclusion
Pure Storage offers a compelling argument for providing a next-generation storage management platform. It addresses management sprawl and all-flash array capacity by introducing FlashArray//C with QLC to their FlashArray line of products. The larger capacity of the FlashArray//C combined with the storage optimization of DirectFlash, and the file and cloud storage management features enabled by Purity//FA 6 allows customers to reduce their storage sprawl and consolidate their management solutions.
To learn more about Pure Storage and FlashArray, check out Pure Storage's presentations at Storage Field Day 20.